Back Roads in the Riverina
Canberra - Wagga Wagga
While it can be a straightforward highway run between the cities of Canberra and Wagga Wagga, there are lots of options that can mostly avoid the Hume Highway.
On one particular ride, I decided to try some back roads, including some gravel for a change.
Getting Over the Brindabellas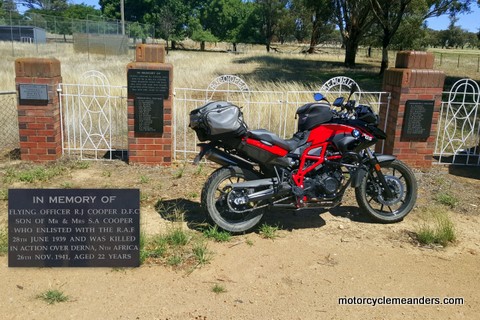 The more conservative routes from Canberra to Wagga Wagga skirt round the northern boundaries of the Brindabella Range west of Canberra (Canberra's version of Sydney's Blue Mountains) adding several kilometres to the journey. My trip headed into the Brindabellas through Wee Jasper.
I'd been on the Wee Jasper road only once before. An unhappy experience. Coming from Tumut on that occasion – preceded by some local showers – I discovered that the mostly good gravel road sharply deteriorates over the last 10km into Wee Jasper into a rough, narrow, muddy, steep and slippery forest track. It didn't quite work with standard road tyres. That cost me my Honda Crossrunner.
With the recent memory of coming to grief on the road, I approached it this time with some trepidation. It's a good quality bitumen (and a good motorcycling) road from Canberra to Wee Jasper. The gravel starts at Wee Jasper. And does so with a vengeance. Mercifully it was dry this day; and more manageable to climb in the dry than descend in the wet!