Riding Gear

Helmet
MOTORCYLING WITH ADVENTURE HELMETS
Motorcycle helmets are a topic of perennial interest: undoubtedly the motorcycle accessory that absorbs the most time, angst, research and investment on the part of most motorcyclists; at least the sensible and thoughtful ones.
My motive for musing on the subject is a combination of the new federal, state and territory laws in Australian allowing import and use of helmets with the EE stamp of approval (and not necessarily having an Australian Standard approval sticker).
I recently took advantage of these changes and bought myself a coveted Schuberth E1 adventure helmet.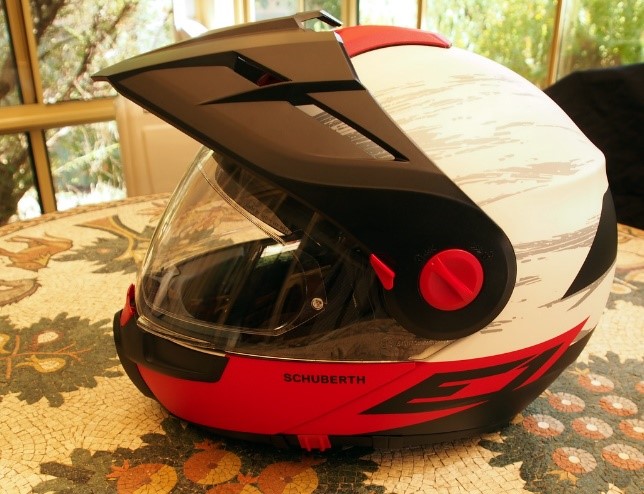 Since there does not seem to be a Schuberth importer or distributor (although more recently I noticed that Touratech is marketing a Schuberth helmet under its name a helmet that seems to have the same specs as the E1), I bought it on-line – as you would also have to do with the Touratech helmet.
This raises the issue of fit. We all know that not all helmets of the same size fit every head. Some people have Shoei heads, some have an Arai head, others a Shark etc. All the good advice is to try the helmet on to check the fit before you commit. This impediment is not easily managed if purchasing online; but can be done if the planets align as they did for me (more on this later).
Apropos of this point, it might be helpful (though not to taken as grounds for a reader's decisions on purchasing) that I believe there's a high degree of fusion in the fits of Shoei and Schuberth helmets. I've had two Shoei helmets – and still have one of them – bought on the basis of fitting my head better than other brands. I recently discovered that I've also had for many years a perfectly fitting Schuberth helmet. I bought it as a BMW helmet and only lately noticed a Schuberth tag on it. I then confirmed my head's ambisuitability for both Shoei and Schuberth helmets by satisfactorily fitting the BMW System 6 helmet (made by Schuberth).
Price is another important consideration. The Touratech base model (there are other designs and models priced higher) is, as reported in Australian Motorcyclist (No 49, page 91), $1100 (AUD). There's a small amount of postage to add to that: either $21.80 or $45.40 depending on how quickly you want to get it; plus a 3-4 week wait in any event.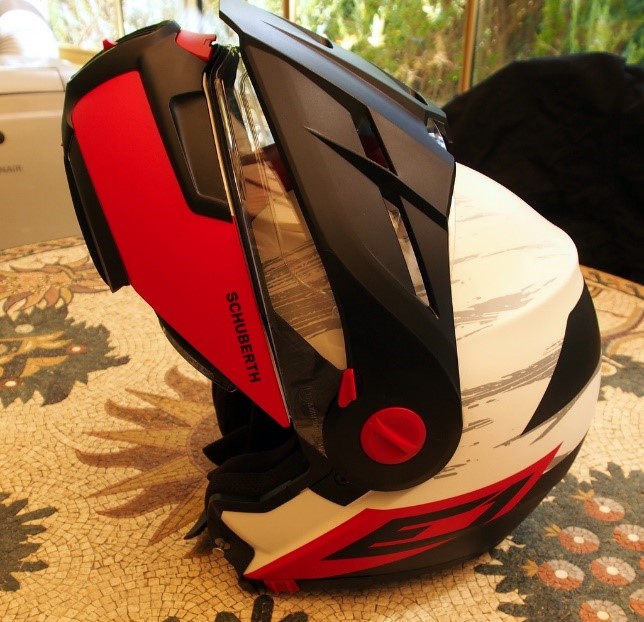 From the middle of last year – the first time I came across reviews of its then freshly-announced, ground-breaking, new adventure helmet, the Schuberth E1 – I developed a lust for it. My first line of attack was to purchase my preferred design of the E1 on a forthcoming motorcycling trip to Europe. The start point was to be Ljubljana, capital of Slovenia. The plan was to purchase the helmet there and use it on the trip.
The first snag was that the main motorcycle shop in Ljubljana (used by the tour operator) had the size I expected to be right for me but not the colour design (I'm fussy). And they were not prepared to order one without a deposit; and I was not inclined to commit money without trying it on. So, stalemate.
Plan B was to try one on for size in Ljubljana and order the desired one for collection at the end of the trip. Snags here were I'd end up with two helmets to carry home, but, in any event, the shop could not guarantee it would arrive in time. End of plan B.
Weeks later, I did make a point of visiting the Ljubljana shop – cajoling my travelling companions to ride there with me – after we collected out bikes from Adriatic Moto Tours. The staff member had to delve into the attic and brought down a pristine box to open for the first time with my expected size in it (I did expect one to be on display). I spent some patience-wearing time (for the staff member) trying it on and off, checking comfort, fit, weight, vision etc before thanking him and letting him return it to its box. My presumed right size was perfect in all respects. It's the same size for my Shoei and other Schuberth helmet.
By the time I got back to Australia and recovered from a slight mishap on the trip, Schuberth had announced a range of additional graphics to become available "in the new year" (i.e. 2017) – at a slightly higher price, of course! As fate would have it, one of these was a much better match to the colour of my adventure bike; not that I'm admitting to have been at all influenced by that.
Then I found online seemingly the only company on the Internet offering something less than what was fast appearing to be a "recommended retail price" despite slightly different VAT rates. The Ljubljana shop was advertising the early graphic models for €729 (=$AU1031 as at 12 March 2017) including VAT but didn't have the newer ones on offer. An Italy-based company I found, Evo Motion Srl, offered a discount on their VAT-free price. It took a couple of months of waiting for the new helmets to become available from Schuberth; but in time they did. With very rapid transport costs included, I eventually took delivery of one of the latest designs for a total of €571.84, which my credit card billed be (no transaction costs with 29 Degrees Card) as $AU848.68.
I might add I did do some due diligence on the company and found complaints to be within expected and acceptable parameters relative to the number of satisfied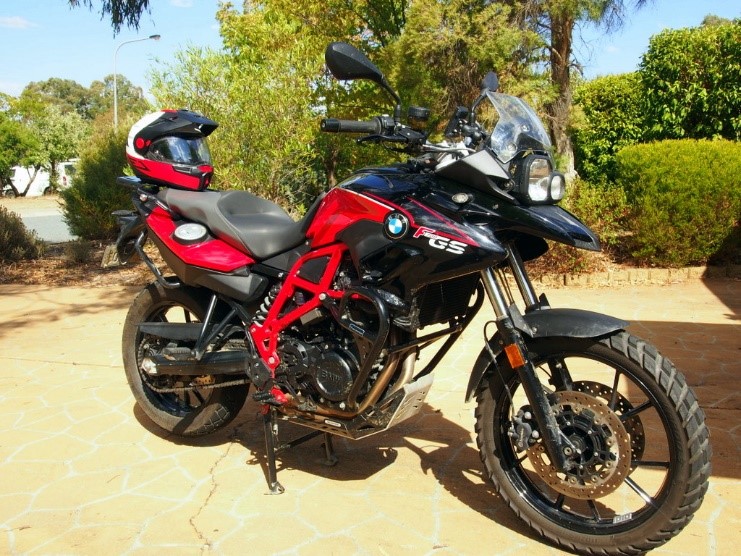 customers. Their service and communication turned out to be excellent. I was delighted at the attention received from Emanuele, possibly enticed by memories of Sylvia Kristel from the 1974 Emmanuelle movie; but, alas, Emanuele turned out to be a bloke. Never mind!
I was initially a little dismayed not to be able to find the obligatory E approval markings on my new gleaming helmet despite a thorough search, including pretty much dismantling the liners. It was only after a couple of exchanges with Emanuele that I found the secretly concealed zipper referred to in the instruction manual, under which the E approval markings lurked.
As a hopefully unnecessary note of warning, there're often pitfalls in online buying apart from size. One site offering the Schuberth E1 and claiming to be a superstore, has a .com.au suffix when its site comes up on Google. That's consoling. Having been potentially seduced by the .com.au suffix, it was encouraging to see a banner offering free delivery nation-wide; and the prices look decidedly attractive. But when you look a bit closer at the open page, there's no such suffix in the URL – only a .com suffix! It's not until you get onto the my cart page that you're confronted with a delivery cost for Australia; and not until you fill in all the purchaser details and all but sign your life away does the site mention for the first time (in the proverbial small print) that the prices are all in US dollars! Caveat Emptor!