My Bikes
Mostly Owned; Some only Ridden
This is really about bikes I have ridden rather than 'my bikes' as such. Eight of them have been or are mine. The others are bikes that I rither rode on overseas tours (the Royal Enfield, the Kawasaki KLE500, the single cylinder BMW F650GS and the BME R1200GS) or borrowed from a friend (BMW Dakar).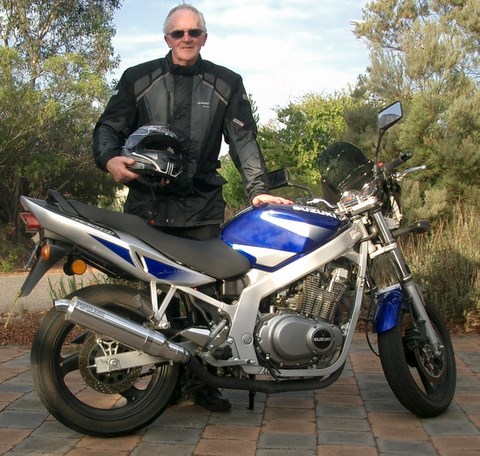 Suzuki GS500
As I mentioned in passing on the About the Author page, my first bike was a Suzuki GS500.
Why this bike? Simple. With no idea about bikes, I had absolutely no starting point or benchmark. I was involved in those days with triathlons – both as a participant and an official. As an official, I often went on the back of one of the motorbikes as part of monitoring the cycle leg to weed out the drafters. I remember one of the riders once telling me to buy a GS500, so I did.
It was great. Very versatile and efficient. I eventually upgraded, fortunately before my then 17 year old stepdaughter wrote the GS off! She was fine. You can read about this in a story under Fireside.
Honda VFR800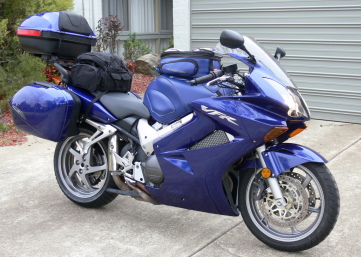 It was just ahead of a planned trip to Broken Hill in the spring of 2006 (that's September in Australia), that I decided I didn't want to do the trip on the GS500. In retrospect it was not a very well-based judgement. The GS would have been fine. But I guess I was chomping at the bit to upgrade, although I was technically obliged to stay with a 'learner legal' bike until mid October 2006 (one year from getting my full licence). I started, at this point, to get my head around different models of bikes – just a few front line contenders for the much anticipated upgrade. I eventually settled on the VFR800.
I picked up a nice blue VFR, a couple of years old, with low kms; and in great knick. It had had only one owner – a young woman, who sadly had to give it up for medical reasons. It came with a full suite of luggage extras. Although the size and weight terrified me at the start, I could hardly admit to it, given that I was buying it from a rather slightly built young woman, for whom it had been her only means of transport.
The worst of it was collecting it to ride home. It was already dark and the first experience was to discover that when Iturned to exit her driveway, only the handle bars turned; not the dash board or instruments! Totally disorienting. Remember I had only ever ridden the GS500 at this stage, on which everything turned with the bars. Well, I made it home and got to really love the VFR. What a superb bike it is. I think I would easily succumb to having it as my No 1 bike if only it came with ABS, which it doesn't in Australia for some unfathomable reason only known to Honda.
However, in due course, the (almost) inevitable happened. I locked up the front and did some $8000 damage to it. Less to me, fortunately. But it was a timely reminder of where and how I had lost the plot. The 'plot' is revealed under the next heading.
BMW F800ST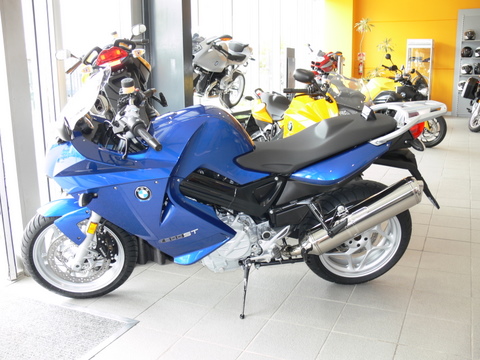 We have to go back a few steps here. It all has to do with the plot. Long before I dreamed of the VFR, in the very earliest stages of riding the GS500, when I was first introduced to The Usual Suspects, I learned about the new 800cc bike from BMW that was soon to be rolled out. I think it had been 'launched' and had been exposed to the usual cadre of well wined and dined bike magazine reviewers, all of whom seemed unanimous in their praise of it – in both its versions. The idea of an 800cc seemed perfect for the eventual and inevitable upgrade; and the idea of a BMW was not altogether unappealing. I was happy to rationalise that, in my retirement years, I could afford and enjoy this indulgence (that was, of course, before the global financial crisis, the world recession and the swine flu.) Not to be taken lightly, which they weren't by me, were the benefits of ABS brakes.
I actually ordered the F800ST in May 2006 – some six months before it was remotely likely to reach Australia. I joined the F800 forum at that time and ravenously devoured every comment that was made by the Europe-based new owners, for whom it became available about this time.
By now, you've no doubt worked out where and how I lost the plot by being seduced by the VFR. In fact, I loved the VFR so much I cancelled my order for the F800 (that was probably the nadir of plot-losing). Luckily for me, the dealer never actioned the cancellation, so I was enthusiastically surprised and delighted to get a phone call in the December of 2006, while the VFR was still getting repaired, to tell me that my F800ST had arrived and would be ready for collection within a week or so. The rest is history, as they say.
I clocked up over 70,000km (~43,500 miles) in the two years from having taken delivery of it. As of Sept 2014, it's 130,000km.
Suzuki GSX1100 Katana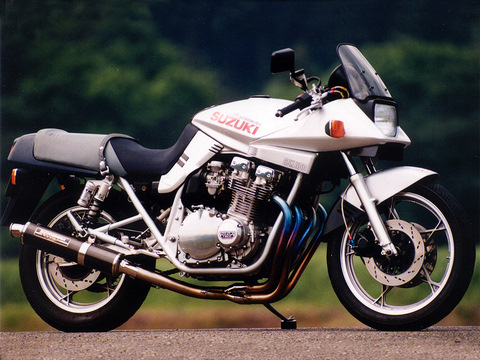 Including this bike is cheating a little. But I actually owned it for a while – and rode it.
It was really a sort of love child of my son. He had had it for years and, at one stage, pretty much rebuilt the engine. He affectionately referred to it as "the beast". It was a 1981model. It seemed to have begun its life as a 750cc, but somewhere along the line had been morphed into an 1100cc bike. When I first met it, it had languished unregistered for quite some time in his shed.
At first, it meant nothing to me; but then I did some research on it to discover and appreciate its historical significance as a ground-breaking and almost cult motorbike. That inspired me to adopt it. It had to be trailored to Canberra and registered in my name. It was all a bit of a fiction to enable it to be registered in the ACT while paying only a token amount in stamp duty for the change of 'ownership'. I got it serviced, adjusted where needed, re-shocked; and essentially up and running.
I had fun on it and took it out on a few Wednesday rides to show it off.
It all came to an end when my son was posted to Amberley air force base, initially without his family or car, so the Katana would become his only transport. In the same spirit in which a change of ownership was previously effected, it was just as easily de-effected, in effect. So the Katana went to Amberley.
Kawasaki GPX250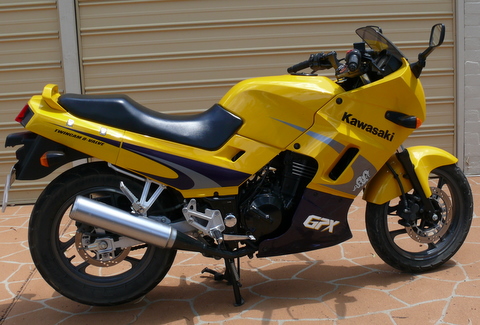 This purchase came about after much pestering from my stepdaughter to replace my written-off GS500, which she always referred to as 'her' bike. She rode it a bit but not consistently enough to keep it, once the novelty wore off for me and the capital became more useful as cash than as a depreciating motorbike.
While I had it, however, I felt an obligation to take it out every now and then – much as you might feel the need to exercise the dog. It was fun to ride, but in a very different way to the Katana. It loved to be revved; and would belt along up to 130kph without too much strain. I took it out on several Wednesday rides and used it to zip around town a few times. I was actually sorry to have sold it, but it didn't make sense not to do so.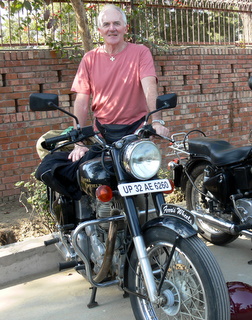 Royal Enfield Bullet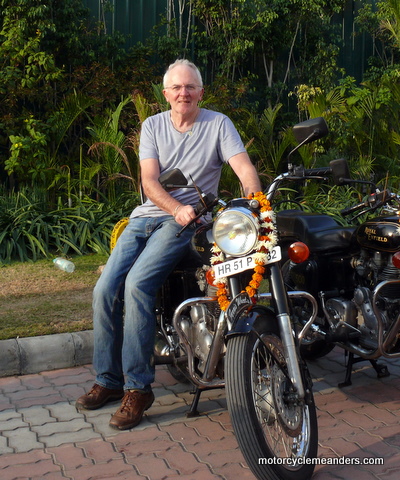 I was introduced to this bike on my tour of Rajasthan, India, in 2007. You'll find some thoughts on it and a photo in my page on the Rajasthan trip.
Suffice it to say, in this section, that, as one who was at the early stages of the motorcycle riding learning curve, it was quite a steepening of the curve to be thrown on a bike that had the gear lever on the 'wrong' side and the gearbox upside down. And then hurled into Indian traffic after an hour or so practice in the hotel car park.
The Royal Enfield, of course, turned up again for the India Bepal and Bhutan tour in 2010-2011. My previous experience with it didn't seem to help much. It still took some time to get the hang of it - if ever I did. I began to think I wasn't doing too badly, albeit not without an unexpected refusal of the gears to cooperate every now and then. However, my pillion for the tour - 13 year old grandson, Dylan - was less inclined to think so. "it's not the bike, Granddad!"
Maybe it takes a third time! Yes, again, this time on my 2012 Himalaya Tour, the Royal Enfield was again my bike for the far more challenging ride through the Himalayan main range. This time, the bike was almost a joy to ride. There were, of course, the same labyrinthine mix of false neutrals, but for the most part the gears were predictably consistent. That gave me so much comfort and consolation on the switchbacks and when encountering obstacles of any nature. It might have had something to do with the fact that the tour operator on this occasion owned the bikes so took a personal interest in his fleet. He also boasted that cogs in the gearbox and some components of the clutch had been imported from the UK. Then again, maybe my Royal Enfield skills had developed!
Kawasaki KLE500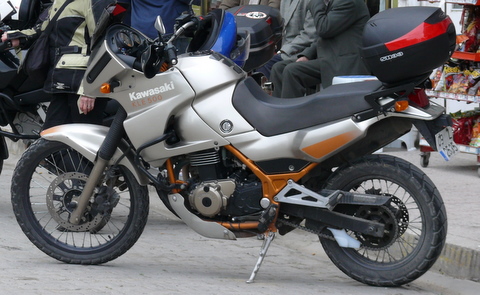 I think I drew the short straw while on tour of Turkey in 2008. Or maybe, because I was (so I was told) one of the last to sign up, I ended up with one of the 'left over' bikes! Sort of like the poor girl at the school dance that no one wanted to kiss (I'm referring to the bike; not me.)
The KLE might look good in this picture, but I can't say I enjoyed riding it all that much. The front brake was flaky, giving no confidence that it would stop you if really needed to. Fortunately, I didn't have to put it to the test in a real situation, but it didn't pass well in practice runs.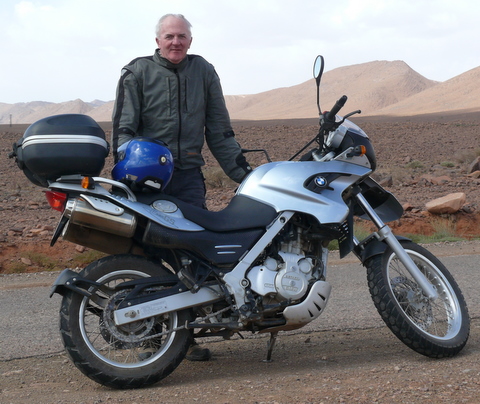 BMW F650GS
After my Turkey experience, I had my heart in my mouth as the motorbikes were being allocated at the start of our tour of Morocco in 2009. To my relief and delight, I got one of the single cylinder F650GSs. Shame they weren't the twin version, but, hey, worlds apart from the KLE!
As an owner of an F800ST and an aspirant for the F800GS, it was a welcome novelty to have three weeks experiencing the F650GS, if only in the then discontinued model, but seemingly now the resurrected, rebadged G650GS.
BMW F650GS (Dakar)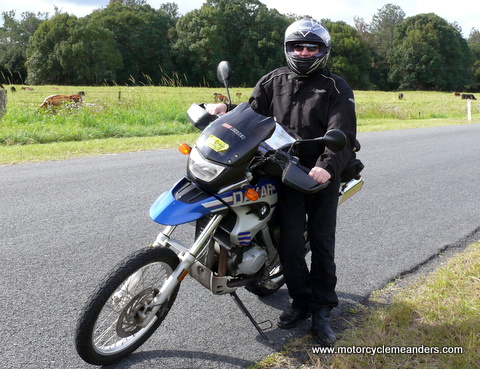 I don't own one of these; but I rode this one for four days all round the Gold Coast hinterland in Queensland, thanks to a very good friend who made it available to me. Having ridden its sibling (the F650GS (without the additional moniker of Dakar)) in Morocco, I thought it would be a piece of cake. But no, not at all. Same engine, same number of cylinders (one), same cc capacity...but hugely different to ride. First, there was a lot more 'get up and go' in the Dakar; but this might have attributable to the after-market pipe which, inter alia, sure let everyone know that a thumper was coming down the road. The bike seemed much heavier, although the stats don't support that impression. Perhaps it was the height. That wasn't just an impression. The additional height produced an entirely different riding experience, apart from making it more difficult to get it upright from its side stand, especially if there was the slightest slope to the left. It certainly hooted along. It had no problem keeping up with the suaver looking tourers. I could imagine its superior performance off road.
Note: The nomenclatures of both bikes above has since changed to G650, reserving the F prefix for the 800cc twins.


BMW F800GS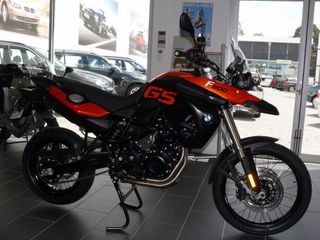 After feeling frustrated at not being able or, at least, not feeling comfortable to venture to so many places during my Big Trip North, I have now bitten the bullet and bought the F800GS. I bought it on 29 Oct 2009 and took delivery on 30 Oct 2009.
I really didn't mean to buy it quite so precipitately. I walked into the dealer on 29 Oct, as I'm wont to do, simply for a chat, a cup of coffee and a look at the bikes I'd seen the on the previous visit. Except that, on this visit, they had the new model F800GS in the new colours. I asked if I could have the orange one (they only had one in each of the two new colours). The salesman, Ron, said "sure". So I bought it. They had just assembled it and wheeled it onto the showroom floor.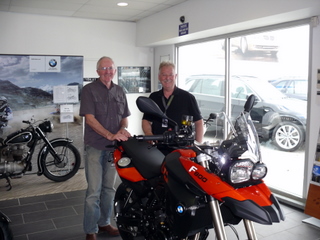 He said it was an all time record for the shortest period a bike had been on the floor before being sold: less than 25 minutes.
I asked about the availability of a colour-coordinated riding suit. He said, "sure, I can do that". I felt relieved. It's important to be colour-coordinated on the road. But I didn't anticipate what he had to offer. I guess it was, at least, colour-coordinated!
I got good value from the F800GS on my Mt Isa and Gulf tour and Tracing Old Mail Routes.
BMW R1200GS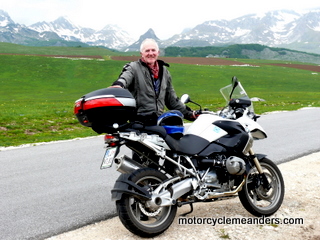 This model, I understand, is BMW's most popular. I don't own one, but I got to ride it for almost three weeks over 3,000km around the Balkans: Slovenia, Croatia, Bosnia and Herzegovina, and Montenegro; and a drop-in to the Dolomites in Italy. You can read about the trip on my Dalmatia page. I had a little apprehension at first, being a bigger bike than I was accustomed to. However, once I got going on it, I understood why it has so many devotees. It was easy and enjoyable to ride. In fact, the riding was more demanding than any I have experienced (lots of tight turns and steeply inclined switch-backs) but the 1200 was totally manageable. I even started to wonder whether I should have bought the 1200GS rather than the 800GS! Once back home, however, and re-united with my 800GS, which had been ridden back for me from Kulcurna the same weekend I arrived home (see Old Mail Routes), I was content with my purchase choice.




Honda VFR800X (Crossrunner)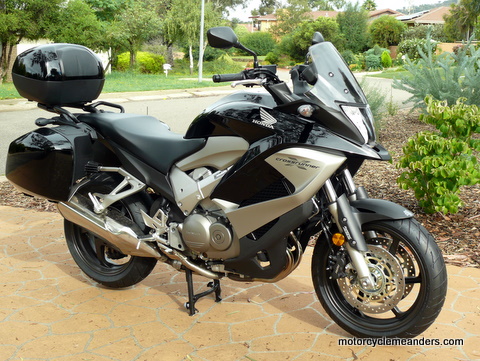 Have I turned full circle? A VFR800 was my second bike. I loved it but a front wheel lock-up reminded me that it didn't and doesn't come with ABS brakes. Hence the move to the BMW800ST. I still have the ST, with 120,000kms on it.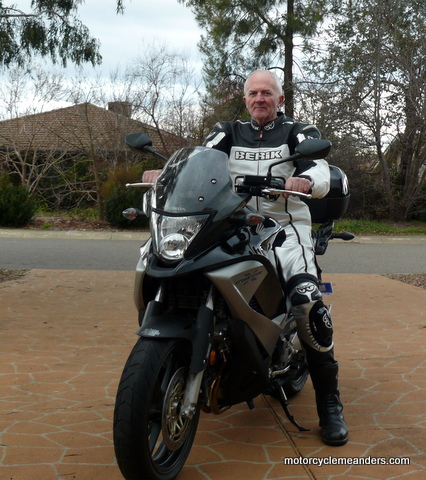 I got good value from the F800GS, with two major trips; but I was never really in love with it. I felt even less charitably disposed towards it after being thrown off into an unforgiving tree up in the Brindabellas about a year ago. Then, several months ago, a coffee time conversation with riding mates turned up the relatively new VFR800X. It was quite a while before I looked into it. It certainly had its attractions: ABS to start with; that familiar and seductive V4 VTEC engine that Honda is noted for; a far less ostentatious look than the VFR1200, which might have been a possible competitor if it hadn't been so ugly and with only 16L of fuel; and a forgivable pretence towards dual purpose, with its upright position, minimal fairing and some useful tweaks to motor, suspension and shape. Given the universal accolades heaped upon the V-Strom, you'd think Honda might have gone just one step more and given it a 19" front wheel. Then maybe, it was never going to be a serious dual purpose competitor with its V4 engine.
Anyway, I took the plunge: traded the F800GS with all its options and rode home a VFR800X with a few of the more essential options. I'm banking on it being a great ride on the open road as well as being comfortable enough on graded gravel (after all I took the F800ST up the Oodnadatta Track on My Big Trip North!). The trouble for now is that it hasn't stopped raining since I took delivery last week, so it's been sitting in the garage. (RC, 4 March 2012)
The Demise of the Crossrunner
Having met up at Tumut with a couple of friends who were coming to stay from Melbourne, we rode on to Canberra across the Brindabella Range on the gravel. Most of it was fine despite the recent and current rain. However, over the last 10km into Wee Jasper the road deteriorated into little more than a forest track – no road base; just muddy, slippery forest floor. Not far, as it turned out, from the end of the 10km the Crossrunner slipped up; and then hardish down on its side. A few dents, tears (pronounce that as you wish) and scratches but totally ridable. No structural damage. Nevertheless, the insurance company's mathematics dictated paying me rather than the repair shop. So, the next chapter….
BMW F700GS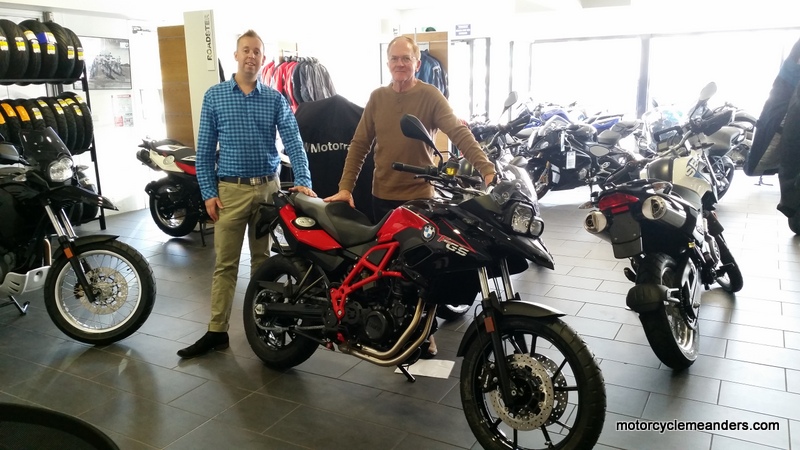 I definitely had a predisposition towards the F700GS. I think this was rooted in liking the F800 concept (I still have my F800ST); having ridden extensively on my F800GS; and having had the opportunity to ride the F700GS in South Africa.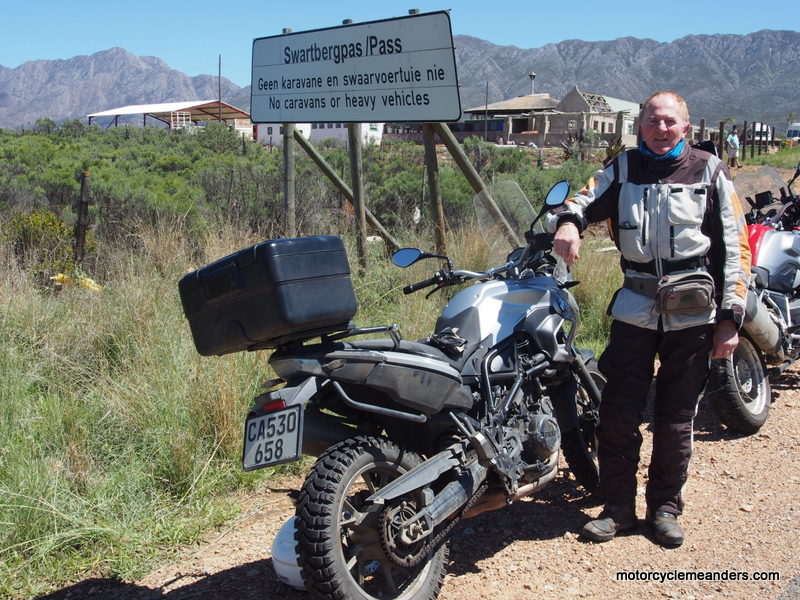 Armed with some cash and fortuitously discovering a much price-reduced campaign to move the last of the late 2014 manufactured F700GS models (this was April 2015), I was an easy target. It didn't help to find that there was only one bike of the stunning red and black combo at the sale price.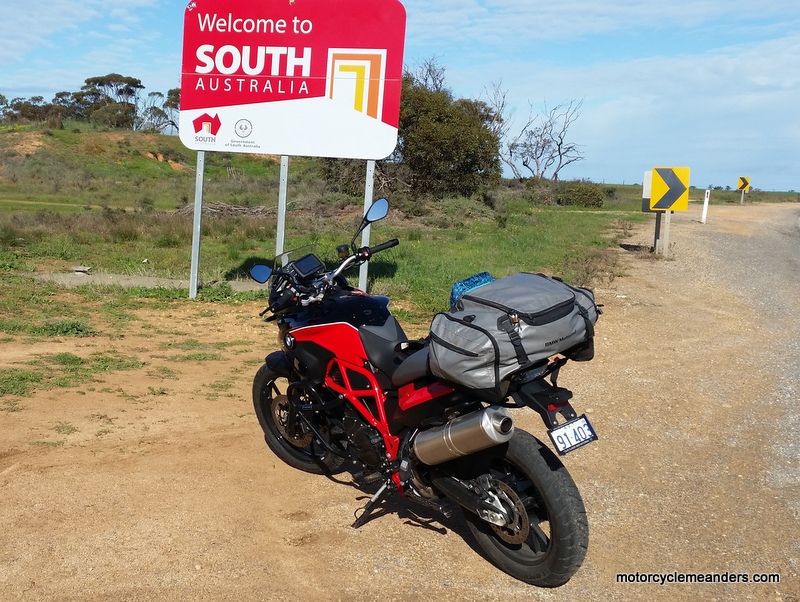 Having ridden the F700GS for over three weeks on the South Africa trip, I found it easy and comfortable (apart from the standard seat) to ride. It also inspired a high degree of confidence in dealing with some tricky situations, like getting out of a farm stay on a very wet and slippery "veld" surface. While the Crossrunner was a most enjoyable ride, it lacked a few key characteristics that made the F700GS that much more attractive for some "adventure" riding (using the word a little loosely in my case).
Fortunately, the F700GS on offer came with the "comfort seat" as well as a couple of other "extras" further making it a laid down misère to buy on the spot. Although it sat in my garage for five weeks with all of 9km on the odometer while I undertook the Mongolia tour – pure "adventure" – on a Royal Enfield with no particular adventure riding characteristics, I've more recently taken it on a 3,000km ride across three states. Aside from its adventure riding attributes, it's a great tourer on any surface. I have so far found it comfortable and tireless.


Epilogue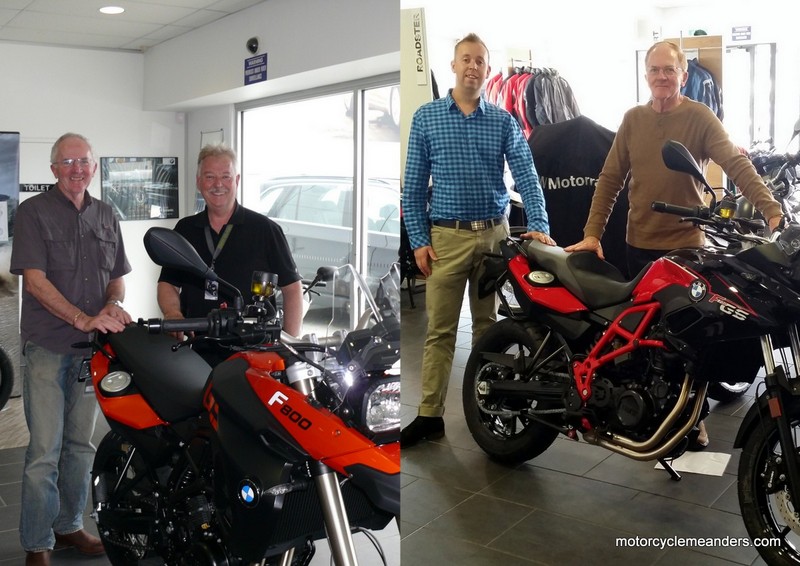 This is an epilogue only to the F700GS section! Just a curious point of interest. We often hear of professional or political dynasties, but here's an example of a local BMW distributor dynasty: father (Ron) and son (Michael) each of whom (at different times obviously) has won metropolitan distributor of the year; and each of whom has sold me an F800 series bike! (The F700 is really an F800 without a tie.)