Blue Mountains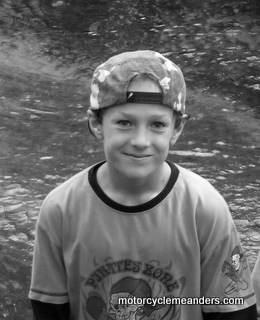 Dylan was up for a weekend trip to the Blue Mountains in March 2008. That's about a 330km (~205 miles) trip one way. We went through Oberon, on the edge of the mountains and perched at over 1100 metres. The Goulburn-Oberon road is one of the top 100 rides identified as such in the Australia Motorcycle Atlas. It's a great combination of sweeping curves through open farming and hilly areas and tighter descents and climbs as you first cross the Abercrombie River and then head into more mountainous terrain. His mum, dad and younger brother came along too but by car. His mum swapped places with him half way back.

Queensland
In June 2010, I took him to Queensland for a week or so to visit his cousin. Actually, the trip was for me to babysit my granddaughter during a week of the school holidays. So we did it together – the trip and the babysitting.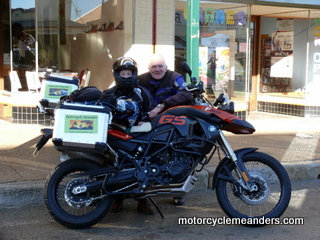 We managed to pick some of the coldest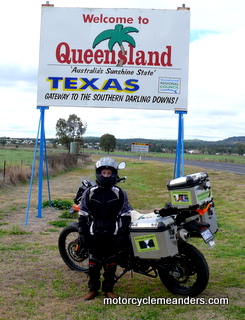 days this winter. The max for the first two days stayed below 10ºC, although we were colder during the overnight stops in country town pub than on the bike. We took the 'Middle Route' overnighting in Gulgong at the Commercial and Yetman at the Codfish. On the way back, the stops were the Imperial in Bingara and a motel in Molong (the pub where I'd stayed before reckoned they had a rule not to have minors). We deftly dodged the rain on the way back and had decidedly warmer days than when outward bound.
This was Dylan's longest trip, with one day each way in excess of 500km. He enjoyed the whole experience: the riding, the breaks, the overnight stays, and, of course, seeing his 5yr old cousin, Brodee. Having a day at Dreamworld helped, although juggling two grandchildren (aged 5 and 13) between rollercoaster and merry-go-round rides was a lot more difficult than riding the 1300km up there.
The border crossing was special for Dylan, having never been to Queensland before. The border town of Texas is a little different from the experience of Tweed Heads and Coolangatta.


India Nepal and Bhutan
Over Christmas and New Year 2010-2011, I took Dylan to India, Nepal and Bhutan.
Dylan had often 'demanded' that I take him with me on one of my meanders abroad. I'd never seriously considered the prospect of doing so, but had thought that, if it ever were to happen, it would have to be to a totally different culture than ours. I suppose it was a 'value for money' thought, as in what would be the most value to Dylan.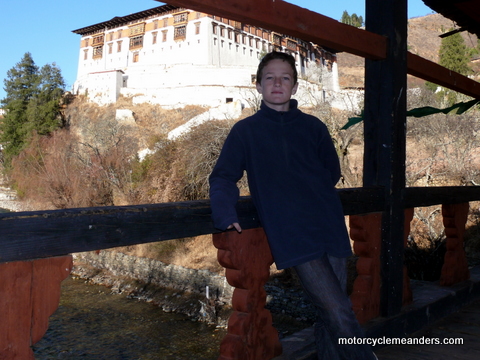 There were several inhibiting factors: they were my trips; they were (or mostly were) 'older generation' events; and they took place during school term.
Then, as alluded to on the page on the India Nepal and Bhutan Tour, I came across Ferris Wheels new, revamped tour that combined previously separate tours of Nepal and Bhutan, together with a few days transiting India before, during and after the Nepal and Bhutan segments. And it was during the Christmas school holidays. Instinctively, I knew it was a laid-down misère, but still felt the need to think it through – for a day or so! It was the perfect trip to share with my then 13 year old grandson.
The motorcycle aspect was, of course, a key clincher. That was a special relationship we cherished.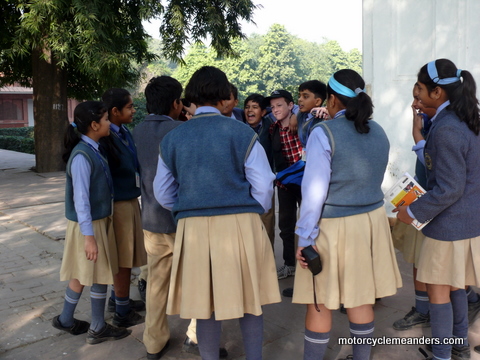 Dylan's reaction was ecstatic, but not without some passing apprehensions about being away from Mum and Dad for Christmas, having to eat new foods, being subjected to the cruel and unusual punishment of inoculations; and the incomprehensibility of the Indian sub-continent.
He put a lot of preparation into the trip. I wrote up a short guide for him which we went through several times. We watched the movie Little Buddha together twice (he was quite taken with the places and themes of the movie and related them to destinations on the trip). He spontaneously explored Google Earth and Google Maps to locate places and discovered for himself several places of special interest to him. And there was the parahawking which we discovered through a random item on the ABC news site! By the time we set out, I think he was better prepared in terms of knowledge, ambitions and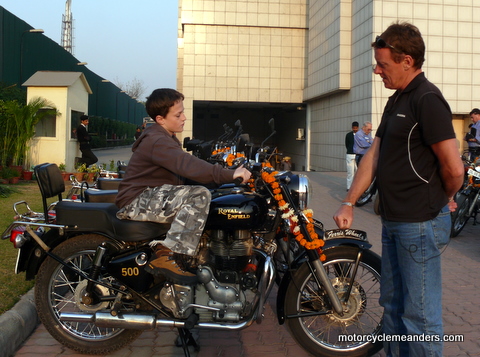 expectations than most tourists.
For me, it was exciting and fulfilling to introduce Dylan to such a diversity of peoples, history and culture; and, importantly, to share the experience so intimately with him. Neither of us was disappointed. It was simply the most wonderful undertaking. For us both, especially for Dylan, every day was a fresh awakening full of new discoveries, experiences and memories.
At thirteen, Dylan was still young enough to be openly and uninhibitedly receptive to every aspect of the adventure. That was particularly rewarding for both of us. And yet, at 13, he was also sufficiently maturing to learn, adapt and appreciate what he saw, experienced and heard about; and to interact and adjust in his involvement with the group.
Maybe it's also something to do with being a 13 year old, but he quickly became an expert on the operation and vagaries of the Royal Enfield, a daily critic of my mishandling gear changes, an inveterate pillion seat rider (we had intercom to 'facilitate' this), a seasoned barterer with all sorts of vendors, a comfortable interlocutor with peoples of all races, ages and social levels, and an intimate of mechanics and riders.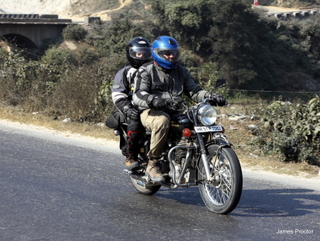 There's more detail about the trip on the India Nepal and Bhutan page. There's also a slide show of Dylan's tour. The photos alone reveal his enjoyment and excitement as the tour unfolded – from the first day to the last day. The video of Dylan Parahawking is also in that page.