Old Mail Routes
Tracing the old mail routes of the 1850s and 1860s along the Murray
March 2010
This is the story of my trip to explore and experience the mail routes, blazed and traversed on horseback and by coach in the 1850s and 1860s along the Murray River from South Australia (SA) to the junction of the Murray and Darling Rivers in New South Wales (NSW). It outlines how the venture came about, describes the journey, and is complemented by a map and photos.
This trip was the first serious Meander in Oz on my new F800GS. I did sneak in a three-day run with mates through the NSW and Victorian Alps, but that was before I got it kitted out with the good-look, expedition panniers!
Prelude
This trip was motivated by my interest in the life and work of my great grandfather, William Crick, who was the first person to be given the mail contract to bring the Adelaide mail on its last stages to 'The Junction,' which later became Wentworth – in the south west corner of NSW on the junction of the Darling and Murray rivers. These stages cover essentially the routes taken from Blanchetown in SA, around the North West Bend, though Overland Corner, across the Great Darling Anabranch and onto Wentworth. William or Bill, as memoirs of old-timers recalled him, did this with his brother Thomas, who was probably know as Tom. They had arrived together in Adelaide from England in 1852, aged 19 and 21.
The First Stage – to Wentworth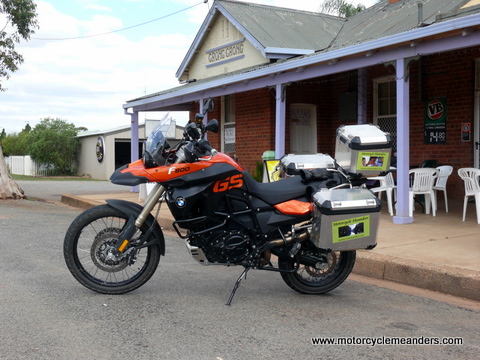 My first day's ride was a repeat of the first day of last year's Big Trip North: a midday start from home and a nice easy ride to the Royal Hotel at Grong Grong for the night. I had already established with Kay and Ted, the owners whom I had met last year, that we had friends in common, namely the Narrandera mob, with whom I had wined and dined for three nights along the Oodnadatta Track as part of my Big Trip North. I was well looked after at the Royal.
The next morning, I called at the bakery in Narrandera for breakfast, but because they didn't do bacon and egg rolls, they recommended a stylish, up-market café two doors down. It was nice. But, how about this? The first person I see behind the counter is Michelle, one of the Narrandera mob from the Oodnadatta Track! We were both equally surprised and similarly responsive. I later wondered what the other staff and clients must have thought.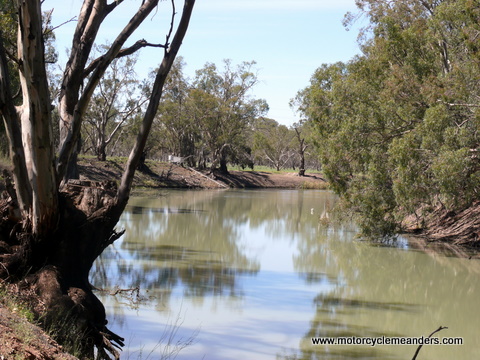 Narrandera was in the middle of its annual John O'Brien Bush Festival (John O'Brien, as in the author of many well-loved Australian poems, such as Around the Boree Log etc.) It was reminiscent of striking the Outback Festival in Winton. I just wished I could have changed my plans and stayed on, but I had already made appointments in Wentworth for Sunday and Monday.
Most of the day today was crossing the wide, expansive, seemingly endless Hay Plains. It wasn't all that bad. The plains pretty much start in Grong Grong but become even more dramatic from Narrandera. It was rather pleasant for the first few hours, just cruising along, blue sky, the sun on your back, your full shadow stretching at times in a perfectly straight line in front of you, and nothing between you and the horizon!
It was surprising to see the Murrumbidgee River so much more coffee-coloured (coffee with milk) than it is in Canberra. It must pick up a lot from silt, probably from the northern floods coming down its tributary, the Lachlan.
It was a nice feel to be back in Wentworth. It has a charm and attraction that far excees its seeming ranking on the tourism scale. I suspect a lot of people miss out on what Wentworth has to offer.
Checking the History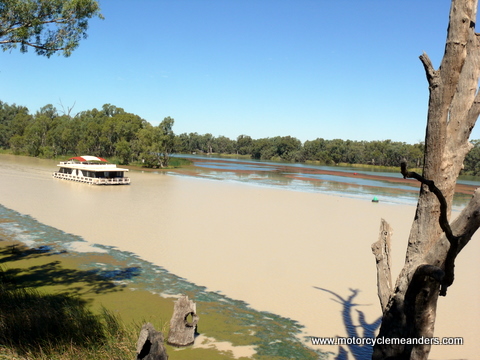 On my fist day in Wentworth, I spent some four hours with a local – but far more widely acclaimed – historian, archaeologist, geographer cum anthropologist etc. I'd had several email exchanges with Jeanette Hope about mail routes and local historical events. It was rewarding to be able to focus on all the relevant issues relating not only to the mail routes, but also the contemporaneous events surrounding the collision of Aboriginal life and the transit of the Overlanders, the pubs that doubled as staging posts for exchange of horses for the mail coaches, the vast sheep and cattle stations that were vital supports for all categories of regular and itinerant travellers, and the river crossings that started with local Aboriginal canoes and slowly evolved through rough-hewn, unstable bridges. I ended up with a myriad of notes and a previously assembled conglomeration of facts and timelines, with now many anomalies and inconsistencies to try and resolve before setting out to follow the mail routes. I was assured by Jeanette that this was a normal part of sorting out historical events and perceptions. We did branch off a few times with somewhat philosophical 'meanders' into recent historical debates that, no doubt, inspired the Black Arm Band (I attended a concert by them during my Big Trip North) to adopt their name; and the rigour or lack of it that characterises different historians' re-creation of events.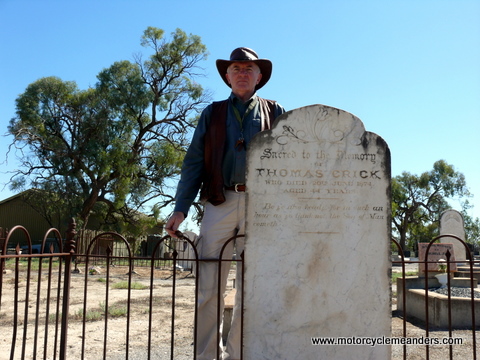 I might add that the venue of our meeting, proposed by Jeanette, was an amazingly designed, quasi-reproduction of the original tin shed, bond warehouse that previously occupied the site. Just the greatest coffee-and-accompanying-accoutrements establishment you could ask for. So much so, that the owner presented us, unsolicited, with his latest experiment in polenta – a perfect, if unexpected, light lunch to sustain us for the two hours that were still to come. As you might expect in a town the size of Wentworth, he and Jeanette were well acquainted. Artback, the name of the establishment, combines café and catering services with art exhibitions and encouragement of artists – a studio being part of the design.
After that, I did the rounds that I have previously undertaken: the actual place of the confluence of the Darling and Murray rivers, Lock No 10 on the Murray, the cemetery and the local historical museum. This time, I added a new site/sight (I guess it's both), some sand hills about 6kms out of town. This was on the road of the mail routes, so it was a short preview of what awaited me.
One striking difference from my visit in August 2009 was at the junction. Last August, the rivers merged into an identically coloured ribbon of a newly expanded Murray. This time, the very distinctive muddy, coffee-coloured Darling kept assiduously to its right-hand side of the now expanded Murray, leaving the left-hand side to the more blue/green, if a little algae-influenced, main stream of the Murray.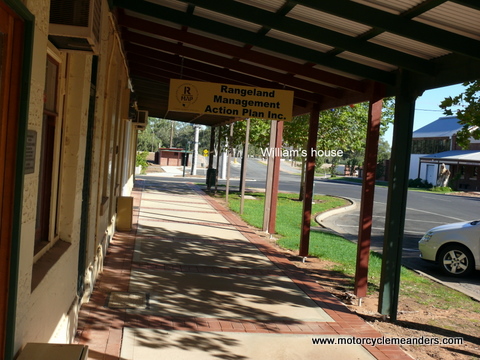 The next day was spent at the Wentworth Library. Once again – as in August last year, when I came through – I was generously assisted by Leanne Watmuff, the library's chief researcher and a sort of professional-level factotum. (I hope she won't mind my calling her factotum, but the word captures for me the idea of someone who has a knowledge of and role in everything important to the function of the institution.) I also had help from Allan Wembridge, an active historical society member and someone who has done research on the old mail routes. While mentioning people by name, I might add that I had the opportunity to meet Maxine Whithers, who happened to drop by for the first time in some years. Maxine is the author of Bushmen of the Great Anabranch, which I have found a very enlightening source of information on William Crick and his mail runs. (The 'Great Anabranch' is the Great Darling Anabranch, incorporating its surrounds.)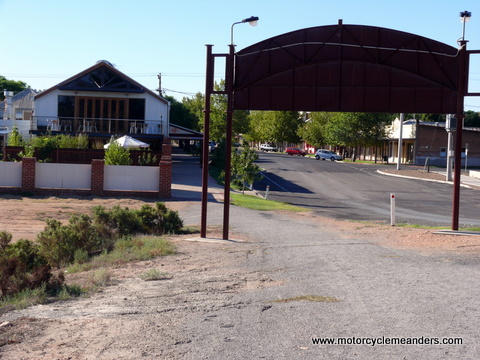 By the end of the day I had lots more snippets about William Crick's mail activities, if not always confident about authentication; several references to the PS Blanche on the Darling with wool cargoes at specific times during the period of William Crick's ownership of it; specific information about property owned by William Crick (section and allotment numbers!); contemporary comments on some of his tribulations, such as having to move out of his flooded house and troubles on the mail routes; and more information on how to trace the mail routes and what to look for.
William's block of land in Wentworth was in the main street just a few doors down from Artback, where I had spent four hours the previous day – except that there are no longer any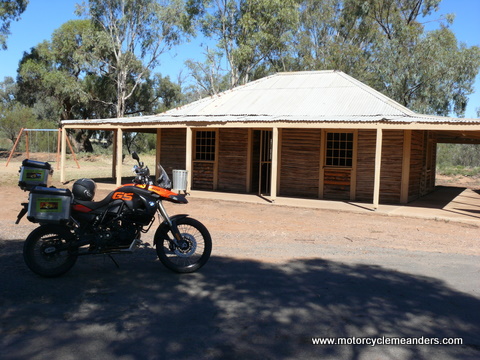 houses beyond Artback. The space is largely occupied by a large levee bank designed to protect the city from repeats of the serious flooding it has experienced from the Darling bursting its banks. Looking at the low-lying areas at that end of Darling St, where William and his family had lived, you could well understand a report in the Adelaide Observer of 6 August 1870 which said, "the flood on August 1st reached within 6 inches of that of 1867...besides those referred to in a previous report who have had to leave their dwellings, Mr Crick, the mail contractor, has been compelled to shift." William and Margaret's second youngest, Ellen (Nell) was born in 1870, the year of the flood. Thomas Francis (my grandfather) was 2. They also have a 4 yr old (Elizabeth), a 6 yr old (James), an 8 yr old (Paddy) and an 11 yr old (John Edgar). What an ordeal it must have been. One-liners in a Government Gazette or a local newspaper don't necessarily capture the drama that sits behind their announcements.
The day finished pleasantly by heading out of town to a near-by estate of irrigation farms to have dinner with Leanne and her husband, Lee. The ride back was novel. Made me realise I had never ridden in total darkness (no street lights) before. It was a bit unnerving coming onto a main highway not being able to see a thing outside the beam of the headlight. Although it might seem theoretically logical that, if there are no other headlights, there are no other vehicles...but it still required a leap of faith.
Moorna Station and Old Town Site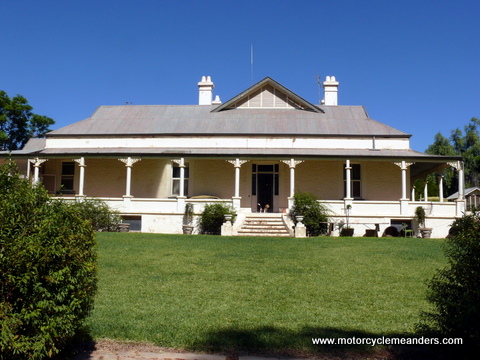 I regretted that I didn't bring my camping kit and caboodle. The perfect way to explore the old mail routes along the Murray would have been to meander along the various tracks over a few days, camping wherever you might end up on any day. Without that facility, I figured I'd still take my time and make a decision at the end of the day as to whether I doubled back to Wentworth or darted onto Renmark for the night. I initially thought it would likely be Renmark. However, just before leaving Wentworth, I succeeded in making contact with the owner of Moorna Station, Annabel Walsh. The old Moorna town and pub, the last staging point for the mail before Wentworth, was near the present Moorna Homestead. She was happy for me to call, but suggested I do so first thing as she was in the middle of shearing, had just had an American delegation leave and was cooking for 30 guests who were arriving from the Lachlan Shire for dinner and the night – and a talk on her well-informed and effective farming approaches. So, the order of the planned day suddenly changed as I headed for Moorna Homestead.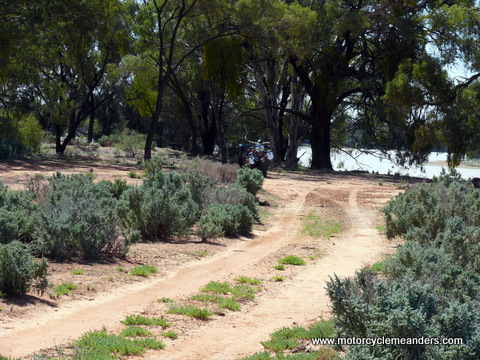 Annabel has long run the farm single-handedly and has become a highly respected proponent and implementer of many innovative approaches to farming, often enough drawing on very traditional practices. She's also a keen investigator into local history. We must have spent a few hours talking in the kitchen while she prepared the evening's fare. She was delighted at my interest in the mail runs, especially the links to Moorna. She directed me to the location of the old township on the banks of the Murray a few kms from the homestead.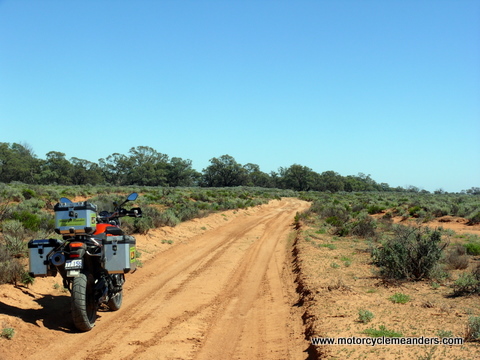 There's not much at the Moorna town site. In fact, there's nothing standing. Just some foundations of a few buildings and lots of scattered building materials. In its day, there was a government-built wharf, several government offices and the Moorna Bush Inn. From the very first mail contract to the Junction, later to be called Wentworth, Morana, later to be called Moorna, was a specified stop. In fact, it was a regular point for changing the horse teams. As to precisely where the original mail routes in and out of Moorna were is anyone's (well-informed) guess. There did seem to be a discernible track, deeply grooved, that was heading pretty much west, so could easily have been the western road. It was less obvious to spot where the coach might have headed east from Moorna. I followed the western road, which crossed the access road coming into Moorna Homestead and kept following the river westwards. Mostly, this track stayed on the drier red, sandy ground, but traversed some of the clay flats when closer to the river. Having followed it for many kilometres, I figured I needed to turn back in order to allow time to explore a few places on the Wentworth side of Moorna that I passed by on the way out. I eventually found an access road heading back to the main gravel road and made by way back.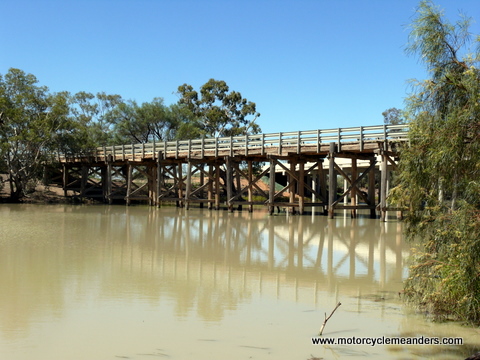 The gravel road took me back to the Great Anabranch and its bridges. The original bridge was built in 1867. This allowed the mail runs on the route to use coaches for the first time. Prior to that it was a horseback trip, although there might also have been some sulky stages, at least to Moorna. The old bridge was repaired, upgraded and strengthened in the early 1900s, so what still stands today next to the new 2006 concrete bridge would seem to be the modified 1904 version of the original bridge. The mail route, at that stage, must have diverted from its river- side trek to move sufficiently upstream on the Anabranch to cross the bridge. It could have done so at a number of places. There are still discernible tracks heading towards the river from just a few hundred metres west of the Anabranch. I followed them in and along the river for a few kms. William Crick may well have kept to these tracks when carrying the mail on horseback; and they well might have been the coach route to the Anabranch. From the Anabranch to Wentworth, there's not a lot of options, but there was one 'short cut' that I took that seemed to cut off a sweeping bend in the bitumen road; but it wasn't quite so obviously a short cut when I looked at the GPS tracking data.
I ended up back at the Royal in Wentworth, where I have been for the past three nights.
Lake Victoria and the Rufus River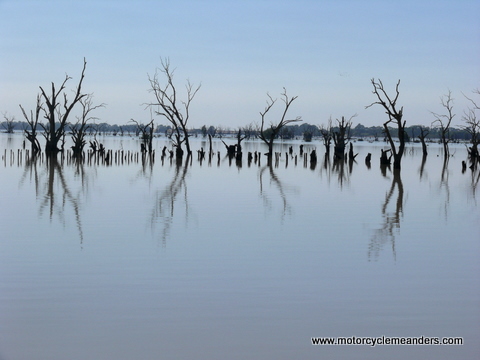 Another start from Wentworth took me straight through to the crossings of Frenchman's Creek and Rufus River. Most of the terrain, once past the Moorna turn-off, seemed to be fairly consistent; and trying to find and follow the old coach tracks would have been essentially a repeat of the day before. It might have made sense to continue to track the old routes if I could have stopped anywhere and pitched a tent. But I needed to position myself to be within striking distance of Renmark for the next overnight stop.
The Rufus River "regulator" was the first serious stop. The bridge over the Rufus River incorporates a regulator to control the volume of water as the river flows out of Lake Victoria, down the Rufus River and into the Murray. Even though the lake and the river are in NSW, the lake and water flow are SA controlled – all part of interstate water rights agreements, I assume. The Overlanders (early settlers bringing sheep and cattle from NSW and Victoria into the new colony of SA) trekked south of the lake, crossing both Frenchman's Creek and the Rufus River, so this would have been a well-trodden path by the time the first mail runs were being made.
William Crick had the first contract to take the Adelaide mail from Moorundee (now Blanchetown) to the Junction (now Wentworth). These early runs were on horseback, with a pack horse trailing behind. He would have certainly taken this route south of Lake Victoria. It would have traversed ground on which the 1841 Rufus River Massacre had taken place – a tragic episode spawned by tensions between the Aboriginals, who had a long-established, stable habitation pattern along the Murray, including along the Rufus River, and the Overlanders, who were coming through the area in increasing numbers with huge herds of stock. A lot of the ground involved, including the track the mail would have followed, is now underwater, the lake having extended its shores with all the water control mechanisms (locks, weirs, regulators) that are now part of Murray River life.
The early coach routes actually went north of the lake, coming down its eastern shore, thus avoiding both Frenchman's Creek and the Rufus River. Unfortunately, this area is inaccessible – at least not without permits. That might be a later visit.
Nampoo and Lake Victoria Homesteads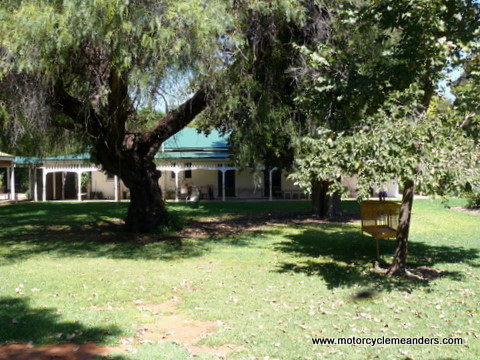 Paul Cohrs, who owns several properties in the Lake Victoria area, was recommended as a good source of early history. I was warned he was hard to catch as he was out on his domain from dawn to dusk. I rang him and was lucky enough to catch him, albeit on his tractor. He was happy for me to call by. We met up at Nampoo Homestead, one of his properties. Although he owns several adjoining properties, including a lot of Murray River frontage, Paul doesn't see himself as a farmer. His main, money-earning business is in building materials. His property buying and owning have more to do with his passions for history, wildlife, and tourism. He recently acquired the adjoining Lake Victoria Station, one of the original stations in the area, although now a much smaller holding. The Homestead is a veritable oasis of lawns, flower gardens, shrubs and trees surrounding a beautiful rambling home. He and his wife have it prepared for the tourism market, with the intention of taking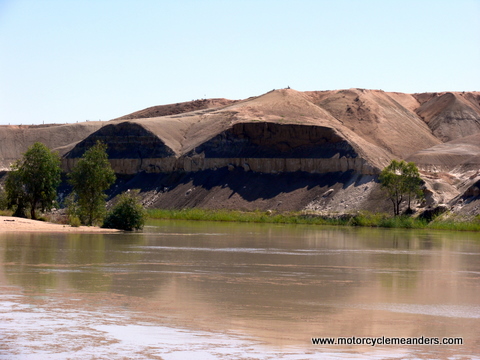 up residence there on retirement in about 10 years. He was an enthusiastic host as he showed me around the properties, their vestiges of the past, the river frontages, Devil's Elbow – a sharp turn in the Murray backed by steep cliffs, and the historical treasures he has gathered. The early stations were huge. Lake Victoria Station was over a million acres and sheared 100,000 sheep. Nearby the Victoria Lake Station Homestead are the remnants of the shearing and wool-loading facilities on the banks of the river, strategically positioned to take advantage of a deep hole in the river to allow the paddle steamers access. The original Nampoo Station had to get their wool down a steep embankment to load the steamers in a billabong off the river.
Paul also provided great advice on whom else I should contact and on the old coach routes, now often along now closed roads, with their historically significant buildings and ruins – many part of the mail coach stops. I didn't have time to trace these, but planned to do so over the following days. The day ended with a 70kms dash along the gravel 'back road' to Renmark, arriving about 5.30pm (I think that was NSW time!).
Overland Corner and Wigley's Flat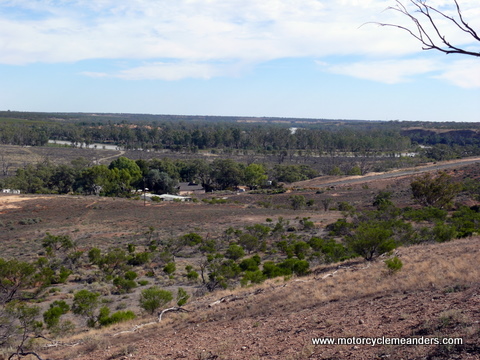 The beautiful old Renmark Hotel wanted $90 for a hotel room (as opposed to their motel rooms) which had only one single bed. I thought that was stretching the concept of 'fair and reasonable' so moved onto Paringa and got a huge room with double bed and ensuite for half the cost. Coincidentally, one of the highly recommended experts on mail route history and identification lived in Paringa. She was busy on my first day there, so we agreed to catch up the next day. I didn't want to head back east towards Wentworth visit the places I missed before I spoke to her, so I ventured west to Overland Corner for the day.
The Overlanders, droving their stock, tended to follow the rivers. To avoid a long southern loop of the Murray, however, they cut a path away from the loop and re-joined the river at Overland Corner. It soon became a hub of resting stockmen and stock. It later became a delivery point for the Adelaide mail to Wentworth; and a change-over point for the horse teams once coaches came onto the route. It was a via point stipulated in all William Crick's mail contracts. William and Margaret are reputed to have lived at the Corner for a while. Anecdotal evidence is that WP (Paddy) Crick was born there – in a tent. Their eldest, John Edgar, would have been three. A likely place where itinerants would have lived is along the coach road on the high ground, shown in the photo "along mail route at Overland Corner." While the river flats provided ample fodder for the Overlanders' stock, they were susceptible to flooding, as was the pub, which wasn't much above the river flats. The higher area in the picture just mentioned would have been above flood level.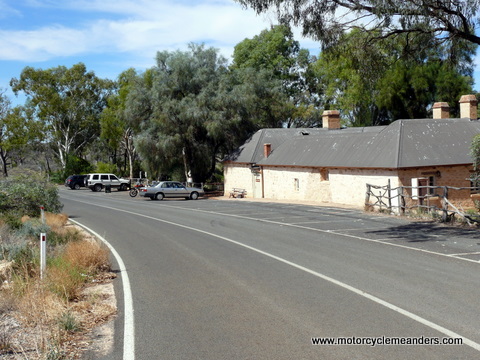 From Overland Corner, heading east towards Wentworth, the mail run, probably both horseback and early coach runs, would probably have followed the paths of the Overlanders. Later, towards the end of the 1870s, after William's time on the mail runs, took a more northerly path into what is today Cooltong, a bit north of North Renmark. My start to the day was to head north from Renmark to find the eastern end of this old coach track. I was pretty sure I succeeded, but after a few kms of following it, there was a fork, after which both arms seemed to deteriorate markedly. I decided the wiser course was to turn back and go to Overland Corner the more conservative way. It was just as well. It turned out not to be the coach road, but might have met up with it. I later discovered exactly where the eastern end of the road was located. I also read about the decidedly awful condition of the track, which is closed to vehicular traffic; and, the western end of it, close to Overland Corner, was closed by a securely locked gate. Maybe a treat for a future date – with company and clearances.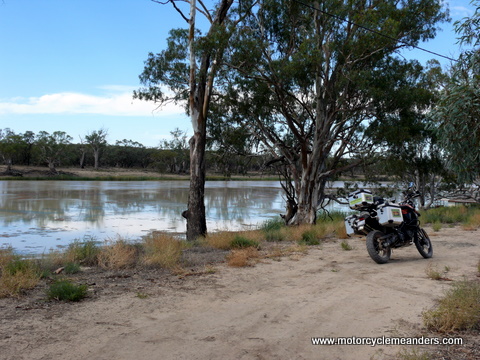 My intention was to continue onto North West Bend, around which the early routes ran, but I got diverted by the lure of following the river south. This lead to a punt crossing at Waikerie. At that stage, I headed back towards Renmark, but now on the southern side of the river. That was okay because the later mail contracts no longer stipulated North West Bend as a via point, but retained Overland Corner. That meant that the run from Blanchetown could go a much shorter route. I didn't appreciate it at the time, but later discovered that the route from Blanchetown to Wigley's Flat was blazed by William Crick on his early horseback runs. It's still a dirt road looping south of today's Sturt Hwy. The coach or, at least, the mail, needed to cross the river to get to Overland Corner. The place most think this happened was somewhere along Wigley's Flat, where the cliffs give way to a gentler descent to the river's edge, with low banks on both sides; and a narrowing of the river's width. I found my way down to the Flats on an unmarked, steep gravel road that eventually flattened into a sandy, loam surface to the river.
While the river still looked formidable, I had to recall that, in the days of the early mail runs, there were no locks or weirs that today maintain a higher water level in the dry seasons. The river would have been either flowing or dead dry back then. Presumably the coach could cross at times; at other times, the mail and passengers would have been ferried across somehow.
A Rest Day – More Research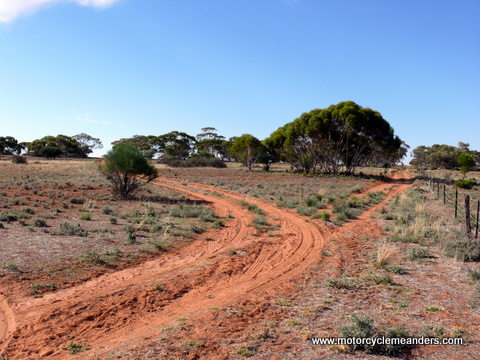 Most days seem to turn out differently to what I plan. But then, the plans are usually very rough ones.
After a couple of long days – but both short in kilometres – I ended having an almost a bike-free day. I rode about 800m to meet Heather Everingham, who everyone seems to defer to for knowledge of the history of the area and its people. I figured I'd then spend the afternoon doing a loop out through Overland Corner to the Nor' West Bend, which I missed the day before, and trace the old mail route along the Murray south from Morgan to Blanchetown; and then head directly back to Paringa. However, as with my other discussions, when you get involved with people who are both knowledgeable and enthusiastic, time becomes secondary, despite their busy lives and commitments.
Heather's office was a corner – a large one – in the art gallery she and her husband run. Steven, her husband, is the resident artist. She must have almost 20m of shelves loaded with the fruit of her research over many years; and she pretty much knew where everything was. She came up with many references to Bill Crick (he often comes up as Bill Crick, so I guess that's what everyone called him) and events and other people complementary to the story of his mail runs. Several gaps were filled and new insights emerged into what happened and why. We spent time on the routes and their management both west of here (the places I visited and missed the previous day) and east of here, some of which I traversed earlier and to which I still planned to return.
By the time we were finished, it was too late – and too hot – to venture anywhere, so I contented myself with a visit to a near-by large, rambling antique/collectibles 'spread' followed by a run into Renmark for some supplies for the next couple of days.
The plan for the next two days was to trace the mail routes back towards Wentworth. I'd been invited to spend the night at Kulkurna Station, whose owners are one of the longest-established families along the old mail route. I didn't know, at that stage, whether I'd head onto Wentworth on Sunday or come back to Paringa so I can do the Nor' West Bend. I felt inclined to leave the latter for another trip, which I'm sure I will do, since there's so much more to discover. I had by then already decided that Adelaide would also need to wait for a future visit.
Chowilla
M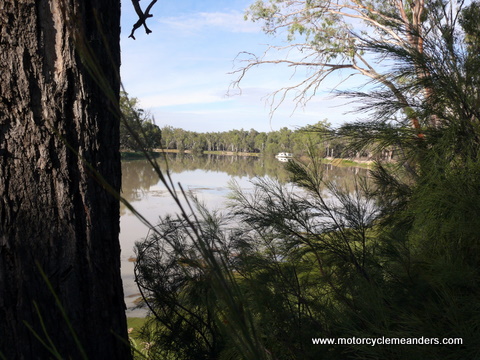 y ten-year-old grandson, Oskar, has a frequent lament: 'this is the worst day of my life!' After this day, I think I knew how he feels. Fortunately, I don't feel that way with his regularity.
The day started well enough at Paringa SA, even though I forgot I had my watch on NSW time and so got up and got ready a half hour earlier than I thought. My plan was to travel the back, gravel road to Wentworth, dropping down to the old coach road at various points of particular interest. The first stop was going to be Calperum Station, which is now occupied by the Riverlands Biosphere program, a UNESCO based conservation project. But at the last minute, I opted to ride on. I had tried unsuccessfully to contact them the day before; and was reluctant to end up in an unoccupied establishment with no one to provide any insights. Besides, I wasn't in the right frame of mind at that stage. The ride along the Wentworth Road was becoming a challenge. The clear early morning sky had clouded over, creating a greyish diffusion of light that blended the varying and changing textures of the road. You didn't know what the road surface was until you felt it under the tyres.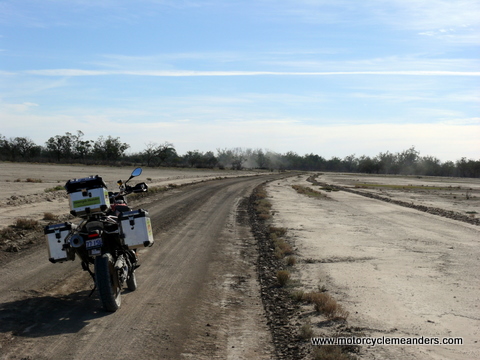 Further along the Wentworth Road, I turned into Chowilla Station because that was a required via point in the mail contracts of Bill Crick's time. I had made contact with Liz Robertson, one of the owners, the day before. She had told me that there wouldn't be anyone home who could take me through the history; but pointed out that there were public access roads relating to the old coach routes that I could explore. I was keen to see Chowilla because of its significance as a staging point but found that the more historically significant sights (and sites) were designated 'private'. I did venture into the 'guests only' area of the shearers' quarters and old woolshed. I also got to see what was likely the old coach road coming from the homestead and heading west away from the woolshed.
Lunatic Bridge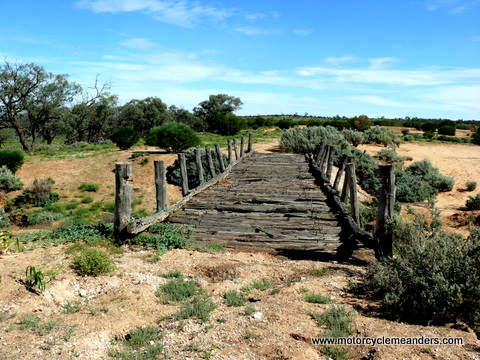 From Chowilla I went back to the Wentworth Road and continued to the shores of Lake Limbra in search of the famed Lunatic Bridge. It was built as a diversion to circumvent flooding of the old coach road along the river flats. This was around the 1930s, before the higher roads, the old and new Wentworth roads, were built. It was certainly used for this purpose, although it was never a coach road. It was known from the outset as Lunatic Bridge, supposedly because you'd have to be mad to use such an odd-angled and unsafe-looking bridge. Some refer to it as Suicide Bridge, presumably for a similar reason. One story has it that it was built in the wrong place and the hapless engineer committed suicide. However, the builder, Ted Bicknell, was still alive and well for some 40 years after building it.
Todd's Obelisk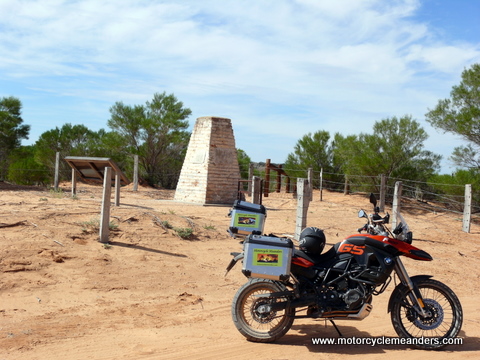 The track into Lunatic Bridge was also the point of turning onto the Old Wentworth Road. While it wasn't the old coach route, it went close to it in parts; and it went past the 1668 Todd Obelisk, which I was keen to see. The obelisk marks the South Australia/NSW border, correcting an 1839 error that had put the 141st meridian of longitude, the agreed border, 3.2km further west. NSW, generously or simply justly, agreed to give up the 3.2km wide tract along the border – something Victoria refused to do; and had its stance upheld by the Privy Council. I wondered whether NSW later came to regret its ready compliance.





The Old Wentworth Road: More Sand than Bondi Beach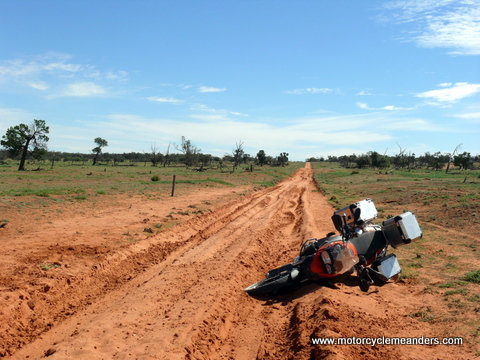 If I had had any inkling that the Old Wentworth Road was to descend, for increasingly long stretches, into sand traps more appropriate to a golf courses than a road, I would have stuck to the New Wentworth Road, the gravel surface of which, despite its changing textures, would have been Heaven by comparison. Because I hadn't expected so much sand and had been handling the shallower drifts on several, previous roads well enough, not that they seemed shallow at the time, I ventured on with, as would become evident, an unmerited bravado that I had mistaken for the confidence of keeping the throttle on when in sand. It never crossed my mind to lower tyre pressure; and my more road-oriented treads didn't help. However, I was actually enjoying it, I think, albeit with churning stomach.
Getting to the Todd Obelisk unscathed was a landmark. But I was in store for more adventure. The road was deeply rutted and seemed to be made entirely of sand, with the wheel ruts well-softened. One particularly long stretch, about 7km into NSW, put a temporary end to my progress. That led to a three hour sojourn on the side of the road, with several unsuccessful attempts to stand the bike up. I had food and clothing; and enough water, orange juice, milk and red wine to ensure that I wouldn't perish if I had to see the night out. I figured if no one came by within 24 hours I would redefine 'emergency' to cover my situation; and trigger my PLB (Personal Locator Beacon). However, yet another attempt to get the bike upright mysteriously succeeded. Straddling the bike, with first gear, I got it out of the sand rut and up the embankment onto firmer ground.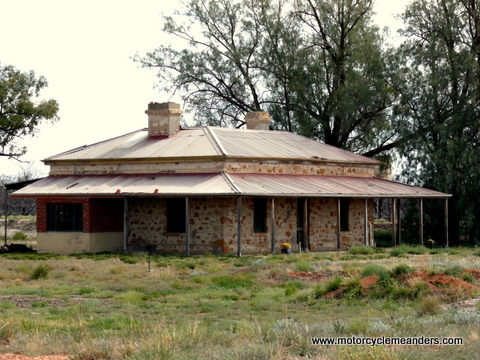 Reloaded and somewhat relieved, I proceeded to the old Tareena post office, where you could see the coach roads coming and going. However, the Old Wentworth Road didn't get any better. If I had had a transporter, as Oskar once thought I must have had (thinking I had rung from home before I arrived a couple of minutes later when, in fact, I had phoned from his local shops), I would surely have used it to turn up on the lawns of Kulcurna Homestead. But there was no such transporter. Only more sand and another bike drop; and a multiplicity of unsuccessful attempts to get it upright.
This time, I was less complacent about 'camping' out and wandered – hobbled more like it – up a nearby hill to see if that might encourage Next G to make contact. It did – in a sort of sporadic haphazard way; but, at least, it was enough to make contact with Belinda from Kulcurna Station, even though we could exchange only one or two words for every dozen or more we uttered. Belinda, with her 80 yr old mother, Den, set off to find me, but, once they learnt I was on a bike, didn't imagine I would have been on the Old Wentworth Road at that point. Again, however, the bike was suddenly upright. This time after digging away sand walls that I had been trying to get the tyres over in the process of standing it up. I had no sooner got it out of the sand and reloaded when two SA Water engineers arrived. They had run across Belinda and Den on their search; and had been promptly commissioned to take up the search on their behalf. Coincidentally, I had met Mick at the depot at Rufus River on my way through a few days back. The first thing Mick and Leo did was let my tyres down to 18psi at the front and 25psi at the back. I then followed them along some 'local access' roads through private properties to Kulcurna. I felt a new-found confidence and security in the way the partially deflated tyres almost seemed to like the sand, even though it was in smaller and shallower patches. By the time I arrived at Kulcurna, it was almost dark.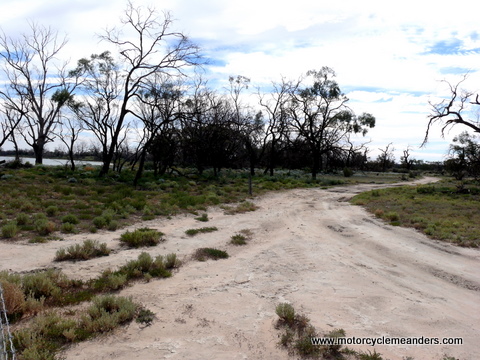 The site of Kulcurna Homestead, with the welcome and hospitality of Belinda, was a very comforting end to the day's journey. She was sensitive and thoughtful enough not to point out what all of us – she, Mick and Leo, and even I – were, no doubt, thinking about the wisdom of my road choices and sand-riding nous. The Hansens, Belinda and her mum, Den, with Paul, their brother and son, live in the close-by Rhumullina Homestead, which is also part of the old Kulcurna Station. By the time I arrived, Den had retired to Rhumulina for the night.
I was feeling a little the worse for the day's experiences, so was especially grateful for the additional care I received in getting a few ailments settled; and being set up for a restful evening, including having been supplied with a walking stick to aid access to the outside toilet – to be shared with three frogs domiciled in the lip of the toilet bowl. After a well-enjoyed hot bath with a cold poultice on an ever-blueing foot, I savoured an easily prepared dinner accompanied by a glass or two of red wine that an hour or so in the freezer had reduced to room temperature.
Kulcurna Homestead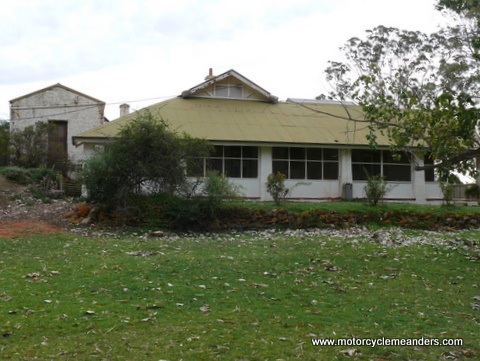 For a few savage moments before daylight, when I reached across for the bedside glass of water, I thought I would not be moving from a flat-on-back, bed-prone position. My first unplanned stop in the sand the day before had hurled me forward, as if from a bucking horse, to a two point, head and shoulder landing. It was the shoulder that kept the water glass out of reach. However, being awake must automatically get the muscles and nerves operating because flexibility eventually returned. I then discovered that my foot could easily belong to an unexpected visitor from the planet Pandora, it so reflected the colour of its inhabitants.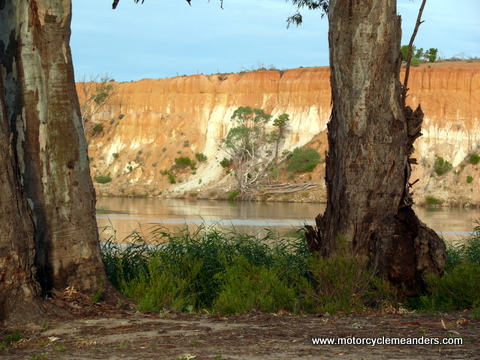 I was eventually up and about, albeit slowly and carefully. This was the first time I could really absorb my surrounds. Kulcurna Homestead sits on the banks of the Murray. The river is right where the street would be for the average suburban house. From the front of the house, you're looking more or less south, with the river flowing past from left to right. As the river rounds a bend hardly more than a hundred metres downstream, the multi-coloured, high, sand stone walls of the Lindsay Cliffs dominate the picture. Upstream, the terrain opens widely onto river flood plains. Strategically positioned – almost squeezed – between the two landscapes, Kulcurna Homestead has found a spot that keeps it safely above the flood plain, even though still dwarfed by the towering sand stones cliffs. I managed to take a walk around the lawns and admire the remnants of a wharf that provided a stopping place for the paddle steamers that constantly went up and down the river, the old windmill-driven pumping station, and several other vestiges of a grand period in Kulcurna's life.
Belinda and Den soon turned up to check on me. They confessed to debating who would thump me first. But that was in jest... I think. They were both been very kind and attentive. Over tea and warm muffins, they took me through the history of Kulcurna, amply supported by photos and newspaper clippings. Den has been part of Kulperna for all her 80 years, so had memories and stories over that period. She had great yarns, but there was no way she was about to let me record her talking.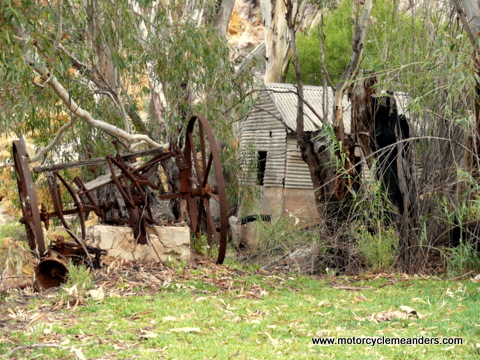 Despite the arrival the next day of visitors, who are to undertake road works somewhere in the vicinity, Belinda invited me to stay another night to give a bit more time for recovery. I was pleased to accept. Then, during the day, it stated to rain, very welcome rain. It was gently consistent all day, so no doubt providing, at least, a small layer of valuable surface moisture. It seemed to come with me, so that was a small redeeming factor. This would need a rethink of plans. When the back tracks aren't sand, they are often river clay – a treacherously slippery surface when wet.
I got to meet Paul late in the afternoon. He had returned from a weekend of clay shooting in Renmark. I think I heard "bloody idiot" from behind a bushy red beard, a mop of reddish curly hair, a sun-tanned face and a wry, empathetic smile. He'd 'been there and done that' a few times on his dirt bike, with dogs aboard, zipping cross-country to the next mob of sheep. Paul conjured up a mix of images for me. I had read on this trip someone's memoir that described my great grandfather, Bill Crick, as a "smart looking active man with grey eyes, tanned face and brown beard; he rode in short sleeves with a knotted handkerchief around his throat, a tireless man and well used to the horses he rode." Looking at Paul, I could almost imagine I was talking to my great grandfather. Then there was the roll-your-own cigarette in its holder, constantly clenched between his teeth – a perfect reproduction of perhaps the most telling image of my father, who seemed never to be without his cigarette holder with or without a cigarette in it.
Paul quickly came up with some options for 'next steps', like ferrying the bike and me to safer roads to getting an expert assessment of possible damage – to me, that is (the bike is as eager and energetic as ever). Like Den and Belinda, he was an attentive carer.
That evening, Den, Belinda and Paul came down to Kulcurna Homestead with dinner, which we all had together.
The River
T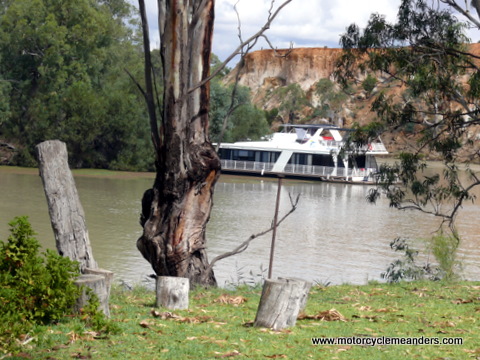 he rain moved on. The resurrected sun brought back the river bank and cliff face reflections. The change of weather also encouraged the occupants of a houseboat moored overnight at the downstream corner to enjoy constant ski runs up and down the river in front of the homestead.
I had, at first, assumed the peace and quiet of the river was a proprietary, everyday pleasure to enjoy. It was startling the evening before to suddenly hear the sound of voices rolling across the water, the high-pitched whine of a ski boat's outboard and the yells of kids riding a doughnut up the river. All this at dusk and in the rain. The bright flood lights of the intruder shining onto their mooring point made its presence felt into the night. I was reminded of the diary I had been reading of Jane Barnes, a young teenager, who lived at Kulcurna in the 1860s. She faithfully kept a daily diary over 1865 and 1866. There aren't too many days that don't record a steamer going 'up' or 'down' or mooring to drop off something or just to call by. I guess the river was always a busy highway, although the deep pitch of a thumping steam engine and the swirling noise of the paddle, frequent as they were, would have been welcomed as part of river life and the only regular link to the outside world. I doubt that Jane, if she were alive today, would bother recording the houseboats and their skiers.
Plans for Getting Home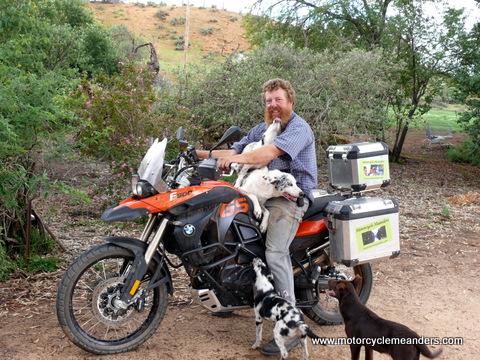 There had to come a day reckoning. It had become obvious that riding a bike to Canberra in the short term – or even medium term – wouldn't be the most sensible course of action, something I'm learning I should more often take. My plan was to catch a bus from Renmark to Adelaide and hop on a plane to Canberra. This, however, depended on Paul's getting his truck back together (he was busy on it, with lots of help from five very active three-month old Coolie pups of about 30cm high). Paul had offered to take me to Renmark for the 7.30am bus. He will also take care of the F800GS until I can return to collect it. I'm sure it will revel in a taste of country life, moving sheep, with dogs aboard, and chasing feral goats, with rifle slung on its saddle!
I was thinking I need to finally give it a name; one that reflects the event.
The plan went into action. The truck got a revamped starter motor, enhanced by scrubbing and cleaning, accompanied by lots of dog licking. And it worked. Paul drove me to a strategically high point on top of Lindsay Cliffs where Next G gave me some reluctant deference. That might be a bit unfair to NG. Some other Next G phones (no external aerial), with the Country ü, as mine has, were getting good reception where mine was getting zip. I think the Fonezone salesman must have confused LG and NG. Anyway, I managed to hold reception to make a plane booking. Qantas wouldn't entertain a points booking, despite the circumstances, because I wasn't within a stipulated time period or something. I was a bit too anxious about guerrilla forays from Telstra to take it all in. The important objective was to secure a booking. Paul later booked a seat on the bus, securing a pair of seats for me all the way to Adelaide.
We all had dinner at Kulcurna; and Den, Belinda and I said our farewells. Not that they have seen the last of me! Poor people! Kulcurna has an annual – and fast growing – dawn ANZAC Day ceremony on its front lawn, followed by breakfast. It's become something of a local significant event. That would be a good opportunity to reclaim my bike.
Since it was to be an early start, Belinda supplied me the previous night with sustenance for the trip. Despite the angst and trouble I had put her to, I sensed she might have been warming to me a bit. But then again, I think I might have got that line from Casino Royale, where Vesper wasn't at all warming to the obnoxious and troublesome James, despite his delusions to the contrary.
A Taste of the Old Coach Ride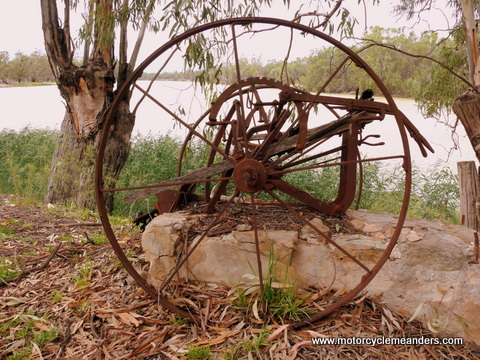 It was a dark 6.00 am (SA time) departure for the 7.30am bus from Renmark, with a sinking full moon in front of us, eventually giving way to a reddening sky behind us. Paul was obviously accustomed to the 'short cut' to Renmark, which, to my surprise and consternation, was the same demoralising route I had trundled in on. He mostly remembered the worst of the wash-aways and knew where his side tracks were (the same high ground I had belatedly discovered with the three-hour benefit of exploring the terrain on foot), so we ploughed through the darkened bush tracks, kangaroos hesitating before retreating from the 'road' – much like Bill or Tom Crick might have done, with the reins of four or six horses in their hands. When the spring carts and coaches plied the old mail routes, it was often dark (they drove through the nights), the tracks would have been even worse, they would have been lucky to strike a full moon, their headlights were solely the horses' eyes, their faith in the horses and their bush track instincts were all they had to secure reaching the next stop. I felt a bit the same, but my faith had to be in Paul. Imagine how the coach passengers must have felt speeding through the black bush at full gallop, cart and coach springs straining and straightening, as wheels jolted through deep ruts; mail bags and boxes, every item of luggage noisily pushing at their restraints; no dozing with the constant shaking and expectation of mishap; the sole comfort being that it was only 12 or so miles to the next staging post – but, in reality, a veritable eternity. Paul's much travelled and much loved, rusting and batted 4x4 ute, at full gallop on the Old Wentworth Road, odds and ends in the back jumping and screaming, re-created for me all the images and feelings of the coach passengers of old, with the exception that I could see where we were going, with bright headlights, and could see the experienced hands of the driver in action. I felt confident that they were benefits the coach passengers lacked.
The Renmark to Adelaide bus trip was a comfortable, pleasant four hour run. An easy link to the airport bus had me at the Qantas Terminal by 12.30pm. That gave me about six hours in the Qantas Lounge to catch up on being peacefully incommunicado for the past three days.
Map of Points of Interest
Here is a map with markers to show where I had been and to indicate some of the old mail routes. It's impossible to trace the mail routes on the map partly because their location is not certain over much of the route and partly because the maps don't show them anyway. The map is in Satellite format, but you can easily change it back to Map format – and zoom in.

View Old Mail Routes in a larger map

Tracking Data from GPS
These PDF documents might help to get a better perspective of the location of some of the tracks I followed. Some of them would have been the old mail routes, including old coach roads.
This one shows tracking to and around Moorna:
This one shows tracking from Renmark heading to Kulcurna until the first drop of the bike. This incident dislodged the power supply so I didn't get any more tracking data.
This one has some places visited along the Murray mail routes.
Photo Album
Here is a photo album of the trip