Big Trip North
August-October 2009
This is the story of my big trip north through the centre of the Australian continent and Outback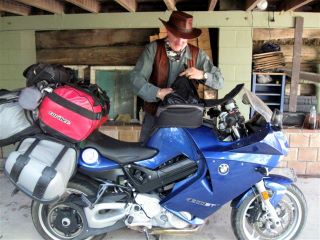 Queensland. It outlines how the venture came about and describes the journey.
This page is essentially an edited version of the blogs I published as I undertook the trip. But it also incorporates a map of the trip, video clips and a slide show of photos.
The Prelude
The trip had been a long time in gestation. The idea took root some several months previously when I heard that a group from the Sapphire Coast (that's around Bega, South Coast of NSW) were planning a three week trip 'up the Centre' in July of 2009. I quickly joined in the planning and got totally immersed in it. I did have a concern about the prospect of successive days of long rides in a couple of places; but fixed that by planning to leave several days before them, meet them at Coober Pedy in South Australia, and then spend some extra time around Winton and Longreach. My initial plans are outlined here.
But all that fell apart. An unexpected family issue had to be resolved in a time frame that I could not control. That alone meant that I had already dropped out of the trip before the rear bearing of the bike gave up and put it off the road for three weeks waiting for parts from Bavaria.
However, having got enthused by the idea of the trip, done lots of research and planning, and bought new camping gear, I was not about to let it all dissipate. I would do my own trip!
While my enthusiasm waned initially, as time wore on dealing with the family issue, it revived as resolution of the issue finally neared. Many an hour was spent over maps, poring through Internet sites, checking out options etc. An uncompleted purchasing list was revised – and executed. For all that, I still had less of an itinerary than I did in the earlier plans. But then my previous itinerary had mostly been the one prepared by the South Coast folk.
The previous plan was very much a bitumen only ride. With a still almost pristine road bike in the F800ST, I'd be mainly keeping to the bitumen; but I had a hankering to be a little adventurous.

The Bike
My plans for bike preparations consisted of a major inspection/service, new tyres and having all the connections I need to utilise the bike's 12v power supply for computer, phone etc. As it turned out, closer inspection of the bike by the dealer brought to light the need for the back bearings to be replaced, as well as the steering bearings. Fortunately, both those major jobs were done under warranty. The consoling aspects are that the problems emerged before I left and that I'm leaving with new parts at both vital ends of the bike. I opted for dual compound tyres on advice that they would better cope with the high degree of highway riding involved.
I also set out with some thirty "routes" uploaded onto the Garmin Zumo 550. Many of these were left over from the early preparations, some were options to have up my sleeve, a few, I thought, were pretty much definites for the early stages. As it turned out, route plans went out the window from day 2. I used very few of the planned routes.

I have outlined on the Communications and Camping pages, preparations relating to utilising the 12v power supply and the system I devised for packing all the luggage on the bike.
Setting Out
Finally, departure day arrived. It was 10 August 2009. I'd spent lots of time the day before checking my lists and packing the two big bags: camping gear in the red one and clothes and things in the grey one. The panniers had electronics in one and stores in the other (enough to survive at least six days without hotels or cafes).

I had spent more time than expected getting all the minor things packed and making last minute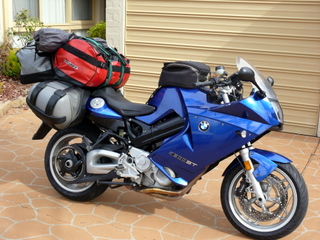 adjustments to loading the bike. I had a last minute problem with the stability of the red camping bag, but after a few experiments, devised a solution.

I did make changes as I progressed. The first was to re-pack all the electronics into the grey bag on the back of the bike and move all the clothes into the pannier. I had early misgivings about having all the electronics (computer, chargers, transformers, adapters etc) in an expandable and, therefore, squashable pannier. I had to accept that the chances of a drop were higher than they ordinarily might have been, given the heavy load and the likely condition of roads further north.

With a heavier, particularly top-heavier, load than I have had before, the bike initially felt very rocky as I crawled out of the driveway onto the street. It was a slow, careful run to the highway and for a while along it. However, it soon became apparent that, except for some very slow manoeuvring at the petrol stop, the bike was quite stable. It was even happy to keep a straight line around 40-60kph with no hands! It cruised along at accustomed cruising speeds with no trouble.

Even with the extra load and normal cruising speeds, I was pleasantly surprised by petrol consumption at 4.4 L/100km, which seemed to suggest that the rate of revs more than load is the culprit for higher petrol consumption.

Route Map

This is a map of the route taken and places visited. It covers 14,000km over ten weeks. You can zoom in to see more details of particular segments; and change to "Sat" to see something of the terrain. This is particularly interesting along the Oodnadatta Track in South Australia.


View Big Trip North in a larger map


Grong Grong

Apart from a later start than planned, the first day went well. I hadn't got away until 12:45pm, so, with a stop for petrol and sustenance, it was 4:40pm by the time I pulled up at the Royal Hotel in Grong Grong, NSW, after a 315km ride.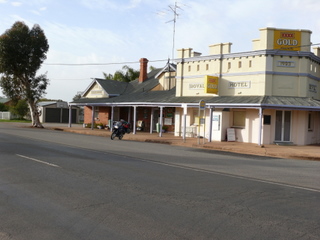 The Royal Hotel was quaint. It's a very small, single storey, 1923 vintage pub, with only 4 or 5 basic rooms and one bathroom "out the back" off a courtyard. Kay and Ted are the owners. Kay normally doesn't open the kitchen on Mondays or Tuesdays, but because I rang ahead (thankfully) she was ready to cook for me. As it turned out, a couple of truckies stopped by so were in luck for a meal. The hotel seems to have a reasonable trade in feeding passing truckies and caravaners.
In Search of Family History
I had a pleasant enough ride on the second day, covering a bit over 500km. Riding across the Hay Plains against a hefty head wind certainly increased the fuel consumption. It went up to an average of 5.7 L/100km. I don't think I've ever gone through fuel so fast. While there was some faster travelling, the instant reading was consistently over 5L even at very reasonable speeds. The morning forecast was for some rain along the way, but I made Hay while the sun shone! In fact, I made Wentworth without rain.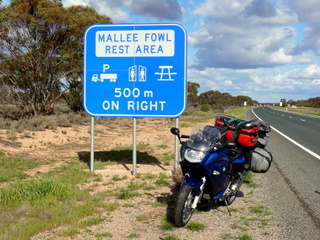 Somewhere along the Hay Plains, there's a protected area for Mallee Fowl – probably a breeding area. They even have a 'rest area' set aside for them – at least, the sign said "Mallee Fowl Rest Area." I spotted a caravan, a motor home and two trucks, but not a single Mallee Fowl was to be seen. ('Rest areas' are the same as 'lay-bys'.)
I had intended to stop at Mildura for the night, but found that all the country town pubs had been renovated into expensive hotels. So I pushed onto Wentworth, which is actually off the route I needed to take, but not by much. Once I got there, I soon decided to stay an extra day to do some research at the library about my great grandfather, William Crick, who, I've always been told, ran wool barges along the Darling between Wentworth and Bourke; and ran a stage coach service.
The publican of the Royal Hotel where I had a few beers (every country town has a Royal Hotel) leant me a book on "Timelines of Wentworth Shire" on the promise of bringing it back next morning (I wasn't even staying at his hotel). That's country town living!
Wentworth
I spent most of the next day in the library, but also managed to take in a few sights that I hadn't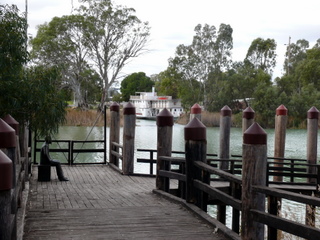 focussed on during previous visits. My library research was undertaken with the kind assistance of Leanne Watmuff, whose card described her as 'library technician local studies.' She gave me a significant amount of her time, steered me in the right directions and produced several bits and pieces that were new to me. Initially, I couldn't find anything in their files or books to verify the oral history stories of running wool barges along the Darling. I found several references to William Crick, along with his brother, Thomas, who is buried in Wentworth Cemetery, being the first to carry mail from Adelaide via Truro and Blanchetown to Wentworth. There were also references to his later mail runs between Wentworth and Blanchetown (the mail then coming up from Adelaide by other means) and between Wentworth and Wilcannia. There was also reference to competition on one of the runs from Cobb and Co, which pulled out of the run and sold its best horses to William. After seeking more specific assistance relating to the wool barges, Leanne delved into computer data bases that would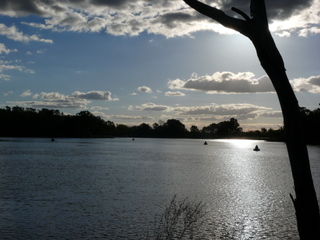 have been beyond my research limits. They turned up a Paddle Steamer owned by him – "PS Blanche" – and a barge – "Morning Star". So a lot of the oral history turned out to be true, with some modifications. The mail coach run was to/from Blanchetown (possibly also Freeling); and he would seem to have owned only one barge – but a steamer to go with it. He had the Blanche and Morning Star from 1873 or 1874 to 1877, the last year in partnership with an E Geyer. I have written up what I learnt about him on this page, which can be accessed also from Fireside.
Having got interested in William Crick's early history, I made another change in my planned route for the first few days to visit Truro and Blanchetown. Not that I expected to find – or even look for – any traces of family history, but simply because they were significant places in the story. Apart from featuring in the mail runs of William Crick, Truro is listed as the place where he first settled on arrival from England in 1852 and the place of birth of one of his sons, WP Crick, who attained some notoriety as a NSW politician and government minister.
Blanchetown
After two nights in Wentworth, I headed out about 8:20am and had a blue sky run for a couple of hours before the clouds came over. I figured I'd ride for an hour or so before stopping for breakfast. As it turned out, Renmark was the only contender and I didn't get there until 10:30am or so. I had to push the bakery staff to break their rules (breakfast things finished at 10:00am) and cook me a bacon and egg roll. I then took the opportunity to have a walk around the Murray River bank area, which is right on the edge of the main part of town.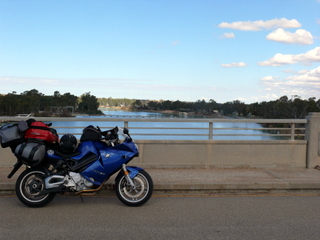 I then headed to Blanchetown. Between Renmark and Blanchetown there are signs to the right to "Overland Corner". It's a bend in the Murray that seems to have become a 'landmark' related to the routes of the overlanders – those who drove their herds from NSW and Victoria into the newly opening areas of South Australia. I came across several references to it in relation to William Crick's mail runs. In fact, one source said that WP Crick was born there in a tent, although his official birthplace is Truro.
Blanchetown is a couple of kilometres off the Sturt Hwy to the south just after a crossing of the Murray. The banks of the Murray in this area can be quite steep, so they provide a safe haven from floods. The original settlement of Blanchetown was about 6km downstream and called Moorundie. Because of floods, it was moved to the higher banks that are characteristic of today's Blanchetown. There's not much of a defined centre to Blanchetown: a general store in one spot, a pub somewhere else, a few other buildings scattered around. But there were a couple of great finds. The pub was built in 1856 and first licensed in 1858. The very impressive Post Office building dates from 1865. That meant that both these institutions were operating when William Crick would have been calling there on his mail runs in the 1860s and 1870s. The Post Office would have undoubtedly been the same building that he would have visited to collect and drop off mail. He quite possibly stayed in the pub at times.
I called into Blanchetown's Internet Centre-cum-Centrelink Office-cum-Information office; and was given the name of the unofficial town historian, Dorathy Zadow. I managed to track her down and rode back out of town onto farm land to visit her at the family 1800s-built house....on their 40,000 acre property. She was happy to talk as she cooked for the shearers, who were currently contracted to shear their 5,000 sheep. Then there was the 60 acres of grape vines to manage, with the set-backs from the current demise in grape demand from the wineries. Dorathy had files and files of documented facts and stories that she had put together from her research about Blanchetown over many years. She invited me to spend some hours going through them, but a few forays into the collection, guided by her instincts, seemed to indicate there might not be anything specifically on William Crick. However, there was a lot of information that provided a good insight into what it was like in his day; and I have several references to relevant parts of the South Australia archives to follow up. I got a few of those also in Wentworth, so there's a lot to be revealed if I or someone takes up the task.
Truro
I then rode onto Truro, only to find that it was little more than a string of a few buildings along the Sturt Hwy, with no accommodation except for a B&B, where no one was at home. I had to ride onto Nuriootpa in the Barossa Valley to find accommodation for the night. This wasn't exactly in the plan or even on the route to the Flinders Ranges. But it was certainly a pleasant stop, with an evening spent in a country-style hotel, with fires and a very refreshing local shiraz-type wine whose name I soon forgot but later felt desperate to find out. I haven't been in a hotel before that had so many different wines by the glass. But this is the heart of one of Australia's premier wine making regions.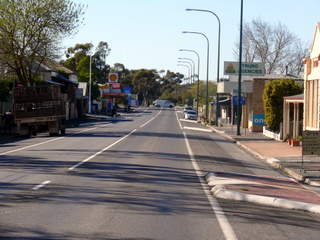 It was only 14km from Nuriootpa back to Truro. I spent about an hour and a half having a walk around Truro and chatting to some locals. One shop keeper had a book on the history of Truro, but it didn't reveal anything relevant to my interests. She gave me contact details for the local 'historian', but I couldn't contact him. I did discover a few key buildings of a relevant vintage. The Post Office was built in 1879, so that might have been a bit late for William Crick's transiting Truro. But another building (now a B&B – the one where no one was home) had served as the post and telegraph office from 1866-1879. It's likely that William would have walked in and out of that building several times. The hotel was built in 1863 and "is still practically in original condition." William would have likely visited it.
I rode around some of the neighbouring settlements, which were small hamlets in their own right in the 1860s. There's not much to indicate their antiquity apart from an obviously very old house or church here and there. I wondered if William Crick might have lived somewhere there when he first came to Australia. Records say he first settled in Truro before later moving to Wentworth. I wondered whether he had a house of any sort in his early days. After all, on the shipping list, he was described as "farm labourer", he was only 19 years old and, at least, one of his sons, WP Crick, was reportedly born in a tent at Overland Corner. However, WP was born in 1862, which was after William had started his mail runs, so perhaps his birth at Overland Corner might have happened as the family was moving to Wentworth.
Burra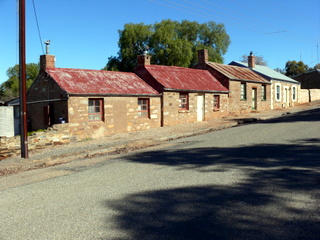 I eventually moved on and headed north to Burra. Burra was 4km off the highway that I was on, so I might not have diverted had it not been for a strong recommendation to see it. I ended up spending a couple of hours there. I felt you could have easily occupied a full day there. It's an old copper mining town settled by folk from Cornwall. The Cornish influence is evident, apart from many Cornish pasties on sale, in much of the architecture, especially the several lots of miners' terrace housing. There's an 11km heritage trail in and around town, covering the mine (long defunct), the old goal, miners' housing, miners' dug-outs and a lot more historic sites. You can get keys for the 20 or so sites. I settled on riding the trail and looking at buildings from the outside, except that I went back to the Information Office and got a key to see the miners' dug-outs. There's only a few remaining, but in Burra's heyday, there were more than a thousand miners, including children, living in dug-outs along the banks of Burra Creek. They are simply caves dug into the high banks, with roofs reinforced by timber and corrugated iron sheets.
Peterborough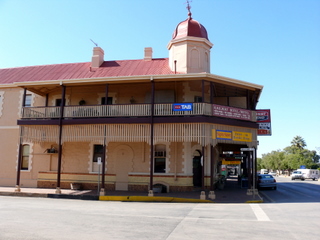 Then it was a short run to Peterborough for the night. Peterborough, one of many places which changed their German sounding names during the First World War (it was Petersburg until 1918), was a great railway town. I stayed at the Railway Hotel over the road from the rail line. There were a few things to see in Peterborough, so it didn't take long to decide that I would stay two nights there. In addition to doing some tourist things, it would give me time to write up some more about William Crick before I forgot it.
The Rail Heritage Museum was a treat, consisting of an array of old steam locomotives and carriages of various vintages and uses. It has a large 'round house' of workshops and holding bays for locos and carriages, as well as one of only two three-gauge turntables in the world. For the benefit of non-Australian readers, the early British colonies in Australia, which were independent of one another, bequeathed the Federation in 1900 three different rail gauges. All three existed down the east coast alone, with the then new states of Queensland having the narrow gauge of 3'6''; NSW having the standard gauge of 4'8½"; and Victoria having the broad gauge of 5'3". South Australia, in the process of trying to rationalise it all, ended up with all three gauges running in different directions across the state. In its heyday, Peterborough was a central point of rail links to and from north, south, east and west. All three gauges came into Peterborough at one time or another and, for a while, all together. Hence, the need for rail sheds and a turntable that could accommodate all gauges.
I had a personal guided tour. Jo was my volunteer guide. I was amazed at her detailed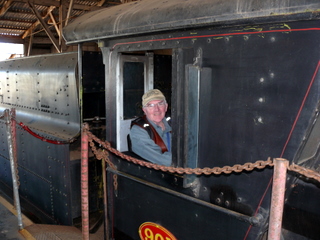 knowledge of facts and figures; and her complete immersion in the subject. It was all learnt from being a volunteer. As others started to arrive, she expertly ran a sort of 'get on and get off anywhere' tour. The tour made me recall the days as a kid when we rode our scooters and bikes to the Enfield Marshalling Yards near Lakemba in Sydney, where I grew up. It was an enormous spread of rail lines and steam engines shunting this way and that. We would be invited by the drivers to hop up into the cabin and ride with them. Our parents, of course, had no knowledge of this.
The only train of note these days – and the only train with passengers – that comes through Peterborough is the Sydney/Perth Indian Pacific once or twice a twice a week each way, depending on the season. A few freight trains trundle through every day.
The other attraction I found in town was a motorcycle museum, with a very eclectic range of bikes and a collection of old memorabilia, including an egg cup reputed to be from the Titanic (souvenired before it set sail). Just as amazing as the collection are the premises. The museum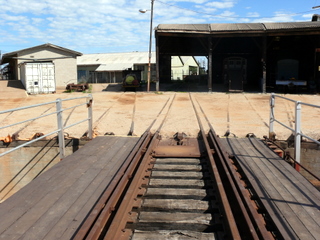 is housed in an annex hanging off the side of a delightful old stone church, where the owners, Belinda and Ian, live with their youngest child. It's, in effect, a one room house at the moment, but they're working on that. They're also renovating a separate stone 'prayer room' to provide a self-contained B&B stay. It's already looking very attractive.
I had an interesting final night at Peterborough. The wind came up and howled unbelievably all night. The old hotel was creaking like a ship. I swear by bed moved a couple of times. Talking to a couple of guys over the kettle in the morning confirmed my suspicion. One of them reckoned he had the same experience. It was so bad that at 2.00am I went downstairs, out the front door, around the corner to the yard, to check on the bike.
Setting out from Peterborough, I would have normally said it was a very windy ride, but, in comparison to the night, it seemed a light breeze. But it did pick up along the way. Fortunately it was only a short ride to Wilpena in the Flinders Ranges.
Quorn: Pichi Richi Railway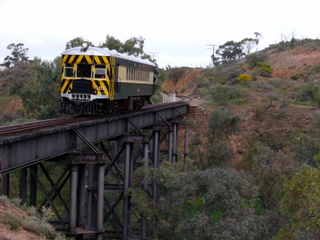 However, my planned first stop was Quorn. By the time I got fuelled up in Peterborough and stopped along the way for breakfast, I didn't get to Quorn as early as I planned, but still in plenty of time to catch the Pichi Richi Railway. I missed out on the steam train. It operates only in peak times. But the diesel rail car of 1920 vintage certainly didn't detract from the experience. The rail car trundles along a narrow gauge line that was part of the old Ghan railway between Adelaide and Alice Springs. That thought added a special dimension to the trip. There were so many twists and turns and narrow culverts, that you could visualise the harrowing experience that riding the old Ghan must have been.
Flinders Ranges
From Quorn, I took a detour to visit the Warren Canyon, which a few sources recommended I should visit. The turn-off was one that you couldn't miss, but I did! By the time I realised it, the 'moment had passed'. I kept going to Hawker, doing 50km of dirt that I didn't need to do.
Along the dirt stretch was my first encounter with emus on the trip. I was startled at first, suddenly becoming aware that an emu bolted from nowhere and was running ahead of me along the side of the road. The poor thing had somehow got trapped between the fences running along each side of the road. Her mate was over the fence to the right running along with her. I stayed back for fear of her changing direction and darting across the road. I followed for a while at 40kph, but then stopped to allow her to reassess, which she did. She decided to go left through the fence. They don't jump the fence, just barge their way through. It took her two attempts and the loss of a lot of feathers.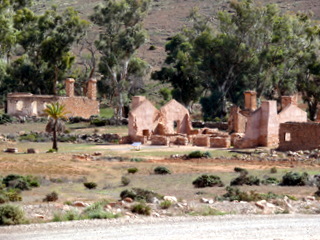 Once back on the main road to Hawker, there were two worthwhile stops. One was to visit the ruins of the Kanyaka Homestead. The homestead dated from the 1850s and would have been a veritable little village, with the main home and several out-buildings housing a number of families and activities. It was a bit similar to Lanyon in the ACT in that respect, except that it now looks more like a Roman ruin, with half tumbled down stone walls delineating the rooms of the main house and most of the other buildings. The other was Yourambulla Caves, a site of rock carvings and drawings from ancient Aboriginal times. It was quite a climb up to the caves but worth the effort.
Hawker had an ATM (Quorn had a town-wide blackout so there was no electricity anywhere, so no ATMs operating) and premium grade petrol, so it provided a welcome re-stock of cash and fuel. Then it was a short run to Wilpena. This was my first camping stop. I was pleased I'd rehearsed putting up the tent. It seemed awfully more complicated the first time than my $29 one, but was pretty straightforward this time. I had felt that I should have stayed with the $29 version and not spent the few hundred dollars the Salewa cost me; but its double vestibules were a godsend. It's amazing how much gear you spread around and have to find a place for. It's bad enough in a hotel room!
Wilpena
The Variety Club Bash was camped at Wilpena on my first night there. They're a charity organisation that raises money for kids with special needs by having fun racing across the roughest roads in the roughest parts of the country, dressed in anything ridiculous and in cars that have been converted into anything equally ridiculous. All in a good cause. They completely took over the bistro, so I had no choice but to become one of them for dinner.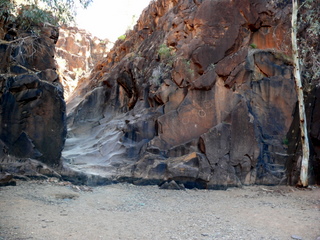 I eventually retreated back to my camp site for a chilly and very windy night which required putting on some extra layers of clothes. Almost miraculously, having raged all night, the wind stopped at dawn. Thanks to the Variety Club, I enjoyed a very welcome hot breakfast with them.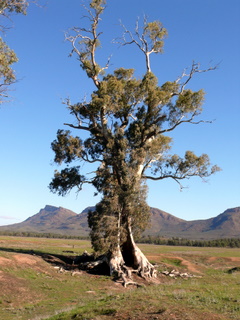 Wilpena is just outside the walls of the Wilpena Pound. The Pound is like a gigantic crater, with high rock walls in a full circle and an enormous 'oval' in the middle. It isn't a crater or a meteorite hole, but some geological phenomenon. If you're interested, you can read more about it here. I opted for one of the short walks – a 7.8km return walk to Wangara Lookout within the Pound, which provided a spectacular vista of the whole Pound. It's impossible to photograph it except from a plane or with some fantastic pan-vision camera.
In the afternoon, I took the bike on a 15km run to the Sacred Canyon. A lot of 20kph first and second gear riding along a highly corrugated and rutted road. From the car park, you then walk along a dry creek bed to an area which is like a round corral, with high granite rock walls, on which there are several ancient Aboriginal drawings. Leading off the corral is a narrow, high-walled canyon to another open 'corral', with more drawings.
On the way back, having just turned onto the bitumen road, I spotted a sign to the Cazneaux Tree. A must see. I took several photos. If you're wondering about the Cazneaux Tree, you might like to take a look at something I wrote before setting out on this trip. You can access it from Fireside.
The evening of that day saw me comfortably sitting beside my own fire just next to my tent, mini notebook on my lap, a glass of wine within reach and not a breath of wind. I decided I'd 'dine in' (i.e. cater for myself) since the local store has suitable replenishments (I had been keeping my supplies for further north).
Brachina Gorge/Parachilna
On my second day at Wilpena, I did a day ride of about 200km. I first headed north into the Ranges, diverting to check out Stokes Hill Lookout, which provided views of all the ranges and plains for miles in all directions. High up at the north end of the national park, there's a geological trail through the Brachina Gorge. The road narrows and twists a lot – and was pretty rocky, so it was a slow ride. There are several geological formations quite readily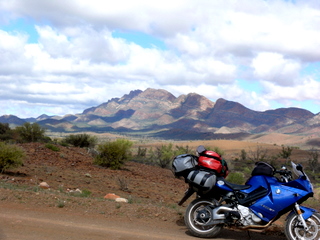 distinguishable, with signs telling you what they are and from what geological period. Quite a geological lesson and phenomenon. I made a short diversion off this road to find some ruins of one of several 'out stations'. Built of stone or other local products, they were really only huts that housed a shepherd whose job it was to watch over the sheep or cattle and pen them at night to protect them from dingoes.
The Brachina Gorge road eventually brought me out on the main road along the western side of the ranges into wide plain country. I headed further north to Parachilna for lunch at the Pioneer Hotel, famous for its game cuisine: camel, kangaroo and emu. I had a 'roo burger. The only things of note in Parachilna are the pub and the remnants of the Old Ghan – some rusty narrow gauge track and a long-abandoned siding. You can feel the Outback at Parachilna.
From Parachilna, there's a road heading east back into the ranges, through the Parachilna Gorge to the village of Blinman. Some old stone buildings and 1800 dates suggested Blinman was a centre of social gatherings in times past. But now, there're just a few tourist attractions. From there it was a very nice 60km run home on an all bitumen road, with undulations and sweeping curves.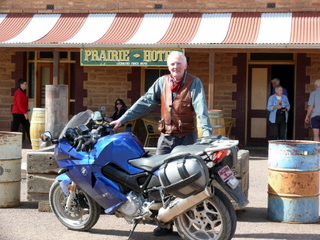 Next day provided my first rain experience at motorcycle camping. Fortunately, the rain waited until I finished breakfast; and was only light rain over about an hour. But it did confirm the benefits of my tent, particularly having dual vestibules. The vestibule flaps were down to keep the rain out, but the inside doors remained open, giving a feeling of an 'open plan' tent. It was a good opportunity to go over again the tourist maps and information, as I sat out or, more precisely, lay out the rain.
Mawson Trail/Bunyeroo Gorge
Once the rain moved on, it was up to the Info Centre to hire a mountain bike for rest of the day and embark on the 20km cycle along the Mawson Trail to Bunyeroo Gorge. I anticipated that the 40km round trip on a mountain bike along a track of some sort would be a bigger task that the same distance on a road bike on bitumen, but I had no anticipation of what I was really in for. The trail alternated between a narrow 'walking' path across rolling countryside, with a few gullies to manage; a winding old vehicular track through forest and undergrowth; and a graded 'road' which, for the most part, was a seemingly endless succession of very steep climbs and drops, with a surface of either or both loose gravel and large, sharp chunks of shale. I guess periodic grading was needed on this section to fill in the deep erosion culverts. Not to do things by halves, once at the Bunyeroo Gorge Trailhead, I then did the 7km round-trip walk into the gorge, which, in fact, wasn't worth the effort. If there's a spectacle rating for gorges, this one would be lucky to even get on it. The ride back proved much tougher. I started to walk up the steep shale-surfaced hills to conserve fast ebbing energy. Then, about 7km out from home, the seat bolt sheared off. Fortunately, it was along a flat strip of soft dirt, which was slow going, so I managed to stay upright, but I churned at the thought of the consequences had it happened going down one of the steep shaly hills. The final 7km was a mix of walking and tiring pedalling in an awkward standing-up position. I was absolutely exhausted by the time I got back – much later than planned. I had a very welcome long hot shower before getting my camp fire going and sitting back with a well-deserved drink. I was tempted to eat in the bistro, but didn't have the energy to walk the 300m there. So, it was a tin of "hearty Irish stew" and a glass or two of Banrock cask Shiraz. The saving grace of the day was a very sound sleep.
A point on trails. The Mawson Trail, as with the Heyson Trail, the later for walking only and the former allowing for cycling, meander for some hundreds of kilometres the length and breadth of the state. The 20km section I did happened to be a merged section of both trails. In both directions, I met up with the same group of keen hikers, with their super-large back packs trudging north along the trail. It's interesting that someone draws a route from A to B, gives it a nostalgic name, and suddenly people feel the need to walk it or, in my case, ride it! Curious beings, we are.
Waiting and Pondering in Wilpena
Next day was mostly a rest and recovery day. I half planned to do a shorter climb to a ridge of the Pound wall in the afternoon, having decided to give the 6-8 hour climb of St Mary's peak a miss. I wandered up to the bar/bistro about 10.00am armed with computer and phone and camera chargers; and took over a table and a couple of power points. It didn't take long to decide that there wouldn't be any walks. I still felt pretty tired from the previous day's adventure. I ended up having lunch up there: a tasty smoked kangaroo wrap with quandong chilli sauce and a couple of glasses of "Wilpena Chardonnay" (not that I'd seen any vineyards or wineries around). That certainly put paid to any thoughts I might have had to go on another walk. I spent pretty much all day writing stuff, revising pages on my site and organising photos, including starting a slide show.
My plan was to head out the following day. I would have, by then, stayed five nights. When I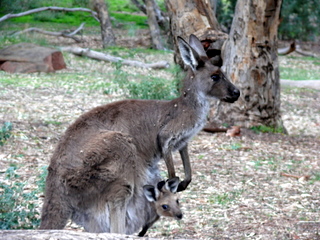 arrived, I paid for two nights and indicated I might stay a third! I was so comfortably set up there and the surrounds were pleasant, I would have been happy to stay a few more nights. A kangaroo edged up to my camp site a few times, a couple with her joey in pouch, with head and gangly legs poking out; and once with joey tagging along behind in bewilderment. Emus and their chicks ambled around the camping ground. But I figured it was time to move on if I want to be home by Christmas. I was about 5-6 days behind my original rough plan, but it was only a rough plan.
However, it rained off and on for most of the day, so I still had a wet tent. I didn't want to pack up in those conditions; nor did I intend to ride on wet dirt roads. The weather reports indicated that there were showers further north where I had no option but the dirt. The rain continued into the night, so even the next day was not propitious for riding. I was able to check the forecast on the internet from my tent and it looked bleak all through the north of the state, so there was no point in leaving.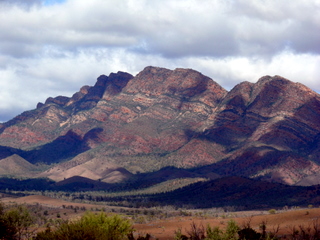 This was now my sixth day at Wilpena. I took a walk up one of the higher ridges – just for a change of scene. But I didn't persevere. The clouds came lower, the rain increased, the track was very slippery, especially when you were practically on all fours clambering up the steepness of the rock face. I decided I wasn't in it just to get to the top, but to see the view of the whole Pound. It was obvious that there would be no such view, so I gingerly made my way back, face-up on all fours in parts.
My plan had been to double back south a bit and take the Moralana Scenic Road along the south wall of the Pound to the main bitumen road to Leigh Creek. However, the ground around the camp and on the walking track readily confirmed that certain types of soil that would be potentially slippery when wet were, in fact, very actually slippery. That meant that I wouldn't be doing any riding across the Moralana Scenic road on a wet road. The only option to go north would have been to double back as far as Hawker to pick up the bitumen. But that would have got me only to Lyndhurst before the bitumen ran out. So, yet another night in Wilpena. This would be night 7.
I dined in style at the Bistro for the last two nights in Wilpena. I hadn't felt inclined to cook in the open in the rain, although I managed to make coffee and tea in the vestibule of the tent.
I might remember Wilpena for two near disaster experiences. As if the mountain bike incident wasn't enough, I was only about a kilometre from the Wilpena Visitors Centre on my departure – and hadn't even focussed on the need for wildlife alertness – when a large emu bolted from my right across the front of the bike. It all happened so quickly that I was not even afforded the two-second reaction time. I didn't get near the brakes. Fortunately, the emu kept a fast, straight line, but he would have surely felt the bike scrape along his tail feathers. And not five minutes before that I had proposed to the management of the Wilpena Pound Resort that the five nights I hadn't paid for as yet should be given to me gratis as a minute recompense for the near disaster they had subjected me to with their ill-maintained mountain bike. They didn't demur.
Leigh Creek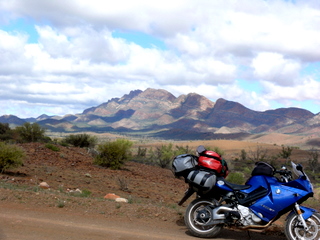 At least I was leaving Wilpena in bright sunshine. I had packed up leisurely and got away at about 10.00am. The plan was still to head south for about 25km and turn west on the Moralana Scenic Rd to the main road north. I was still contemplating going as far south as Hawker to stay on bitumen, given the possible effect of the rain on the dirt road. Fortunately, just as I was approaching the turn-off – and still wondering what I would do – a group of women in a car pulled out of the Moralana road. I hailed them down and they assured me it was a good road and only slippery in a couple of places! I chanced it and it worked out fine. The views of the southern wall of the Pond were impressive.
It was a pretty easy, brisk run up the main sealed road through Parachilna (I didn't stop there as I had lunch there a few days past) to the Beltana Roadhouse. I was cold and hungry enough to stop there for some 'comfort food' (pie and coffee).
All the way up this road you look across to the rugged Flinders Ranges out to your right and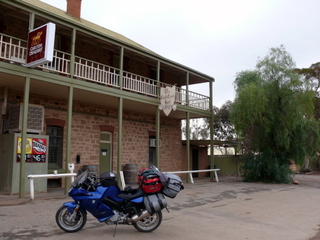 absolutely flat plains stretching to your left. Further north of the Beltana Roadhouse is Leigh Creek. Leigh Creek in the site of a huge open cut coal mine that supplies coal to provide 40% of South Australia's electricity. Except that it's not actually at Leigh Creek. It used to be. No, they didn't move the coal mine. They moved the town. So, today's Leigh Creek town is a very modern looking one south of the mine. The old Leigh Creek pub, still boasting that name, is at Copley – 5km north, where the old town used to be. I pulled into Copley just as the daily coal train was passing through. I counted 167 coal wagons. It took three engines to pull them.
A few km on was a turn-off to a viewing platform over the main pit of the coal mine. It's a sub-bituminous coal, which, I think, means it younger than our NSW and Qld black coal (we're talking millions of years here). I guess it's classed as brown coal, which means lots more moisture; and, therefore, less heat and electricity per tonne.
Lyndhurst
After that it was Lyndhurst. There are two things that I was ready for in Lyndhurst. One was the beginning of the Strzelecki Track to Innamincka. The other was the end of the bitumen. Lyndhurst consisted of a pub, a servo and a mission outpost. That was it. There was one "attraction" that I thought I would check out. It was Talc Alf. I'd read about him during my research prior to the trip. He's an old timer who set himself up years ago a couple of kilometres up the Strzelecki Track with a talc "studio," where he carves all sorts of things – mainly political or social statements – out of cast off slabs of talc from a near-by talc mine. He's become a sort of philosopher-cum-political commentator-cum-sociologist-cum-theologian etc. I didn't get to talk to him, except to say 'hello' as he was just leaving "to fix a leak in town". He invited me to stay and look around.
Farina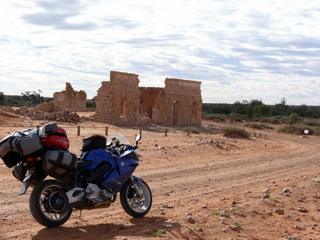 By this time, I had decided that Farina would be a good stop for the night. It was about 30km from Lyndhurst. Farina is more often called Farina Ruins. That's all that's here. There was a time when it was the railhead (i.e. the end of the line) of the old narrow gauge line north. That made the town a main supply source for all around. The rail head towns became the staging points for the camel trains to haul supplies to other towns and the far flung homesteads. Farina was also caught up – as were many places in this part of the state – in a conviction of the early pioneers that this was a land of plenty. The town was so sure of its grain growing potential that it changed its name to Farina (meaning flour) from its original name of Government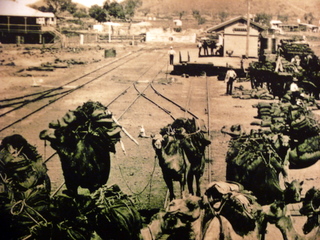 Gums. Tragically, the early few good years were rarely repeated, so it all came to nought. A combination of the railhead moving further north to Marree and the grain growing never eventuating left widespread ruins of a once promising town. It's now all on a private property and the Farina Homestead runs a camp site alongside a creek bed on the edge of the town ruins. It's a nice setting, but basic, although there is a toilet and a shower, even with hot water, though you may need to light the 'donkey heater' – a wood burning heater.
Marree
From Farina, the road to Marree was pretty good. It even had about 23km of bitumen over three sections (out of a 54km ride). Marree is the start of the Oodnadatta Track. Remember the Marree Man? Having refuelled and had a look around Marree, I called into the information centre-cum-Internet office. An Aboriginal man, who was discussing local issues with the receptionist, asked where I was from. On learning that I had recently retired from government service, he asked if we could have a chat about how he might effectively deal with government. Turns out he was the chairman of the Marree Arabunna Peoples' Committee, the Arabunna being the local indigenous clan or mob. Reg Dodd was his name. At his invitation, I made myself a coffee in their kitchen and we sat in the conference room and talked for about an hour. I learnt a lot about local indigenous affairs and the issues the Arabunna people, it would seem, were successfully managing. Reg's main concern was the inclination of governments, in his view, to pay too much heed to the "Abocrats" (his word), by which he meant indigenous leaders and indigenous officers of various organisations that were good at working the bureaucracy and government corridors, but didn't necessarily understand the issues of communities like his or represent their interests. I wasn't sure I added much to his knowledge of how best to interact with government. He was obviously very experienced and effective. He was proud of the fact that, when program funding had been taken away from the Arabunna Committee at one stage, they continued under their own steam, with various businesses. He thought the stopping of the finance had been the best thing that happened because it provided the impetus for them to create new ventures.
Oodnadatta Track
From Marree began the journey along the Oodnadatta Track. This was a goal in itself. The Australian desert country is criss-crossed by several "tracks", ranging from fairly well graded roads (all gravel) to little more than wheel marks across sand dunes. The Oodnadatta Track goes from Marree to Oodnadatta and then across to the Stuart Hwy at Marla. The Old Ghan ran beside it to Oodnadatta before further north to Alice.
It was slow going for quite a while. Fortuitously, I had struck up a conversation with a guy at the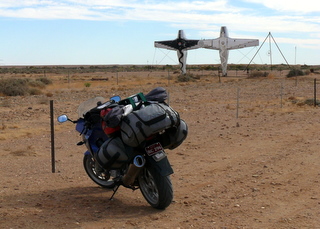 Beltana Roadhouse, where I had stopped the previous day, and was told that the first 30km or so out of Marree were the worst of the road to William Creek. It was useful intelligence. Without it I might have become very despondent at the prospect of travelling at 40kph all the way. The road was alternately corrugated and covered in loose gravel, with sizable stones. After that, the road was mostly firmly packed dirt (at least until Coward Springs), so cruising speed went up to 70-80kph.
There's so much to see on the Oodnadatta Track.
About 50km from Maree, at Alberrie Creek, you'll find Sculpture Park. This is an area which features several large curious metal sculptures. The artworks at are visible from well down the track. They include two planes, a giant windmill, and a huge dog made from a railway water tank. All very curious!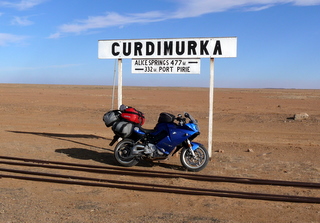 There are also many remnants of the Old Ghan railway. At Curdimurka Siding, there were old buildings, the water tank structure and rusting rails and points. Several old bridges could be seen off to one side or the other along the track.
The only problem at the time of my trip were participants in the NSW chapter of the Variety Club Big Bash. They were heading for Marree, so coming against me – at high speed, throwing up dust and stones. Of what seemed about a hundred cars, only about 7 to 8 had the courtesy or thoughtfulness to slow down or move to their near-side edge of the road as they went past.
Coward Springs
Coward Springs was a gem, a veritable oasis. It was a siding of the old Ghan rail line. Stone buildings of the drivers' hut and the station master's house have been restored. Prue and Greg, the couple who own it, live in the latter. There are lots of trees and sheltered camp sites. A central feature was a natural spa, fed by a bore into the Great Artesian Basin. It was a comfortably lukewarm 29°; and I thoroughly enjoyed it.
One nice connection was to find in the restored drivers' hut, which was something of a little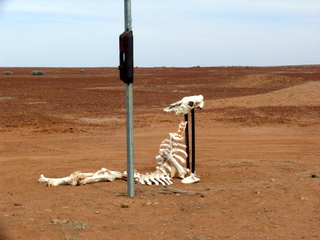 museum, wall placards telling the Aboriginal stories of Coward Springs (there are actual springs which the local Aboriginals would have used for centuries) and the coming of the railway. They were presented as told by Reg Dodd, whom I had met in Marree. I spoke to Prue about him. She said he was a wonderful story teller of all the traditional Aboriginal stories. With Reg's permission, I have reproduced his stories here. They can be accessed also from the Fireside page.
Some late campers arrived as I was sitting with a drink, having just come from the spa. By then most of the camping spots had filled, so the just-arrived group of four couples and the dad of one of them set up camp next to me. It was the only spot left. It was only a single site, but they managed to pitch four tents. They were well-equipped and had things organised very quickly. They invited me to join them for dinner. I think they felt guilty for disturbing my peace. I ended up dining and drinking with them for long after the rest of the campers had retired. I suspect we all disturbed everyone else's peace.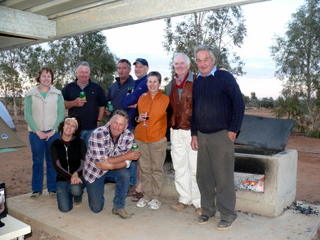 My new-found and very amiable company were three couples who owned properties around Narrandera in NSW, Sue and Col Durnan, Michelle and Peter Burden and Julie and Gavan Morris; Michelle's Dad, Keith; and Julie's sister and brother-in-law, Robyn and Peter Maffei from Traralgon. They were most hospitable and we all seemed to relate very well.
Sue was a nurse and we got talking about first aid kits. I asked her to undertake an audit of my first aid kit for me. She was pleased to do so. It mostly passed muster; but a couple of useful tips emerged. I have recorded these on a new First Aid page.
William Creek
It was only a short run of about 70km to William Creek. Still it took a couple of hours. There were more corrugated sections and a fair bit of very loose stuff. I had my first real scare (apart from the emu at Wilpena) by having the bike develop a serious set of the wobbles in a stretch of thick, soft dirt. I remembered the need not to panic and not to throttle off. I compromised. I panicked but kept up the throttle. It worked okay. The last several kilometres into William Creek were deeply corrugated.
I got to William Creek about midday and went straight to the "airport". The Wrightsair building was on the other side of the Oodnadatta Track to the strip. There was one seat left for a flight over Lake Eyre that day. It was an hour's flight at 1.00pm. Having booked it, I then made a quick visit to the only other main building in town – the pub – to organise a camping spot. My fellow-travellers from Narrandera and Traralgon had already set up camp there. They were on flights later that day and next morning.
William Creek boasts being Australia's smallest town. Various sources alternately give its population as '2', '4' or 'fewer than 10'. It's essentially just two main buildings and a few out-buildings on the Oodnadatta Track, with camping facilities behind the pub and on the other side of the road; and a small outdoor collection of local memorabilia, including some rockets that had been fired from Woomera.
The flight over Lake Eyre was very spectacular. Although the lake had gone from about 65% full some months previously to about 20%, the expanse of water was still significant. The thousands of pelicans that had congregated for breeding had moved on. A small group were still lingering. But the bays and islands and salt-laden shorelines made for great viewing.
A visit to the pub after the flight was a treat. The pub walls are totally covered in business cards, IDs of young overseas travellers, and a lot of pieces of male and female underwear (don't ask me why!).
The whole area around William Creek and over which we flew is part of the Anna Creek cattle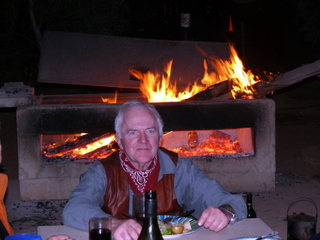 station, which, in turn, is part of the S Kidman empire. Anna Creek station is about 6 million (6,000,000) acres - about the size of Wales or Israel. It's currently running only about 1700 cattle but in a good year would run about 120,000.
That evening, I was well looked after by my Narrandera and Traralgon friends, who invited me again to have dinner with them. This time it was a huge leg of lamb, brought by one of the Narrandera couples from their property, cooked in a bush oven on the coals of a magnificent camp fire. Another long and red-wine night!
Coober Pedy
William Creek was always to be a decision point. My initial plans were to get to William Creek and then decide whether to continue along the Oodnadatta Track to Oodnadatta or take the William Creek Road to Coober Pedy. The good goss at William Creek was that the road to Oodnadatta got worse, so it was an easy decision to go to Coober Pedy. I was interested in seeing Coober Pedy anyway.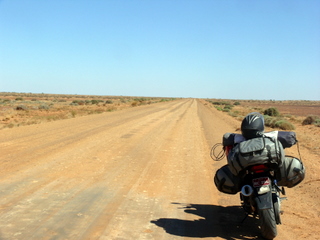 The road out of William Creek was a continuation of the deep corrugations encountered on the way in. Once past the fork of the Oodnadatta Track and William Creek Roads, the road got a little better but not by much initially. In fact, it was pretty bad for almost half the distance to Coober Pedy before it got relatively smooth and allowed for some 80kph cruising. Mind you, my idea of bad – being on a road bike with road tyres – would not be the same as 4x4 drivers or even a riders on a dual purpose bike with appropriate tyres.
There were several long stretches of very thick dirt that had the bike moving all over the place. I lost it for just a second at one spot. Unfortunately, in some circumstances, it only takes a second for the bike to go over. And over it went. Luckily, it was a soft landing. The initial problem was trying to get out from under the bike. There was no budging it or no budging my leg. After several futile attempts, I opted just to lie there in the middle of the road until someone came. After all, I was quite comfortable. But no one came, so it was onto plan B. Plan B was to reach over and start getting the luggage off the bike, which, I was pleased to note, had all stayed firmly in place it. I even got the high side pannier unlocked and dismounted. Now I could move the bike, if only just and get out from under it. I was in the process of getting the luggage to the side of the road when another lone rider came from the opposite direction. The rider turned out to be a very pleasant young woman of 20ish, Loren (or perhaps Lauren – we didn't discuss that). She was riding from Darwin to Sydney by some scenic routes, like the Oodnadatta Track! She helped me get the bike up and stable and we chatted while I got organised again. Although Loren assured me the road ahead was good, it still took a long time to get to the 'good' part.
I had planned that, if I went to Coober Pedy, I would camp underground at Riba's, where we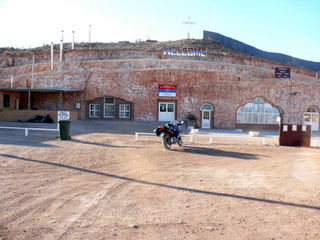 were going to camp on the originally planned trip. I had mentioned that at William Creek to my fellow travellers, so Coober Pedy was the third night in a row I spent with the Narrandera and Traralgon mob (using the word affectionately). I arrived well ahead of them because of their booked flight. Underground, there were nooks dug out of the rock to create individual camping spots, each with its own light. I soon decided that I didn't need to peg the tent nor bother about the fly. I just had the inner tent. My fellow campers went a step further when they arrived and simply rolled out their mattresses on the ground. Despite a very chilly evening above ground, it was too warm underground for a fully zipped up sleeping bag.
I ventured around town, visiting the tourist highlights, such as they were. It seemed awfully quiet, almost deserted. The underground churches were fascinating. Reminiscent of the basilicas in Cappadocia, Turkey. We all did the mine tour at Riba's that evening. Riba's, in fact, is an old extensive, worked-out mine. The former mining area was a maze of tunnels and corridors. The tour was informative and interesting. The ten of us then went into town and had a superb Greek dinner at the local Greek Tavena.
It was almost sad to come to the realisation that I was heading in a different direction to my Narrandera and Traralgon friends. The three day association was to be broken – or, more probably, just interrupted. I have invitations to visit; and hope to do so.

The Breakaways
I had planned to start the trek up the Stuart Hwy first thing after farewelling the Narrandera and Traralgon folk, except that I found out about a couple of worthwhile side trips to visit: "The Breakaways" and "The Painted Desert". I didn't expect to get far from Coober Pedy
I had two choices to visit The Breakaways. I could head out towards Oodnadatta and turn off after 15km or so and do a small circuit of 150km to eventually bring me back on the highway 23km north of Coober Pedy or I could head up the highway for 23km and go in on the finishing end of the circuit road for about 11km. After seeing some vehicles on the Oodnadatta Road from a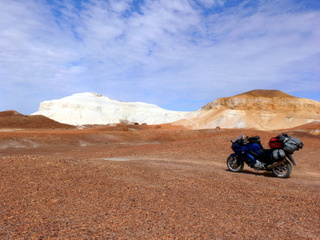 vantage point in town, trailing huge plumes of dust, I opted to go up the highway. Even so, the road into The Breakaways (so called because the hills look like they have broken away from the Stuart Ranges) was highly corrugated for most of it. It was a slow, careful trip. But the reward was spectacular: fascinating shapes and wonderful colours. "The Castle" is considered a highlight. It's two hills of two very different colours side by side. The Aboriginals called them two dogs sitting, one brown and the other white. There were a few vantage points to view The Breakaways and I visited them all.
Back on the highway, I finally got to see the dog fence. I had crossed it a couple of times but missed viewing it. It runs for some 5,600km – the longest man-made structure in the world!
Cadney Homestead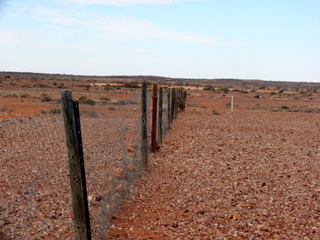 Cadney Homestead and Roadhouse was my next stop. It was only 150km up the highway from Coober Pedy. So, I didn't get far, as expected. By the time I picked up a few things in Coober Pedy and spent a couple of hours in a coffee shop with the computer, it was after midday when I pulled out. Then there was the side visit to the Breakaways.
Cadney Homestead is just a kilometre or so past the turn-off to the Painted Desert, so I first planned to head back to that next day.
When I arrived at Cadney Homestead, I was directed to a small lawn area to camp. The lady behind the counter told me that there would be a group of Mercedes Benz Car club people arriving, some of whom would be camping. I said to her that that sounded respectable. She agreed. It was a surprise, therefore, as I was relaxing with my tent up, showered, and sitting with a drink, to be confronted by thirty or so Harley riders arriving, with a characteristically sounding roar, on gleaming machines of various sizes and shapes. Turns out they were all part of a network of companies and service providers connected to the Mercedes Benz trucking industry; and who, seemingly, coincidentally or perhaps by tradition, shared a passion for Harley riding. But I did spot a ring-in Yamaha amongst them. They were on their way to Alice for some trucking show, so were accompanied by the MB trucking show bus, decked out with lounge, kitchen, bar etc and a couple of MB trucks. Their dawn departure had all the caravaners out with cameras and videos to capture the event. They were respectable.
The good advice at Cadney was that the second half of the road into the Painted Desert was pretty horrific. This meant half of a 180km round trip would be more rattling corrugations. I also discovered that the Painted Desert was of a similar nature to the Breakaways, although more extensive and more colours. I quickly lost interest. So, I headed straight north up the bitumen. It was pleasant to have a hard surface cruising smoothly underneath you, except for the restraining influence of a fierce northerly headwind.
Yulara and Uluru (Ayers Rock)
I didn't really have a destination in mind and wasn't planning on necessarily getting to Ayers Rock, but there wasn't a lot to tempt me into diversions; and the kilometres kept piling up. I foresaw after a while that Ayers Rock was to be the target, even though it would mean an almost 600km ride. This was to be the longest day so far of the trip.
The worst of it came as soon as I turned off the Stuart Hwy onto Lasseter Hwy to go west to Yulara, which is the resort-cum-village that services visitors to Uluru (Ayers Rock) and Kata Tjuta (The Olgas). Then began a 200km ride with a savage cross wind that seemed to toss the bike around like a rag doll. I eventually got to Yulara with 7km of fuel remaining. The wind chewed up the fuel furiously; and I had not noticed until I had has passed the last fuel stop.
Putting up my tent at Ulara in the unrelenting wind was quite a feat. But it proved possible. And it stayed put. And the wind finally abated before the sunset viewing.
At the NT border, I had met a group of three families who were on their way to Uluru and then across the Simpson Desert to Birdsville for the races. We swapped stories and plans. I ended up camping next to them at Yulara. One of them gave me a ride to Ayers Rock (about 20km from Yulara) to view the sunset. The sky was very cloudy. The sunset wasn't all that spectacular. I thought I'd probably try my luck another night as well.
The trip back from Ayers Rock was interesting. The police were pulling everyone over for a 'random' breath test. There was a long line of cars sitting waiting in the dark while one officer administered the tests. It was obvious that there was a bit of driver swapping going on in cars along the queue.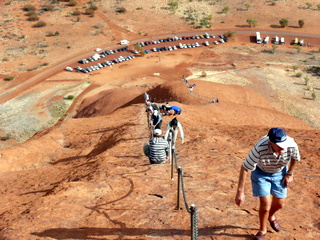 I was up in the dark next morning to have breakfast before a 6.15am or so to allow time to get to the sunrise viewing spot. I also had to be equipped for a day 'out there'. It was a mostly a 'night time' ride to ensure you could see the rock in the first pre-dawn light. I was a bit late. Going out there you have to pass through the park entrance where one person sells you a three day pass for $25 or checks that you have a valid one (I had got mine the previous evening). This delay throws planning out considerably. I wondered why they couldn't have had two queues – one for those who have passes and one for those who need to buy them. They could even co-opt one of the police officers to help. It would have been a more useful task than being back on duty – this time nabbing visitors for speeding, as they tried to make up lost time after being delayed at the entrance.
The sunrise view of the rock was far more rewarding than the previous night's view. The rock slowing lit up with the creeping light of the dawn process, passing through a reddish colour to a lighter natural brown.
Once the sun was soundly up and about its day's business, I rode around to the base of the rock to check out the climb. I thought I probably wouldn't climb it. I'd had a fair dose of post effort syndrome and a sore knee from climbs at Wilpena. But my fellow campers, with whom I shared the sunset view, were enthusiastic and encouraging. I happened to arrive at the base at the same time as they did. By then I was committed. It was a fine, windless morning.
There are lots of messages from the local Aboriginal people requesting that you not climb Uluru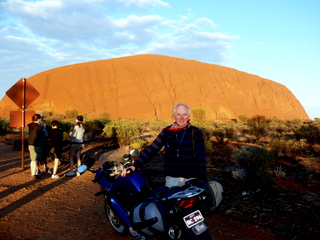 because it is a sacred place for them. The Mala men at the time of creation walked up the rock at the place of today's climb. They conducted a ceremony at the top. I had some ambivalence about the climb or no climb issue. I wanted to respect the traditions of the local custodians and their sacred places. On the other hand, Uluru is also sacred, in a sense, to all of us. It epitomises the Outback, which, in turn, captures the Spirit of Australia as much as anything, even though most of us live along the coast and its hinterland areas. The rock was there, right where it is now, for millions of years before the first Aboriginals arrived. So who has claim? Shouldn't we both have claim? We all have our sacred sites, be they churches, mosques, synagogues, temples, cemeteries or ceremonial venues; and we should all respect one another's sacred places. But it's a more difficult issue when one group wants to exclude another that also has legitimate claims, especially when the exclusion not only relates to a natural phenomenon rather than a built one, but is based on mythology. I don't say that disparagingly. All races and religions have their mythology that they value. It's just a matter of a practical, realistic and fair balance.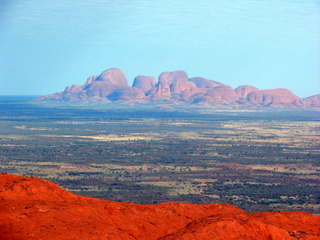 It was about 7.50am when we started the climb. The first part of the climb is a very steep ascent up the rock face, so much so that it would be nigh impossible without the help of a large chain swung from steel posts concreted into the rock. The first third of the climb, along this chain trail, must get you up two thirds or so of the vertical height. After the chain leaves you to your own devices, there are several small, steep drops and climbs as you clamber over a series of valleys and hills – and walk gingerly along many narrow ridges with steep and sometimes long drops on either side. The climb is not for the feint hearted. It was tiring and challenging – a bit scary in parts – but, all in all, it wasn't as demanding as I had imagined it would be. I was certainly glad I did it. It took just over an hour to make the ascent.
There are some pleasant and interesting walks along the base in the vicinity of the climb area. They include rock overhangs and small caverns, canyons of sorts within the folds of the rock face, a small waterhole that used to be an important hunting area for the local people, and several wooded areas where you could amble in the shade of the trees and the 'shadow' of the rock.
Kata Tjuta (The Olgas) is about 50km by road from Yulara. It was a coldish, bleak day, but not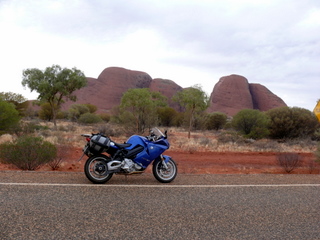 bad for hard walking. There were two walks: a 7.5km circuit up through the middle of them, and a 2km out and back up a gorge. I did both. Both were quite spectacular.
The 7.5km walk climbed up amongst the dome shaped rock outcrops, which seemed to fold onto and into one another. The walk took you up through passes and chasms to a high point lookout and then poured you steeply through another chasm onto the start of the plain at the base. You then continued around the base. It was an amazing spectacle as you meandered, climbed and scrambled along the markers to guide you, as the path appeared and often disappeared into crevices and steep rock faces.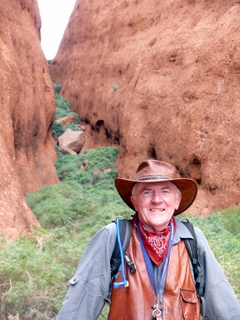 The 2km walk was a simpler one into the narrowest point of a short but magnificently tall canyon, at the end of which was a spread of various plants nourished by the moisture that is retained at the end of the canyon.
The Olgas provided a great spectacle that, I thought, was more impressive than around the base of Uluru. I guess that was because Uluru is a monolith, whereas the Olgas are a series of separate and conjoined rock domes.
I was pleased that I gave myself a third night at Yulara and made it two full days. It would have spoilt the impact and impressions to have tried to squeeze both Uluru and Kata Tjuta into one day.
I had a couple of experiences at Yulara that I would like to share.
> On arrival at Yulara, I went straight to the local servo (you might remember I had only 7km left in the tank). The first thing I noticed at the Premium pump was a padlock on the nozzle, with a sign saying to get the key from the attendant. I thought it was a security matter to guard against theft. I had struck the need to lodge your licence at Cadney Homestead before they would turn on the pump. But the attendant handed over the key with no request for anything. Then I noticed that the adjoining pump had no padlock – but a sign saying 'Non-sniffable Opal Fuel'. I suppose it's just part of life here but I couldn't help feeling it was a sad situation that they needed to padlock the sniffable fuel pumps.
> On checking into the camp ground, one of the documents they give you is an alcohol 'licence'. You have to produce the licence to get alcohol at any of the bars in the resort. The resort's liquor licence allows for service of alcohol only to guests. The bars act also as 'Bottle Shops' but only from 3.00pm-9.00pm. By this stage I had learnt that there are several restrictions to liquor licensing in NT, but had not as yet experienced others.
Backpackers
In the camp kitchen/common room (really an open air structure) at Yulara, I had dinners with several young back packers on working holidays from various countries. Back packer is probably a misnomer. Most had transport of their own and seemed well equipped. Their stories were very interesting. One German girl, with her blonde hair and fair skin, told how she had spent several months working on a sheep and cattle station out of Longreach. She at times spent all day in the sun painting fence posts, at other times worked at assisting the shearers, and often rode the quad bike to outer parts of the station mustering stray groups of sheep or cattle, being directed to them via radio from the station owner in a plane. Others had similar stories of hard work and fun times on farms and plantations of various sorts. All were wrapped in their experiences and couldn't speak highly enough of the Australian people they had met. They all thought we were wonderful.
Without necessarily suggesting this is related to back packers, but I don't think I have ever worn such dirty clothes for so long in my life as I had been since I had started camping. Camping amongst the red soil of the Centre or, indeed, the different coloured soils of other places had taken its toll. I even started to feel like my grand kids or like I did when I was a kid – spending the day and night in the same clothes! Motorcycle camping calls for different attitudes and practices than might prevail when hotelling it on the road.
Ride to King's Canyon
I had only about 300km to cover to get from Yulara to King's Canyon, so was in no hurry to leave. Although up early, I managed to fill in about three hours before I rode out. I stopped at Curtin Springs for lunch. Like many such places, it is billed as both a homestead and roadhouse. Essentially, they are commercial centres on huge cattle and sheep stations – cattle in this part of the world. Curtin Springs is pretty much north of Mt Conner, so without the sand storms of three days earlier, I was able to get a better view of this feature, which so many arriving tourists think is Ayers Rock when they first spot it.
The ride to King's Canyon Resort was pleasant and uneventful. I got in about 3.45pm. That gave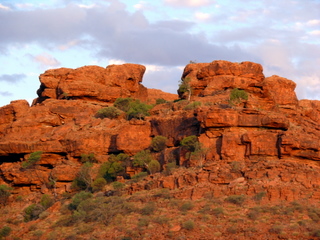 me time to pitch camp, shower, have a drink and wander along the board walk to a sunset viewing platform. The resort is about 7km (direct) from the canyon so the view is a distant one, but a nice introduction to the scene.
As I sat by my tent having a pre-dinner drink, a lady in a 4x4 was driving around warning campers not to leave anything outside their tents – even in the vestibules; and certainly nothing leather (like boots). The dingoes (I had already seen a couple stalking the edge of the campground) had a taste for leather boots but would basically steal and chew up anything in their foraging for food. So it was a squeeze of everything into the inner, zipped up section of the tent for the night. Over the course of the evening, several dingoes wandered by the tents, keeping a wary eye on campers but cheeky enough to venture amongst them.
King's Canyon
What an amazing day walking King's Canyon! Many people along the way had told me King's Canyon was a 'must see'. I had always planned to visit it on my trip, although I would have missed it if I'd been with the South Coast trip in July.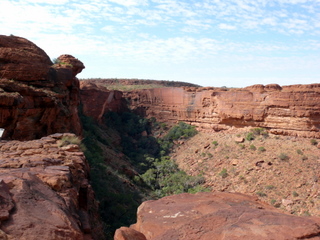 First, a ride of 10km to the start of the walk. Then a 5-6km walk that takes you steeply up, in effect, a 'Giant Staircase' to the rim of the northern wall of the canyon. The walk then proceeds along the rim of the wall, sometimes on the very edge, at other times winding back in, to get around the fascinating rock formations that look like a series of cupolas. The formations have all come about from a starting point of some 400 million years ago when the area was a shallow sea extending from the surrounding oceans. As the sea dried up, the shifting sand, over the ensuing millions of years, swirled around by wind and dumped in layers, became so compacted that it developed into sandstone structures. One of the interesting phenomena that has resulted from the process is the layering of sandstone into types, colours and ages, reflecting the way the original sand had been deposited there by the wind.
The walk diverts in places to have you cross a small bridge over a deep split in the wall to reach a high outcrop of rock or to take you to a vantage point on the very edge of the 'drop-off'. You pass by and around the cupola-looking sandstone formations to eventually reach a point, well up into the narrowing of the canyon, where a series of wooden stairs takes you down to the canyon floor. Here there is "The Garden of Eden". And to think we had always thought it was somewhere in the Middle East, when it was really here all the time!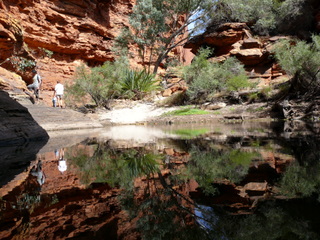 It's an oasis of sorts. Lots of animal and plant life. You can proceed along the canyon floor (or, at least, along the rock ledges just above it) until you reach a waterhole enclosed by the high canyon walls. In fact, as you walked along the rim of the northern wall, the northern and southern walls narrowed to a crevice, past which you then descended into the Garden of Eden. Once on the canyon floor, you walked back to the start of the crevice, where the waterhole is situated – just on the other side of the crevice opening to the main canyon. After that, you retraced your steps to the wooden staircase and proceeded up the other side to the rim of the southern wall. Then you trekked back along this rim for views of the northern wall, until the path took you away from the canyon to descend on the outer side of the southern wall, with equally spectacular rock formations up another valley.
It was a very special treat. I decided to ride back later in the afternoon to see the canyon in the setting sun, provided it doesn't cloud over. I also booked a helicopter flight over it all for the next morning, but that will be subject to the weather.
Back to battle the dingoes!
I'd no sooner finished on my computer in the resort cafe after the day's walk, when it was time to ride straight back to King's Canyon for the sunset. I rescaled the 'giant staircase' almost to the top to ensure a good view right into the canyon. It was just as well I'd set out when I did because I only got about 10 minutes of good colours before clouds covered the sinking sun – and it was still about 20 minutes before sunset. At that stage, I returned to the car park and ran into a group of Polish tourists with cameras at the ready. They were startled to be greeted by this lone hiker with a 'dyen dobriy'. On learning that my daughter-in-law is Polish, one of the women asked if she was lovely!! I replied simply, "of course, as you would expect." Being delayed by talking to them was fortuitous, as the sun reappeared for about five minutes before it finally sank below the horizon.
I decided that the best tactic for the next day was to be all packed up and ready to leave from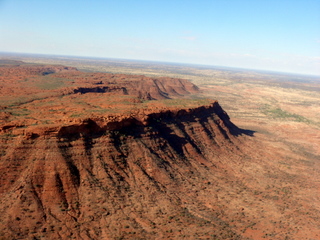 the helicopter centre. That meant a pre-dawn rising. That worked out well because the sunrise was a fiery one and well worth the time spent watching and photographing it.
The helicopter ride over King's Canyon was a perfect finale to the whole experience. The first impression, as we approached the range in which the canyon is located – about 7km directly from the resort (loosely relying on Pythagoras), is an appreciation of how the range rises about 300m at its highest point from the surrounding plain like an island. Then you see, biting into the range, a huge opening whose base is pretty much level with the plain. That's King's Canyon. From above, you get a perfect perspective of the rim walk, the descent and crossing of the canyon, the positioning of the Garden of Eden and the return walk down the outside of the south wall. From the rim of the north wall, the top of the range extends for hundreds of metres before rising to its peak and dropping precipitately to the plain; whereas from the rim of the southern wall, the range quickly drops into another valley with its own rugged walls. All about are those cupola shaped formations of sandstone.
Alice Springs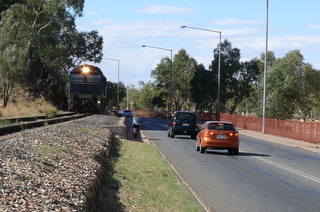 I had intended originally going to Alice from King's Canyon via the Mereenie Loop through Hermannsburg. However, Loren, my rescuing angel on the William Creek/Coober Pedy road, had told me she came that way and dropped her bike five times in the first half hour. That put paid there and then, to any thoughts of doing the Mereenie Loop! There was another option – taking a short cut via Ernest Giles Road back to the Stuart Hwy. Fortunately, when I was heading into King's Canyon, a 4x4 was emerging from this road, so I got some up-to-date intelligence on its condition. The news was all bad. Hence, my trip to Alice was the 'long way around' on the bitumen – back along Lasseter Hwy.
The ride to Alice was another windy one, with temperatures getting into the early 30sC. Nothing too exciting about this stage of the trip. It was mostly about keeping control of the bike through wind bursts and the wake of oncoming semis.
I ended up spending six nights in Alice. The first day was partly a house keeping day. I needed to buy a few things. I packed up a parcel of clothes and posted them home (with my new-found life style – and personal habits – I decided I was overloaded despite having packed lightly). I washed the bike. That still left me time to visit the Desert Park – an expansive area that has reproduced all aspects of the desert country around Alice: the sandy areas; the river beds; the Spinifex; the wooded areas; all forms of vegetation etc. It has enclosures, with a variety of birds and animals, subtly blended into the setting. There's also a very high quality nocturnal display that has all the nocturnal animals doing what they do at night. The park has the MacDonnell Ranges as its immediate backdrop.
The Ghan was at Alice that day, so I made a quick visit to the station to view it and get a few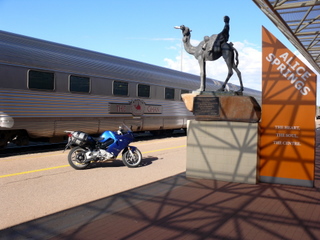 photos of the bike with the Ghan.
I discovered another aspect of NT liquor laws in Alice. You can't buy certain wines until 6.00pm. They include cask wines and fortified wines. I gather this applies to Alice, Tennant Creek and Katherine, although the time of sals differ slightly.
I camped in Alice at the Heavitree Gap Lodge on a shady, grassed area. It's not very large and there weren't many of us. Interestingly, there were a few long-termers who live and work in Alice!
That night, I was sitting outside the tent listening to the evening show on local ABC radio, when they started to talk about doing things you've always dreamt about. I'm not sure I qualified since this trip was more of a spontaneous reaction to circumstances, but I rang in anyway. I think they might have been short on starters because I ended up going straight onto air. So Darwin and Alice ABC listeners got a run-down on my trip and my views about climbing Ayers Rock!
After a night of light showers on my first night in Alice, each subsequent night and day followed a consistent pattern: very chilly nights (back to sleeping in trackie daks and a long sleeve top) and cloudless days into the late 20s or early 30s. It's even chilly sitting outside in the early morning with a jumper on. But once the sun hits you, there's instant heat. You could go comfortably from winter woollies to T shirt and shorts in a blink.
West MacDonnell Ranges
I headed out to the West MacDonnell Ranges on the second day in Alice. The MacDonnell Range rises precipitately from the surrounding plain; and then stretches for hundreds of kilometres both east and west of Alice. The only access to Alice from the south is a narrow split in the Range through which the railway, road and Todd River all squeeze side by side.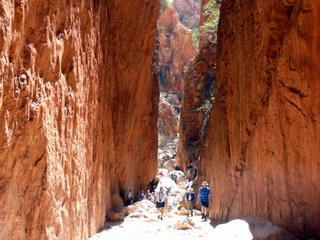 Along the western arm of the range, there are two spines running more or less parallel. The road west runs through the middle of the spines. Along the northern spine are several impressive geological 'oddities'. The first one I visited was Simpson's Gap – another split in the range that allows access through the range at the plain level. In this case, there's only a narrow dry river bed, with a waterhole filling the width of the gap. Further west, is Standley Chasm. Unlike the other gaps, where each side of the range comes to something of a point, the chasm is a long narrow corridor whose walls are cathedral height sheer rock. In the middle of the day, the sun shines on the walls and enhances the red and yellow colours. I made a point of being there at that time.
There are several other features along the western range, but I returned to Alice at that stage because I had a loose arrangement to catch up with the brother/brother-in-law of Col and Sue Durnan, one of the Narrandera couples I had camped with for several days along the track. On the way back, however, I had time to call into the Cultural Centre, which houses a gallery of art from the Namatjira days, including paintings by Albert and his sons and others of the Namatjira school. There's also a very good natural history/anthropological museum there.
Some Aboriginal Issues
I then got back to town and met up with Bob Durnan. He has worked for many years in local communities; and is currently with the Aboriginal health service, working mainly at Hermannsburg. We no sooner met than he was called to help out a couple of the Aboriginal staff who were stranded at the airport with a flat battery, having just returned from a management course in Canberra. So I rode with him in the 4x4 trooper. We chatted on the way out and back.
Wally and deliver programs to Aboriginal men in areas of anger control and management of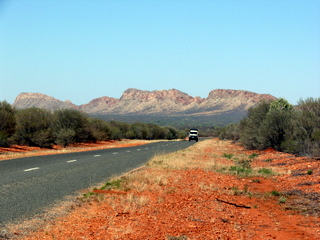 their lives. Both have had their own challenges in the past so have both personal experiences and subsequently developed skills and training that allow them to effectively reach Aboriginal men in need. Wally invited me to visit him at Hermannsburg and sit in on one of his sessions.
Bob has been involved in developing and administering programs to combat petrol sniffing and alcoholism. The petrol sniffing tragedy has been all but eliminated in Alice – and I think that applies to other centres in the Central Region, though not all. The big factor in this has been the reduction in supply, with the introduction of non-sniffable Opal petrol. This has been backed up by programs to get young people more socially conscious and into educational processes. There seems to have been very encouraging success with these programs. The supply of Opal petrol costs the government millions of dollars in subsidies to produce this more expensive product. But it is still cost-effective because of the reduction in health costs associated with the petrol sniffing tragedy. The programs to reduce alcoholism were initially far less successful. However, over the last three years, since the introduction of supply restrictions (such as the ones I had discovered: no cask or fortified wine sales until 6.00pm; and there's no 4L casks at all), there have been clearly measurable reductions in serious instances of alcoholism, with marked drops in alcohol related injuries (including violence against women) and deaths. The liquor law restrictions apply only in the Central Region – and, I think, only in the major centres of Alice, Katherine and Tennant Creek. In fact, on the very day we spoke, coincidentally, the NT liquor licensing authority announced that it is now considering extending the restrictions to Darwin and other areas. There would seem to be official recognition that the restrictions have had a beneficial effect.
We drove back through one of the infamous Alice town camps, which had been so much in the news at the time. I was surprised to discover it was relatively small. In fact, there are only 200 houses spread across 16 town camps. While 200 seems and is a lot, it's a relatively small average of 12-13 houses per camp. In the one we visited, Little Sister, there was about a dozen or so houses. Some were freshly painted and looking tidy and clean. Others were run-down and surrounded by a mix of litter (bits of old cars, sheet metal, bags of beer cans (lots of these) and scraps of various sorts). One house was supposed to be a dedicated community centre for community activities, but it had mostly become a place for the many itinerant visitors to bunk in. Some of the houses had been badly abused by the groups who gather in them for binge drinking sessions. Little Sister is one of the more violent camps, but it was quiet and seemingly peaceful as we drove through it. It's supposed to be alcohol free under the Intervention, but police don't enforce the law. Only about 20% of the Aboriginal population live in the camps, but that's still a fair amount and a significant problem to address.
East MacDonnell Ranges
The next day started off shaping up as a leisurely one; and that was the case until lunch time. I headed into the East MacDonnell Ranges and soon decided that I would ride directly to the end of the bitumen and visit places of interest on the way back. I made one short diversion on the way out to Corroboree Rock, a peculiarly shaped rock that is of sacred significance to the local Aboriginals.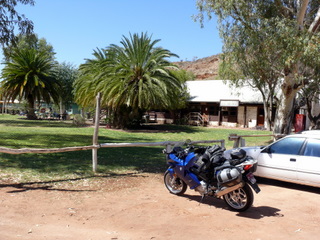 The end point was the Ross River Homestead. It turned out to be an old thick-walled house, probably stone but with a white plaster covering of some sort. A restaurant had been added in recent times. The surrounds were 'colonial' – lawn, huge trees, a couple of large palm trees; and the stables and shed nearby. I enjoyed a home-made "Ross River Pie" (cooked in a porcelain dish), sitting in the coolness of the garden and chatting to a couple of guys who had just finished a few weeks work repairing some of the buildings. The lady who brought my order out to the garden said that she was told to give it the guy who looked like a cowboy! I wasn't sure I liked that or even deserved it (if deserved is the right word). I later checked in the mirror in the gents and had to conclude it was a plausible description. I concluded that rather than like or dislike the description, the better course was to be indifferent. After all, I thought that the way I dressed was comfortable and convenient; and I liked it!
On the way back, with a few highlights in mind, I made a snap decision to venture to a place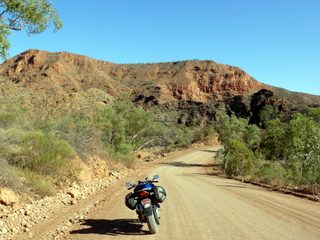 called Arltunga. This was the first place a decent gold find was made in Central Australia and so was quite a settlement in its day. It boasted being the first European settlement in Central Australia. The 'historical precinct' included a large area called "the government works". This was the hub of the settlement. Most of the inhabitants would have lived in makeshift humpies or tents. The government works consisted of houses for the 'master' (sort of mayor) and the gold assayer, gold assaying and storage rooms, a post office and a few other buildings. All these were stone buildings, some of which have been restored. Then there were the ruins of the huge pieces of machinery needed to extract the gold from the ore. These were a furnace, boiler, horizontal steam engine and all the crushing equipment. A little further away was the restored police station and lock-up. It was a worthwhile side trip, but did require an 80km round trip on dirt, a lot of which was hilly and bendy, with the inevitable crowding of loose gravel on corners. It was a very tiring ride and day. By the time I got back on bitumen, it was time to head straight home – carefully, as it was already after 4,00pm.
The enjoyable lunch had to make up for that night's dinner, which was the worst I'd had. I'd mistakenly thought I had bought a packet of dried chicken and rice, probably mislead by the 'serving suggestion' on the packet that featured juicy pieces of chicken. It turned out to be chicken flavoured rice that, even as a side dish (its intended purpose), you wouldn't dish up to friends. At least, not if you wanted them to come back.
Around Alice
The following day was definitely to be a leisurely one; and it was. It involved a comfortably late start, a visit to the National Transport Hall of Fame (the destination of the Harley group who invaded the camp ground at Cadney Homestead the previous week) and the Old Ghan Museum. I spent more time at the much smaller Ghan museum than I did with the trucks, but both were interesting.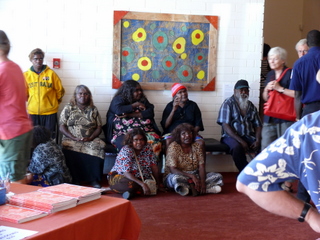 Then I spent some time at the fortnightly Sunday markets in Todd Mall – the centre of town. There were lots of the traditional market stuff, with local paintings, jewellery and a few other things. All very colourful, with such a mix of races and people dressed in the best and worst of gear. I wasn't sure where I fitted into this range. I did flinch when an elderly American couple, with whom I had struck up a conversation, thought that I looked as though I had just walked off a film set. I enjoyed a very nice lunch of kangaroo salad with a mixed berry dressing at the Red Dog Café.
After that I made a quick visit to Anzac Hill, a vantage point just north of town; and then onto the site of the old telegraph office. This was the second "first European settlement in Central Australia" I had visited in two days. I had to put the information brochures on Arltunga back in the box at the site so didn't have the dates at my finger tips to compare claims. The telegraph office was a site of many old and restored buildings. It was the end point of the first overland telegraph line across Australia; and then a relay station to Darwin. It was built on the river bank at "Alice Springs" – a waterhole, in reality, on the river, mistakenly thought to be a spring. The town was subsequently developed several kilometres south of the "springs".
On my way back to the camp, I dropped in at the Cultural Centre again, mainly because it was the public exhibition day for the "Desert Mob" – a several day function related to desert painting in the area. The exhibition was impressive. There were a lot of dot-based works, but with immense imagination and innovation. The quality and presentation were very professional. I would have been more than happy to have several on my walls, but probably not at the asking prices.

I found out that the desert painting style of dots began only in the 1960s. The difference with the "Desert Mob" exhibition was that the paintings have become very professional, somewhat in contrast to the ones spread over the footpaths at the markets.

Aranda, Arunta or Arrernte?

One of the things that caught my attention in Alice Springs was the different words that were used to describe the local Aboriginal group (or 'mob' as they prefer). They were Aranda (as in the Canberra suburb, except that it's pronounced with the stress on the first syllable, which is "are" as in "we are"), Arunta and Arrernte.

I asked the lady at the telegraph station about them. She assured me, with an authoritative demeanour, that they were all separate tribes with their own languages; and that there were so many around Alice Springs!

During a visit to the Desert Mob exhibition, I raised the three word issue with a local Aboriginal guide, who told me that all three words described the one mob, which, she proudly added was her mob. She said that her mob used the word Arrernte. The others, she said, were corruptions introduced by non-Arrernte people. Her "brother" who joined us in the discussion, demonstrated how to pronounce it, with the stress on the first syllable and a roll of the 'r'.

In Hermannsburg, I was told by Wally that he was a Western Aranda mand; and that the Western Aranda people like to spell their mob name 'Aranda'.

There would seem to be a lot of tradition and mob preference across the Aranda/Arunta/Arrernte group as to how their name should be written in English.
My departure time from the exhibition was determined by the need to get back to camp, remove the panniers, and get to the Heavitree Gap (just beside the camping ground) in time to catch the Ghan come through the gap on its way to Adelaide. Just a sight to be seen!
I dined in the tavern adjoining the camp ground that evening. It had a Sunday night $10 roast. It also featured most nights a long-past-his-peak country singer, which alone had been a reason I had not previously ventured there. But $10 for a roast dinner and a voucher for a free glass of house wine, which I got on first checking into the camp site, led me there inevitably. Besides, there was no take-away alcohol at the local supermarket on Sundays! The meal was fine. I tried camel, possibly for the first time. It was a long way from the melt-in-your-mouth kangaroo I had had a few times. Interestingly, they had two classes of "house wine". You got cask wine with the voucher, but when you bought a glass of house wine, it came from a bottle! Unexpectedly to me, they also had a support show – a local snake charmer. Well, not quite. He was from the reptile park and came equipped with snakes and lizards. He had a few useful messages which I have recorded on a new First Aid page.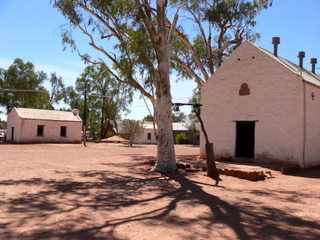 I made a trip to Hermannsburg from Alice. It's about 140km west in the West MacDonnells. Hermannsburg has a deal of notoriety about it – both good and bad. It was the site of the first Aboriginal Mission in the NT, set up in 1877 by the Lutheran Church. It has quite a history of hardship, perseverance, accomplishment, and disaster; but now has a legacy of historical buildings and proud achievements. Hermannsburg is also the birthplace of Albert Namatjira, whose paintings were of landscapes of the area. The historical precinct includes a collection of paintings by Albert and others of his school. They are housed in one of the original buildings.
Hermannsburg has also seen its fair share of trouble in the past because of petrol sniffing, alcoholism and violence. In fact, fairly or unfairly, there was a time when the name 'Hermannsburg' seemed to epitomise the worst of Aboriginal life. But it had turned a corner well before the Intervention. Although petrol sniffing is mostly a thing of the past, there are still serious problems with marijuana and alcohol, despite it being an alcohol-free zone.
As planned, I caught up with Wally Malbunka, whom I had met briefly on at the airport in Alice.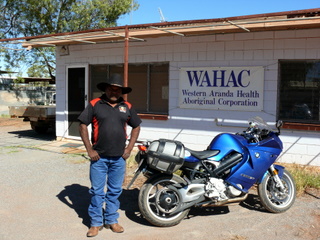 Wally is a Western Aranda man who lives in Hermannsburg or Ntaria in the Aranda language. I wasn't able to stay for his session on anger management with men of the town because it would have been too late for me to return to Alice safely. But we talked for about an hour about his work and the issues that he and his colleagues deal with. One of the key tools for dealing with social disruption is story telling. Wally is one of those who tells his story on a CD and in a book produced to get the stories' messages disseminated amongst their target groups. Essentially, the stories and messages are about the story tellers' own bad experiences and the pain they caused family and friends; and how they changed their lives for the better. The technique has become an effective way of reaching and influencing socially disruptive members of their mob. Wally has also developed a sort of blueprint for dealing with personal troubles by using an analogy with team dynamics in Aussie Rules, which is a major passion in this part of the world. I understand it resonates well with the young men. I will write up more about this in due course. I found it very interesting. I have reproduced some of Wally's materials here. You can access them also from Fireside.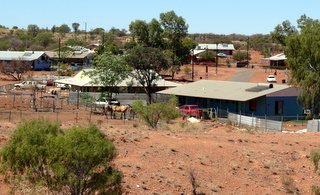 Apart from the historical precinct, Hermannsburg has three groups of housing – sort of suburbs, although more akin to town camps. Two had signs saying "No entry. Private residential area". I could ride through the third. One of the two was along the main road into the town, so you got a reasonable view of it. I walked to the top of a hill in the centre of the spread-out town and could get a good perspective of the whole layout. The housing settlements seemed to be a mix of housing. Some looked neat and tidy; others had yards littered with old car parts and other rubbish – a bit like the town camp I visited in Alice. When Wally was showing me on a map where he lived, I commented that I noticed a couple of horses in the yard of the house opposite his (I saw this from the hilltop). He was delighted to tell me one of them, the yellowish coloured one, was his (his main job had been a horse breaker). He was even more delighted to see a photo of his horse, which I had taken from the hilltop.
Wally mentioned that he still brings wild horses in and breaks them. "There's plenty out there", he assured me. I wasn't far into the ride home when two of them emerged from a wooded area onto the edge of the road, but quickly retreated at the sound of the bike.
Thoughts from Alice
After six nights in Alice Springs, it was time to head north again. I did so with some reluctance. I was enjoying the variety of things to see and do in Alice; and the peacefulness of hanging around. My reluctance to leave was probably why I stopped in town for a last cup of excellent coffee and a mixed berry muffin at the Red Dog Café.
As I sat on the Todd Mall at the Red Dog Café, with a Maori singer strumming songs, one about the Red Dog Café, I recalled my camping companions of the last six nights.
| | | |
| --- | --- | --- |
| Right behind me was a 30ish woman who had been there for four weeks. She had an awful cough. She didn't seem to do anything or go anywhere. She just seemed to sit there all day smoking and coughing. I commented politely on the combination of smoking and coughing, but that didn't get a positive response! We exchanged greetings but she never seemed to speak unless I to spoke to her. That was until this morning, when she seemed quite chatty. Maybe she was pleased that I was leaving. | There was the cyclist. He had cycled from the Gold Coast and arrived a day after me. I suddenly became his newest best friend; but so did others over the ensuing days. He was always up for a chat, even when I was obviously preoccupied with the computer. He was looking for work and wanted to stay about six months. | A young woman at the other end of the small patch of grass that constituted the unpowered camping area was another of the permanents. She had been there for some months after previously being in a house. She didn't think she could ever go back to a house again. She had a 3-4 person tent, a car and a bicycle; and two part time jobs. She was pleasant and engaging. |
| A guy camped near her was looking for work. He'd been there for some weeks but we met only on the last night. He still managed to tell me his life story, with some complicity on my part. He had an interesting story to tell: two stints in Vietnam with the Special Air Services followed by various security type jobs (as per themes that have found their way into a few recent movies). I overheard him this morning telling the leaf-raker the same story. | Another guy had been kicked out of his house for whatever reason and was now a permanent camper. He wrote his car off a few days ago hitting a kangaroo, so his only transport was a cycle. He had a regular job to which he cycled every morning. He seemed a pleasant and decent guy. | Then, there were the itinerants. They were all young overseas travellers. At least three groups of these I had previously met at Yulara or King's Canyon, so it was nice to renew acquaintances. It was also nice to hear the stories of the others. I sat up late with a group of Germans and a French guy, for whom the only common language was English, chatting and playing silly games initiated by a German guy I had previously met at King's Canyon. The French guy made a huge pile of great crepes for all of us. |
But all that was now behind me as I headed north. I had thought I might get to Tennant Creek, but had pretty much decided on leaving that the camping ground at the Devil's Marbles would be a better option.
Devil's Marbles
About 7km short of Barrow Creek, I stopped to help a damsel in obvious distress. She had her car bonnet up and was standing looking ruefully into the engine. Something had exploded out the back of the car and the temperature gauge had shot up, so she pulled over. I was hardly much help to her, apart from offering the obvious advice that she needed to let the engine cool before doing anything. As we pondered, a police van with trailer went hurtling past. I remember commenting "helpful police!" A few minutes later, however, it returned. The two police officers were in non-police work clothes as though they might have been out bush on a patrol or training exercise. I offered the greeting "You must have got a guilty conscience!" It was totally ignored, as one of the officers, with an over-serious demeanour, asked what was happening. They did help and drove the damsel to Barrow Creek. I had gone ahead and they arrived as I was leaving, having filled up with petrol. A few minutes later, they passed me, so the poor girl was seemingly stuck in Barrow Creek, which seemed to consist of only a petrol station (and no mechanic I had discovered), with her car still down the track.
The no-showers, no-water, pit-toilets camp ground at the Devil's Marbles was the busiest I had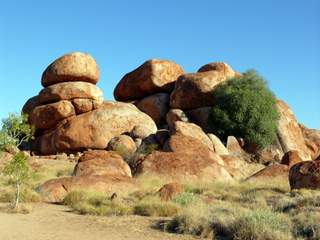 encountered. There was no way I could get a tent peg into the rock-hard ground, so had to put everything I could fit into the tent to act as ballast.
This was my first feral camping night, i.e. no shower, no washing – evening or morning.
I met two women who were camping there. One, from Bondi, sought some assistance from me because she though I looked like a "ranger type". Turns out she was born in Tennant Creek and had felt the need to return there, for the first time in her life since leaving as a child, to mark her 50th birthday on the next day, which was on 09/09/09. I got the impression that she would probably feel more comfortable in Bondi than in Tennant Creek.
Enjoyed a great dawn at the Devil's Marbles. The horizon slowly self-illuminated into a blazing glow before transferring its fire to the marbles, making them look like hot embers. Too many photos!
As I was packing up at Devil's Marbles, I chattered to a couple who were also packing up their 4x4 and caravan. Pete told me that I was living everyman's dream. Pete, his wife, and two little girls were caravanning around. His parting lament was "I'd love to do that someday." I replied "but only after your girls have grown up!" He nodded with a touch of resignation.
Tennant Creek
Tennant Creek was the next target. It's one of those names that have been with me since "Social Studies" which we used to do in Primary School. It was the place on the map of Australia which we associated with gold. Despite its current reputation for being a rough town, it was a must to stop and visit it after learning about it all those years ago. It looked a fairly neat and tidy town as I rode through, although the main, possibly only, supermarket was ominously protected with jail-like bars around its entrance and windows. I did some shopping at the supermarket, had lunch at a café, filled the bike up – all the while feeling quite comfortable.
The main tourist attraction is Battery Hill, the site of the old ore crushing and gold extracting machinery. I did an underground mine tour there, led by an old timer who had worked the mines for more than thirty years. He had lots of stories of the old days – a few too many and not all particularly relevant. But it was interesting, even though probably largely unintelligible to those for whom English wasn't their first language (and even for some for whom it was!). Tennant Creek was, in fact, Australia's last great gold rush. I learned during the tour that it was the first time gold had been discovered in iron rock.
After about four hours in Tennant Creek, I decided I didn't need to stay over, so headed north again. I had thought I might catch up with the 50th birthday girl, Rini (short for Lambrini, which, despite its Italian look and sound, is actually Greek). Maybe Tennant Creek didn't live up to her expectations; or, more likely, was a bad as she had expected. I hope she saw the good points.
The original site of Tennant Creek is about 10km north of the town. There is a creek called Tennant Creek and several old buildings nearby that constituted the original telegraph station. Like the one in Alice Springs, it was a relay station on the trans-Australia telegraph line that then connected with an undersea cable from Darwin to Java; and thence to the world.
Banka Banka
In a tourist brochure at Battery Hill I had spotted an ad for camping at the homestead of Banka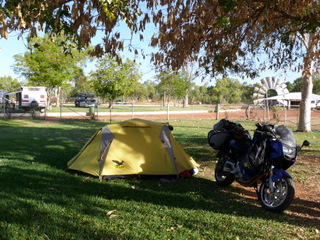 Banka station, about 100km from Tennant Creek. It sounded attractive, so became my tentative target for that evening. It turned out to be a delightful place. Lots of grass and large trees, facilities, spring water, even a small licensed bar. I got some special treatment by being offered a fenced-in patch of grass under a lovely tree away from the general camping area. Privileges of being on a motorbike! I did attract a variety of cute little bugs, the likes of which I'd never seen before. I could even feel them on my legs under my trousers. I also had to hunt the odd wandering chook from entering my tent.
Banka Banka is one of three adjoining properties along the Stuart Hwy at that point – all owned by the S Kidman empire. All three run cattle (and feral donkeys). In fact, feral donkeys are a problem for them. The previous week, they had shot 1800 in one day!
Mataranka seemed the obvious destination after Banka Banka, at about 460km. For the most part, there's not a lot along the Stuart Hwy at this stage. I stopped at Elliott for a late second breakfast and petrol. It seemed a very small town, although with police station and most services. It didn't seem all that an attractive place.
Further north, I turned off the highway to Daly Waters, attracted by signs indicating 'historic hotel' and 'WW II airfield'. It was only a few kilometres off the highway. The airfield, with NT's oldest hangar, is a national heritage site. It was a base to many aircraft during the war, including the rather large Hudson bombers. There was a photo display of many World War II activities at the airfield. The pub in town was a sight to behold! There seems to be an implicit competition amongst pubs in this part of the world: bars boast their number of either number plates, currency notes, business cards, empty cans, ID cards from various nations, or items of male and female underwear. This one was no exception. Its beer garden had as many odd "sculptures" and humorous memorabilia as they could fit. The 'wild caught' barramundi lunch was mouth watering.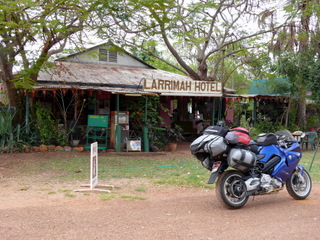 Mataranka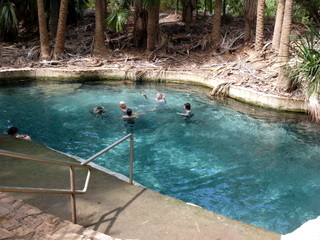 Next night, I stopped at a place called Bitter Springs, 3km from Mataranka. Bitter Springs is part of a large area containing hot spring flows. It has a river which widens and narrows as it flows slowly. It's crystal clear and has a sparkling blue-green tinge. It's not unlike a large rock pool at the beach where the water is similarly translucent. I enjoyed the 34°C water before ducking back into town for a couple of cold beers to take back to camp.

I wasn't sure what I would do or where I would end up as I packed up next morning. I had spotted a reference in a pamphlet at the camp ground to a replica of the old homestead featured in the movie We of the Never Never. It had been built for the movie and was now at the Mataranka Resort complex. That interested me. In any event, I was also interested to see what the resort complex was like. I would have inevitably aimed for that had it not been for some comments picked up along the track. One couple had been very critical of the Mataranka Resort: so many "bats" (actually, they are flying foxes), they smelt so much, the camp was too dusty....A few had spoken highly of Bitter Springs. So that's where I went.
On departure, I doubled back to visit the Mataranka Resort, which you accessed by a road several kilometres south of Mataranka. The resort has been built around the old Mataranka Homestead. Nearby was the replica of the old Elsey Homestead that was the centrepiece of We of the Never Never. It was a very basic timber (sort of split logs) place with no trimmings (like wall linings, ceilings etc). The book We of the Never Never is an autobiographical novel by Jeannie Gunn, who, as a young woman, lived in the original Elsey Homestead in the area of Mataranka – but several kilometres from where the replica now rests. Many of the characters, including her husband, are buried in the Elsey cemetery a few kilometres away.
There were certainly thousands of flying foxes nesting amongst the palm-type trees around the springs. You had to walk through this grove of trees to get to the thermal pools, so there were flying foxes galore overhead amongst the foliage. I didn't find the smell too strong or offensive; but certainly noticeable. However, they're part of the ecosystem in that area so I didn't find them objectionable; and I couldn't smell them from the camping area (although I was assured you mostly could). The resort had a large open bar and bistro right at the camping area. The old historic Mataranka Homestead has been turned into backpackers' accommodation. All in all, I would have preferred to have stayed there.
Katherine Gorge (Nitmiluk)
After that, it was a slow trip to Katherine, about 150km away. The trip was deliberately slow (mostly around 100kph) to confirm to myself that the bike could be economical. There had been so many times when I was not getting any more than 350km or so out of a tank; and there will be a stretch soon of about 380km without petrol. I got 3.9L/100km over 160km today, so, at that rate, I would get more than 400km from a tank. Just have to stay slow and hope there isn't a head wind!
By the time I had some lunch at Katherine, paid a heap of bills from home on the computer, and looked through the local museum, I decided to head out to Katherine Gorge, where I spent three nights.
Jawoyn
It was the 20th anniversary of the handing back of the area around Katherine Gorge to the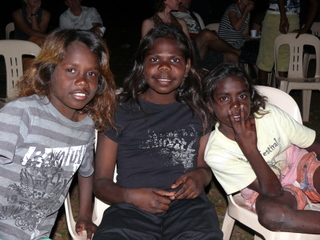 Jawoyn people, who call it Nitmiluk. The Jawyon logo depicts Bolung, the Rainbow Serpent, Nitnit, the cicada and some local fish, mussels and rocks. Bolung carved out the gorge and lives in a deep hole in the 2nd Gorge. The name Nitmiluk comes from the Dreamtime, dragon-like figure of Nibilil. As he travelled the country, he passed by the entrance to the 1st Gorge and called it Nitmiluk after he heard the sound of the cicada, whose call resembles a nit nit nit noise.
The Jawoyn not only control the park, in cooperation with NT Government, but own the tourist company that runs all the tours here. They seem a well organised and business-like mob who not only run an efficient operation but also reinvest in infrastructure as well as distributing benefits to their community.
As part of the anniversary celebration, the local Jawoyn community were having three days
camping there. The kids were having a ball in the pool. The smaller ones were extracting lots of play time in the pool from the tourists. A couple of older women were up dancing to the music in the visitors' centre-cum-bar-cum-restaurant as I sat there catching up with my blogs.
On my first evening there, the clan or mob (as a couple of fellas I spoke to called themselves) staged a party amongst their tents. They had their own band and singers and put on quite a show. Old women danced merrily to the music, some guys strutted their dance techniques and kids galore ran around, squatted on the ground mesmerised or sat up mimicking the drummer. Lots of tourist campers sat around and enjoyed a rare experience of seeing an Aboriginal mob having a wow of a time. I thought of the show as a sort of rock corroboree.
Touring the Gorge
There were several gorge tours to choose from. I thought I might as well go for it; and so opted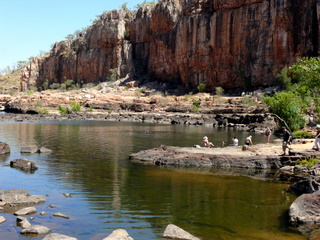 for the longest: the 3 Gorge tour. Katherine Gorge actually consists of thirteen gorges, each separated from the next by rocks through which the river makes its way in shallow channels. None of them is navigable even by canoe. So you walk from gorge to gorge. There are tour boats in each of gorges 1-3. There are canoes waiting in the 2nd Gorge, but its portage after that if you're in a canoe. The tour was spectacular. The kilometre or so walk from the 1st to 2nd gorges included an extensive gallery of ancient rock paintings. On the way back, we stopped between the gorges for a swim in a refreshingly cool waterhole.
The good advice was not to walk in the middle of the day or afternoon. There's a sign indicating it's 50°C walking along the escarpment. So, I spent the afternoon comfortably ensconced in the visitors' centre with my computer. I figured I'd venture out on a long walk at dawn on the morrow.
Black Arm Band
My first full day at Nitmiluk was the actual anniversary of the handing back of the land to them, so there were official functions, speeches etc, as well as dancers and a high class band made up of a number of Aboriginal artists from different places. The band, with sharp irony, is called the Black Arm Band (readers from overseas might like to refer to the box opposite). It was obviously shaping up to be an evening of good entertainment. It would all take place on a specially constructed stage in the picnic grounds at river level a few hundred metres from the camp site.

The Black Arm Band gave a great concert performance. It's an ensemble of some 22 performers. The musicians, who both back up and perform solo vignettes, included cello, violin, sax, clarinet, trumpet (one person did these last three), drums, keyboard,


Black Arm Band


The previous government in Australia (prior to Dec 2007), which had been formed by a coalition of conservative parties, decried what the PM of the day called the "black arm band" version of Australian history, advocated by some historians and social commentators, which promoted the notion that today's white Australians should accept full blame and responsibility for all the harm that colonisation has brought to Aboriginal Australians
electric guitars (bass and treblex2) and didgeridoo. Singers included solos, duos and trios, some with their own acoustic guitars. Their music was a mix of rock, folk, and soul. A prevalent theme was the struggle for justice and equal rights. There were songs, written from personal experiences, about the 'stolen generation'. And there were some about living together, sharing and all being one people. I think they threw in a Yothu Yindi song at one stage, which got the crowd instantly to its feet dancing, as did some of their own songs. A solo didgeridoo performance was electric. In fact, it sounded like an electric didgeridoo, but it might have been well placed mikes and lots of subwoofer.
You can enjoy the didgeridoo performance in the video clip below.
The Black Arm Band was more of a coming together of several performers for an occasion rather than a permanent group. I imagine that many of the artists would play and sing in other groups or in their own performances. That, of course, made the occasion even more special because I suspect they probably don't get together all that often.

The concert was declared 'dry' and, as far as I could tell, everyone seemed to respect that. The crowd was orderly but got into the dancing in front of the stage with a vengeance. I did detect the smell of marihuana at one stage and turned to catch the eye of a guiltily smiling young female backpacker (probably Dutch!), who obviously felt 'caught out' by my spontaneous reaction.
I returned to my tent about 10.00pm to find some new neighbours, a German couple with their daughter and her Afro-American boy friend (or possibly husband). I wondered if he had been serving on a US military base in Germany. He looked like a marine. They had managed to park their van within reaching distance of my bike and pitch a tent 3 metres from my front door, despite their being about 30m margins on every other side! I didn't feel an ounce guilty getting up in the dark at 5.30am and having breakfast to get ready for my hike. I hoped I woke them!
Walking the Gorges
I was away by 6.30am. By then, there was ample pre-dawn light. I had decided to do the Butterfly Gorge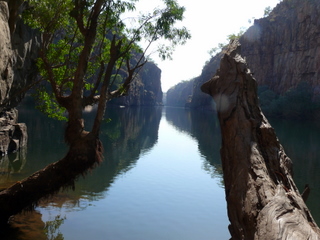 walk, a 12km round trip. The walk, as with all the walks, heads away from the Katherine River, then turns and climbs up to the top of the escarpment that follows the gorge. Once onto the escarpment, the walks run along a plateau a fair way back from the cliff tops of the gorge walls. Various side tracks run into vantage points on the cliff tops or down side gorges to river level. Butterfly Gorge is one of the latter. It brings you out into the 2nd Gorge right where it makes a 90° turn to enter the narrow section with its high walls. This is the spot where there is a very deep waterhole that becomes a whirlpool in the Wet. It's where Bolung, the Rainbow Serpent lives. I arrived there about 8.20am. The water was glass flat. You looked straight up the narrow channel of the 2nd Gorge, with morning light creating reflections of the walls on the mirror surface of the water. There wasn't a soul or a sound, except for a bird here and there and a splash now and then, as a fish broke the surface. I sat for a while in wonderment. I then went for a swim, but with some caution. After all, this was the home of Bolung and I didn't want to upset him. I figured, with that in mind, I should swim black fella mode rather than white fella mode. I wasn't disturbed by Bolung or anyone else.
It was a harder trek to get back to the plateau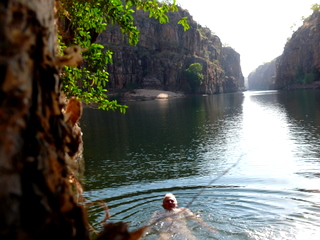 level. You walk for a while along the floor of Butterfly Gorge through an area of palms, butterflies and shady trees to emerge into open grass land for the steep climb to the escarpment and along the plateau; and all this in an increasingly hot, late morning-midday sun.
As I trudged along the very rocky track on the open grassland of the plateau, with sun starting to belt down and only an occasional tree, I wondered about the likes of John McDouall Stuart, who, after a few failed attempts, was the first European to cross the continent from south to north (and survive). On one of his failed attempts, he turned back because he couldn't find a way through an impenetrable thorn bush forest of some sort. Without knowing it, he had been more than three quarters of the way there. But he tried again. There were no camping grounds or showers for him or his party.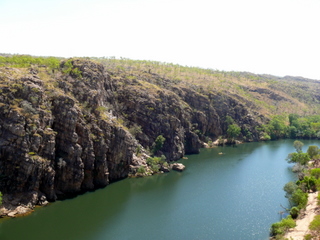 Just day after day of desert and sun. I guess, in the end, he was better off than Burke and Wills, who didn't make it back from their last trip or Leichhardt, who disappeared without trace on his attempt to cross the continent from east to west. One can barely imaging what it must have been like, especially when you view the countryside further south (more grasslands and wooded areas were starting to appear by Katherine). You only have to look back to the terrain along the Oodnadatta Track, which is what some of the explorers traversed and where the first Ghan was built, to wonder what they must have endured. But then again, this was land that was home for centuries to so many different clans of Aboriginals.
On the way back, I made a diversion to one of the vantage points on the cliff top (just to add a couple more kilometres). I had to get off the track and find some sparse motley shade at one stage while I took a phone call from my travelling sister. It was a welcome respite. From the lookout on the cliff top, you could view the 1st Gorge and look across the 17 Mile Valley to a mountain range on the other side. There are rock steps and built stairs to take you straight down the cliff face and into the picnic area of the Nitmiluk Visitors' Centre. It was about 11.30am. I was dripping wet. At least the diversion I took delivered me to the river's edge, so a swim was a welcome prelude to the last 500m walk up to the camp.
I was tempted to go to Litchfield from Katherine before going onto Darwin – only because that was the original itinerary of the South Coast group with whom I was going to travel. But I decided I would like to get to Darwin. I needed time to get a few things done on the bike; and, after five weeks, I guess I was anxious to reach the turning around point of Darwin. So I rode into Darwin on Monday 14 September, having left home on Monday 10 August. Five weeks to the day (or the day after).
The original South Coast itinerary had us arriving in Darwin on Day 12 of the trip. I arrived here on Day 36 of my solo trip. Different pace!
The ride from Katherine Gorge to Darwin had been uneventful. There were no diversions. Just a breakfast stop in Katherine (I had run out of all breakfast supplies) and a lunch stop at the pub in Adelaide River. I got into Darwin in plenty of time to call by the BMW dealer to confirm they had received what I ordered. They assured me it would arrive the next day, so I booked the bike in for the day after. I also had plenty of time to check out alternative accommodation, having passed the caravan park that the GPS was indicating as my destination.
Coming up the track to Darwin, a few people had said that the 'build-up' had started early in Darwin this year. The build-up is the period after the Dry but before the Wet begins; and is characterised by higher temperatures, absurd humidity, random downpours and a general tendency for people to 'go troppo'. Mad Dogs and Englishmen weather! That motivated me a bit to get there and get out. It also demotivated me from camping in Darwin, so I booked into a cheap hotel on Mitchell Street amongst the backpacker lodges. That was quite a relief. It was nice to be able to walk around town and visit key tourist places of interest; and have a retreat to return to with aircon and a swimming pool, even if the pool temperature was about the same as the air temperature!
It was a good feeling to be in Darwin. I felt I had reached a significant milestone; and there was some logic to regarding Darwin as such. It would be the most northerly point; it was a turning around point, as I would need to head back down the Stuart Hwy for some time before turning east; and, after all, it is the capital of the Northern Territory.
Darwin under Attack
I spent most of the first day taking a walk around the wharf precinct, Parliament House, some old buildings on the city centre's edge overlooking the harbour; and visiting World War II oil storage tanks.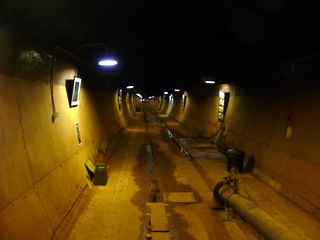 The last item might sound a bit esoteric, but it was very interesting. There are five such sites in Darwin but only two are accessible to the public. First, picture Darwin city centre spreading up to the edge of a headland, from which you drop down a five storey high escarpment to the harbour foreshores. Essentially, the storage tanks are long tunnels dug into the escarpment at various places. They are up to 200m long and about 3m diameter. They were dug out by hand, I was told, then lined with 600mm thick concrete. The concrete lining was then lined with steel sheets, which were welded together to seal them. There are all sorts of access tunnels, pipes and pumping equipment, some of which has been removed. All this building frenzy took place following the first bombing raid on Darwin and was designed to protect the city's and war effort's oil supplies from further destruction. The tunnels weren't completed until 1945, by which time the war had ended; and they were never used. They are quite a remarkable sight.
The larger of the two that you can visit has a photo display of wartime Darwin. It was interesting to see photos of planes and military activity on so many of the now deserted WWII air strips that were sign-posted on the way up the Stuart Hwy, two of which ran along the side of the highway – and one of which I diverted to visit at Daly Waters. It was also sobering to be faced with the statistics of the bombing raids of 19 February 1942. The first raid consisted of 188 planes – fighters and bombers. The second raid, a few hours later, consisted of 54 bombers. The destruction was enormous. Most of the port area was destroyed, as were substantial parts of the city and its infrastructure. Nine ships were sunk. Officially, about 250 people were killed that day, but lots of stories have circulated that there were hundreds more. I guess stories like that take on a life of their own and the numbers increase with the telling. No one may ever know the reality. I wondered whether Bas Luhrmann's Australia, despite its historical inaccuracies, which seem to have offended an over-sensitive Darwin perception, might have captured some real-life feel for what it would have been like in the middle of the raids. I was told that the raids were led by the same commanders, launched from the same carriers and undertaken by the same squadrons that bombed Pearl Harbour just 10 weeks earlier; and that 10 times the amount of bombs were dropped on Darwin on 19 February 1942 compared to Pearl Harbour. In total, there were more than 60 bombing raids on Darwin over 21 months until November 1943.
Brighter Moments in Darwin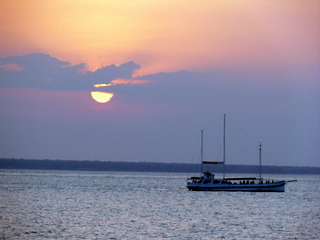 On a brighter note, riding around over the first couple of days to explore Mindil Beach and the Fannie Bay goal and military museums, I discovered a long stretch of fabulous, wide beach and foreshore reserve that seemed to go for miles. Absolutely inviting in Darwin's steamy weather. It's just a pity you can't swim there. Signs warn of Box Jellyfish and instances of estuarine crocodiles making their way into the area. I settled on a calf-deep paddle. Maybe this wasn't a brighter note after all.
I have a first cousin in Darwin. Ann has lived in the Top End for over twenty years. Her late husband, John Lord, was one of the early cattle and buffalo station owners in what is now Kakadu National Park. Ann and John, a widower at the time, married some 25 years ago. But by then, John had already been pushed off his property 'Munmarlary', which still appears on road maps and is heritage listed. John was a colourful character who never came to terms with the fact that his life had changed forever with the gazettal of Kakadu. He set up a tour company which he humbly called Lord of Kakadu. He had very close ties with the local Aboriginal elders going back several decades of farming in the area. These ties gave him unique access to many areas often denied to other tour operators. However, he worked and lived under 'the old regime', as it were, and was reluctant to accept that many things had to be done differently.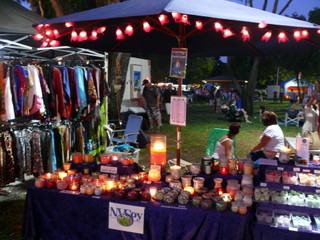 This constantly got him into hot water with park authorities, who finally took such a dim view of some of the bush survival aspects of his tours that they drummed him from the tour operator business. The name and tradition, however, still live on in the tour company operated by his son, Sab, who lived at Munmarlary as a small child. Sab has the benefit of his Dad's knowledge and experiences, as well as his own personal links to the land and the Aboriginal traditional owners. While he operates within the strictures of the new regime, he has many of the traditional Lord benefits of unique access to parts of Arnhem Land. For her part, Ann has lived through the story telling and memories of times past; and the successes and setbacks of tour operating in Kakadu. Now she shares the adventures of Sab's operations, at least vicariously, from her granny flat at the Darwin house of Sab and his wife Ann Marie Grant, who is also a partner in their tour company – Lords Kakadu and Arnhemland Safaris.

Ann and I had a chatting lunch together with a glass of fine wine to commemorate anything we could think of.
One of Darwin's unique attractions is a B52 bomber for the USAF. On the day I was leaving Darwin, I had to hang around the BMW dealer on the edge of town to wait for their mail to be collected from the post office. I was hoping something would arrive for me that I had Natalie, my step daughter, post me. I would have had it sent to the PO in Darwin but had mistakenly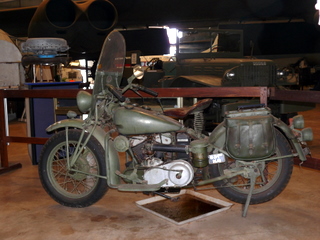 thought that the poste restante service was no longer available. (That's where post offices hold mail addressed to people c/o the PO.) The service still exists. Anyway, the dealership was across the road from the heritage aircraft museum, so I filled in time quite usefully there. The dominating exhibit is the B52 bomber, whose wing span, with four engines on each wing, spreads the width of the huge hangar that houses all the exhibits. The monstrous, windowless, black spectre is a fearsome sight, exacerbated by its drooping wings that have wheel assemblies on their outer edges to prevent them touching the runway. The open bomb bay serves as a theatrette for a DVD presentation.
Before setting out from the hotel, having packed the bike, I wandered up the street to a nearby bar-cum-cafe to have breakfast. I'd had a few coffees and beers there over the past days. It has a cool garden setting that extends onto where the footpath would normally be, except that the footpath runs wide to protrude onto the road alignment to skirt the extended al fresco dining and drinking area. As I sat enjoying a quiet breakfast, it was interesting to watch the other patrons. A group of four young guys came in dressed in identical black singlets with a white emblem that looked at first glance like a Harley Davidson insignia, but announced that it was the Dimboola Football Club (somewhere in Victoria). They set about enjoying a 10.30am beer. A table of about 8 young people, mostly women, were well into a noisy breakfast. A couple arrived and sat alone with their early morning beers. Then two elderly ladies, with the intellectually disabled daughter of one of them, arrived and promptly began to enjoy a 10.30am beer each. The daughter was delighted to have an orange juice. A loud wolf whistle distracted me. It came from one of the young women and was aimed at three guys across the road, one of whom acknowledged it with a nod and a smile. Then a scraping of metal sound and hilarious laughter from the Dimboola boys. A motor scooter rider had been bouncing the front wheel of his scooter up and down as he went past and, inevitably, lost it and went over. Later, as I was leaving, the group of Dimboola boys had grown to about seven (the first four were already on their second round), one of whom had some skinless patches on his knee. He had been the showman and hence the unsympathetic hilarity of his mates. As the elderly ladies departed, I commented to them that they have changed my perception of Darwin. I had thought that the 10.30am beer might have been mainly a bloke thing. They chuckled and assured me it was a couple of years since either of them had had a beer. It just seemed the thing to do because of the heat and the general atmosphere. They were catching the Ghan on Sunday for the trip to Alice Springs before returning home to Adelaide a few days after that.
Edith Falls and Daly Waters (again)
Having hung around until the BMW dealer had collected their mail for the day and being told there was nothing for me, I headed out about 2.30pm. At that stage, I had no idea where I would end up. By the time 4.00pm came around I wasn't really anywhere desirable to stay for the night. I quickly figured Edith Falls within Nitmiluk National Park was attainable, so that became my target. I got there about 5.30pm – still in time to pitch camp and enjoy the huge plunge pool at the base of the falls.
After that, the best practicable option I decided was to have a leisurely ride to Daly Waters, which is about where the Carpentaria Hwy branches off to Cape Crawford and Borroloola. Trying to get to Cape Crawford from Edith Falls in one day seemed excessive.
I opted for a room at the Daly Waters pub. The ride to Daly Waters wasn't all that leisurely, as it turned out. The temperature got to 37.5° and the hot wind made it a tougher than expected ride. The thought of pitching a tent in the heat after such a ride wasn't appealing. Besides, I expected a longish day the next day as I suspected I'd go all the way to Booroloola, so a comfortably early start would be helpful.
I had lunch at the Daly Waters pub on the way to Darwin; and described it at the time. It's something very different. I enjoyed a BBQ in the beer garden of wild caught Barra!
Cape Crawford
I certainly got my long day after a night in Daly Waters, as expected; only more so. I ended up doing over 600kms, which was not part of the plan – such as there was a plan. The trip to Cape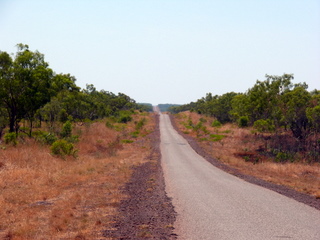 Crawford, which, despite its name, is not on the coast or even close to it, was okay. The road was single vehicle wide, so a need to slow down to ensure you were going to be given the option of staying on the bitumen. And I was, mostly. Curiously, there were two widths of single vehicle road: on the 'narrow gauge' it was impossible for even a car and bike to pass with both on the bitumen; on the slightly wider version, it could happen; and a couple of vehicles made that call. It was a bit like contending with oncoming Tata trucks in India as they overtook onto your side of the road with utter disregard to your presence. The terrain, for the most part, was a combination of thick woodlands and grasslands. It would have been very hard going for the early explorers if they came this way. For almost 300kms, a narrow strip of bitumen, with about a 10m clearance either side, carved a line through this thick combination of wooded and grassed landscape.
Having replenished bike and rider at Cape Crawford's Heartbreak Hotel (the only building there), I headed for Borroloola – another 100km further. I had vaguely in mind that I would stop there the night and do the 60km trip to the Gulf the following morning. However, there wasn't much at all in Borroloola, so after a look at the little that was there, I headed out to the coast. From several kilometres before Borroloola to the coast, the road is two lane and in excellent condition. It coincides with the only means of transporting zinc ore from the McArthur River mine to its sea terminal at Bing Bong. On reaching the coast, the road disappears into the 'restricted area' ore loading terminal, so the traveller is suddenly left high and dry. I did manage to walk around the fenced area and gain access to the water's edge. I can say I have been to the Gulf! I chatted for a while to a young Aboriginal couple who were on a Sunday outing from Borroloola with their three small children. They told me there was camping at King Fisher Bay, so I thought that might be a good option. I recalled seeing the turn-off indicating it was only 21km from the bitumen. The first two kilometres were fine, but the road soon deteriorated into shocking corrugations, so I retreated back to the bitumen. At that stage, I figured a return to the Heartbreak Hotel at Cape Crawford was the best option. So, with just over 600kms to show for the day, I refilled for the second time at Cape Crawford.
Barkly Homestead and Camooweal
The road from Cape Crawford was to be the longest stretch without a petrol stop: 380km. I
hadn't been getting that distance on a tank on this trip, except for the one time I deliberately rode at a pace that would deliver it. So, it was a steady, slowish run on a 'narrow gauge' road all the way to the Barkly Homestead on the Barkly Hwy. The thick wooded/grass land continued for about 100km, then the countryside opened into expansive, flat, Africa-like savannah. I almost expected to see a pride of lions wander by. For long sections, there was not even a solitary tree to be seen; just thick, yellow grass to the horizon in all directions. Other sections had sparsely spread stunted trees and shrubs. I passed by some cattle stations where there were a few shady trees under which the Brahman cattle took refuge from the 37° temperatures. There were several large Brahman bulls that were not impressed at having to move off the road for me! I did have another close encounter with a madly rushing emu which shot across in front of me. I had time, on this occasion, to brake and, I think, braked the hardest I have ever done so (without mishap, that is). It still took a swerve to the right with full front brake to let him pass safely. I took some comfort in the fact that the ABS didn't engage, but I couldn't remember whether I even got to the back brake.
I got to the Barkly Homestead with 45km still up my sleeve. An average speed of 95kph delivered 3.8L/100km. The next 200km to Camooweal, at an average speed of 125kph, chewed up 5L/100km. The 200km to Camooweal was very much a savannah run. I wondered if this road was more entitled to the called the Savannah Way instead of the road much further north. Camooweal, just 14km over the border in Queensland, was once a great cattle droving centre, but has only memories of that now. It did seem to be a major road train rest spot with several parked all night in its huge truck parking area.
The run to Mt Isa from Camooweal was only a couple of hours. The flat, savannah landscape continued until about 40km short of Mt Isa, when suddenly a series of hills came out of nowhere, with larger ranges visible further out. The road swung left and right as it searched for the lowest gaps between hills or skirted around their base. As Mt Isa approached, all that could be seen was the huge lead stack surrounded by the smelter infrastructure, the copper stack and open cut pits behind it all. For a while, there didn't seem to be a town – just a monstrous mine and smelter site; and that was after passing a large mine 20km out. The mine borders the very centre of town much like large furniture, outdoor living or car care establishments might sit a few blocks from the main retail and cafe areas of a town centre. Mt Isa certainly is the mine or the mine is Isa.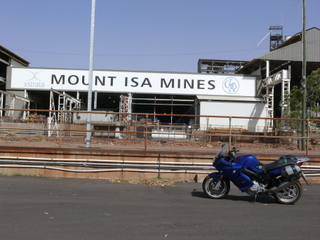 Mt Isa Mines operates two separate mining and processing steams: copper and lead/zinc/silver. There are two underground copper mines, but the others are now open cut. There are other company mines around too. The dominating lead stack is 270m high, 22m diameter at the base and 12.4m diameter at the top.
There is a large tourism complex that includes a museum, a high-class fossil display and a 'real' mine. The 'real' mine provides a very well done underground mining experience in a specially constructed 'mine'. It contains all genuine equipment and is quite expansive. The only things different from a real mine, we were told, are size and temperature (the real mines are very hot underground). Finds from a nearby area of significant fossil discoveries ranging from 15-20 million years ago to about 45,000 years are exhibited in the excellent fossil display, including a laboratory where some of the fossils are isolated and analysed. The area of the fossil finds – north of Isa – has been declared World Heritage because of its unique significance, mainly to do with the wide variety of species and the long periods represented. It includes several fossils of some of the biggest marsupials that ever existed.
Mt Isa was certainly worth a couple of days.
The terrain from Mt Isa heading east was very hilly. The hills seemed smaller than those west of Isa, so the road was able to cut through many of them and be supported across the smaller valleys. There were several places where the road had to move around them and find gaps to squeeze between them. While still in this terrain, I diverted into the Mary Kathleen ruins. My interest was sparked partly by the idea of an abandoned township – a little like Farina in South Australia of some weeks previously; but also by the fact that it was Australia's first major uranium mine, at least, after Rum Jungle, which had a very different purpose. There is not a single building to be found at Mary Kathleen these days; but all the bitumen streets in their blocks are still there; the wide, paved streets that made up the town square still sit where they have always been; the concrete footpaths around it and the slabs of concrete that were the floors of all the town square buildings are still in place. The mine pit is also still there, but I didn't get to see that. It was interesting to find a map of the town and photos at the museum in Cloncurry. I had already taken a photo of a photo of a town square scene in a museum in Isa, but in Cloncurry I could see the whole town square as it looked when Mary Kathleen was a thriving township.
Somewhere soon after Mary Kathleen, I came across a small monument indicating that Burke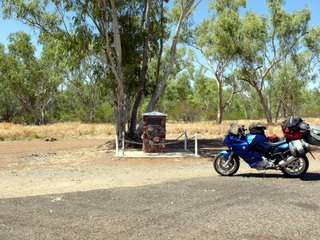 and Wills had passed by this point in early 1861. This was on their ill-fated trip to cross Australia and reach the Gulf of Carpentaria. They made it to mangrove swamps that prevented them from reaching the coast, but, on their return, they reached the place on Coopers Creek where they were to meet their support party and supplies; only to find they had pulled out earlier the same day. Burke and Wills both perished on that return trip. I later noticed at the Stockman's Hall of Fame in Longreach, that they were still credited as having reached the Gulf.
Cloncurry
Cloncurry is another one of those locations, along with Tennant Creek and Mt Isa, which were familiar from primary school Social Studies; another of those towns we used to mark on our traced maps of Australia because of its significance in the discovery of mineral wealth. Cloncurry was and still is copper. I had thought I might spend the night here, but, even with an hour at Mary Kathleen, I was done by about 1.30pm. I could have done a tour of the huge open-cut copper mine north of town, but I'd felt I'd done enough mine tours.
Somewhere after Cloncurry – and I don't recall noticing the change when it happened – I was suddenly aware that there were no hills or no trees to speak of. I was surrounded again by flat savannah grass, with a sprinkling of scrawny trees, as far as the eye could see. This was the scene all the way into Winton.
Winton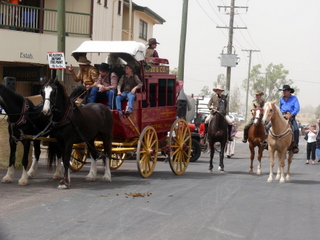 I arrived in Winton in the closing stages of its biennial, week-long Outback Festival. The main street was closed off for activities, the local oval was a hive of competitions of all sorts, bands were playing, performances of bush poetry were taking place and there were displays of all sorts of vehicles and machinery. As I sat outside the Tattersall's Hotel in the evening, writing up the day's blog, a couple of guys were firing up two vintage German-built Lanz tractors, which run on crude oil, have no ignition process, so require a period of having their engines brought to a certain temperature by compressed gas burners before they will fire.
The Waltzing Matilda Centre in Winton was a big attraction; and it was an enjoyable couple of hours to go through it. There was lots of interesting stuff about the song, Waltzing Matilda, which is probably the only song a randomly chosen group of two or more Australians can sing. It's often said to be our unofficial anthem. It was created in Winton. The words were written by Australian poet Andrew Barton "Banjo" Patterson while on a visit to Winton. It captures several aspect of Australia's early social history by depicting the swagman, the squatter, the troopers; and the conflicting roles they often played.
Displays in the Centre illustrated the story of the song as well as the history of the swagman, progressing through the tramp on foot, the horse rider and the bicycle-riding shearer. Displays also outlined the historical developments of early settlement and the social issues alluded to in Waltzing Matilda.
Early that day, I was having a quick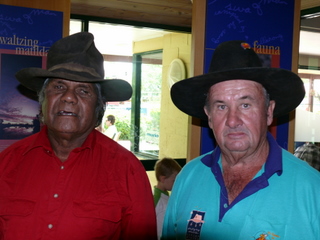 alfresco breakfast on the main street, when I spotted a man crossing the street who looked so typically 'Winton'. I photographed him. I was surprised later at the Matilda Centre to see a portrait of him in a photographic exhibition. Turned out that Norm Eliot is a retired grazier, fifth generation Winton resident, and one of those locals that everyone knows. To add to the coincidences, I walked into the foyer of the centre to find him there with a colleague, both in their Western hats and boots. His colleague looked very typically like an elder Aboriginal stockman. I made a point of saying 'Hi'. I learnt all about both of them. Norm's colleague, Jim Crombie, was introduced as the de facto mayor of Birdsville. I ran into Jim in the pub that night and told him I would call on him in Birdsville next year.
I also took a tour of a new establishment that opened only in July this year, It's called The Age of Dinosaurs. The Winton district is an area that has produced an extraordinary amount of dinosaur bones. In fact, it has produced the most complete skeleton of the large long-necked dinosaur than anywhere else in the world. The intention is to build a large museum to house displays of the finds. For now, it's a large shed which serves as a laboratory for preparing the finds and has displays of some of the more significant ones. It's located out of town. 12km east towards Longreach you turn onto a 10km gravel road and rise up a 75 metre "jump up" (being a high protrusion of land from the flat plain). I had intended to visit a unique dinosaur site about 100km south – the site of a dinosaur stampede, but after doing the 10km gravel road to the laboratory , including a couple of hairpin bends on the "jump up", I lost interest in coping with 60km of gravel to visit the other site.
| | |
| --- | --- |
| I enjoyed a second night at the Tatts – a great pub on the edge of town, only half a block from where I was camped (on the front lawn of a former servo, now offering caravan parking). The pub was a popular spot. They did a good dinner, with both inside and alfresco dining. A woman had a gig going there calling herself "Sax and the Single Girl". Anne Bavin was her name. She was quite a versatile sax performer, playing traditional jazz, operatic bits, popular songs and melodies, and classical adaptations. Since both my sister Elizabeth and Brisbane friend Viki are into sax (only group sax rather than solo sax), I thought they might be interested. So I made a point of capturing something of Anne's performance. I doubt she would think The Chicken Dance, which got a popular response, was the best illustration of her talents, but I'll let her web site tell its own story. | |
Next morning started with the Bush Poets' Breakfast in the Town Council courtyard. This was an event that had been held on several mornings, but I attended only once. It was a full house and lots of great entertainment. Some locals contributed, but the focus was on a few professional bush poets, whose work was extremely clever, very funny and dramatically delivered. The breakfast was good too.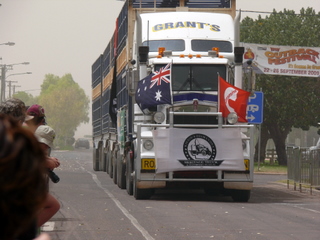 It was Saturday and pretty much the wrap-up day of the festival, so crowds were treated to a street pantomime telling the history of Winton and lots of main street events, culminating in an attempt to defend or better the Guinness world record for pulling an 80 tonne road train (with four trailers). Derek Boyer, "Australia's strongest man" was defending his title. Bill Lyndon and Evan Laroache were out to take it from him. Quite fortuitously, I had shared a table over breakfast the day before with Bill – and was joined by Derek and Evan, so got to learn about them and their "sport" first hand. They are all mates, of course. Mid-morning on the Saturday, the crowds were plenty to watch this feat of strength, with the inevitable shouts of "sit down in front", all to no avail. A metal ladder of sorts was bolted to the road, the contestants were revving up the crowd, each, in turn, boasting of how he would deal with his competitors. Then the four-trailered road train crept agonizingly slowly down the main street between the lines of spectators; and inched into place. The scene was finally set. It was an unbelievable exhibition of a human body straining every ounce of physical and mental strength to the point, literally, of collapse. Each of the contestants, after his attempt, had to be assisted to his feet and supported before he could find a semblance of composure. The truck was heavier than Derek's record, so Evan set a new unofficial record of moving this truck a little over a metre before he collapsed.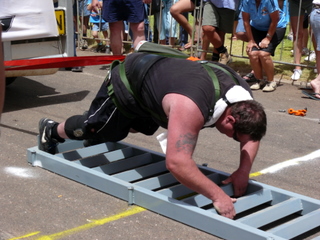 Bill, who had been first up, had been disadvantaged by the higher placing of the harness on the bull bar, so had a second go, but didn't reach Evan's mark. Derek looked beaten for a while as he strained to even get the truck to budge, but he eventually pulled it almost 2 metres to retain his title. Bill promised to train for the next challenge in 2011.
I left Winton about 2.00pm for a very windy and dusty ride to Longreach. It was with a mixture of regret and relief that I rode out of town: regret because it was such a 'happening' place; and relief because I'm not sure I could have survived another long evening at the corner pub.
But I didn't leave without trying my hand at a bit of bush poetry. Motivated by the bush poets' breakfast and inspired by the displays at the Waltzing Matilda Centre, I penned a short effort on some paper napkins over a final coffee on a second visit to the centre. It's reproduced below, with a few notes for the benefit of non-Australian readers who might be puzzled by the language. I should say that I don't think my humble effort would even be classed as bush poetry, which seems to be characterised by a rollicking, clever and witty story. But this was my take on Winton.
The Evolution of the Swagman

The swagman of old was a drifter – of'n a shearer
Who carried his food in a sack.
He wandered the bush tracks on foot –
His swag and belongings on his back.

As the shearing widened his search for work
He needed to move in a hurry.
He learnt to swap his Shank's pony
With a bought or sometimes stolen thor'ie.

New technology changed him again
The swaggie 'came less of a bushie.
He could load his swag and his tucker
And hit the track on a pushie.

I'd never thought of myself as a swaggie
Until I got to Winton
And heard and saw the stories
So well set out - with hardly any printin'.

But now I feel I'm part of it.
I hit the track on my pony
I have my swag and my tucker
But on my F800 Beemer, I could be seen as a phoney.

Robert Crick

Winton, 26 Sept 2009

Notes

The story in Waltzing Matilda centres on the swagman or 'swaggie'. Swagmen were considered to be 'down and outs' or tramps who wandered around begging food from local settlers. They carried whatever they owned on their back. This included their swag and a tucker bag.

Developments led many to look for work as shearers. This meant they needed to move long distances to secure work, so some started to move by horse and later by push bike.

Terms

swag

Shank's pony

thor'ie

(my poetic licence)

tucker

Beemer

Bedding - or also - all a swagman's belongings

On foot

short for thoroughbred, referring to the description in the song of the "squatter, mounted on his thoroughbred".

food

BMW Motorbike
Longreach
I ended up spending three nights at Longreach. I began my first day by arriving at the Qantas Founders' Museum right on opening at 9.00am. Even then, I couldn't get on the 747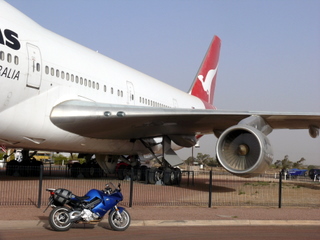 our until 10.00am. One of the popular features of the museum is a 'retired' Boeing 747 200 series (one of the very early ones) parked on the tarmac – a gift from Qantas. It's there for the duration. It can never take off on the narrow and short runway. It landed with an absolute minimum of weight and with the two outside engines on idle (to avoid the risk of stones being picked up into the engines, which hung well beyond the edge of the tarmac). It was interesting to learn and see some of the otherwise hidden aspects of the plane, like the cut-away panels (with Perspex) that show you precisely where the 'black box' (which is actually orange) is stowed, the computer workings under the floor, and the filters and air exchangers in the ceiling. And something I didn't know: while sewage is stowed to be pumped out on landing (I knew that much), grey water is super heated and emitted in flight to evaporate.

Another of the museum's 'treasures' is Qantas' first registered Boeing 707.The 707 was the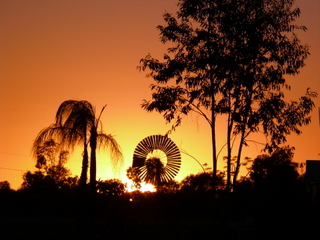 first of the jet liners, replacing the Super Constellations. This one had long gone from Qantas' ownership and was found abandoned and destined for scrap. It took months of negotiations to buy it; and many more to get it airworthy – all done voluntarily and with free services provided by several companies who do work for Qantas. Its special feature is that the last owner was a Saudi prince; and the plane is decked out in luxury mode: lounge room, dining room, large bedroom with ensuite (including even a bidet!), mahogany panelling, padded toilet seats....etc. Unfortunately, photography wasn't allowed owing to some sensitivities of the former owner (it's all in the contract!).

The other serious attraction in Longreach is the Stockman's Hall of Fame. That took a fair bit of the second full day there. They do have outdoor shows from time to time, but as the tourist season was considered on the wane at the time of my visit, these seemed to have stopped. The museum is spread over four levels and has excellent – and interactive – displays about early days in Australia – not just stockmen; but Aboriginal life, the first European
discovery voyages and records, the first European settlers, the explorers and their treks, the expansion into the hinterlands, with the hardships, obstacles, achievements etc. There was lots of emphasis, understandably, on the Outback.
I succumbed at the last minute and signed up for a sunset river cruise/dinner: one of those very tourist things with all the (other?) grey nomads. It was pleasant enough. Turns out the Thompson River is actually a dry river (as they all seem to be out there), with a very large permanent water hole (miles long). A weir has been added to raise the level and ensure a secure water supply for the town. The cruise was on this section.




Barcaldine
After Longreach, it was a nice steady ride through Infracombe for a breakfast stop and a quick look its mile-long row of old machinery; then onto Barcaldine (Bar-call-din), the site of the shearers gatherings during the famous 1891 shearers strike. Barcaldine was the centre of most of the activity and aftermath of this event. It's also the home of the "tree of knowledge". The story is that this ghost gum, in the centre of town, was the rallying point of the shearers.
Supposedly, the discussions that it was party to are considered to be the early articulation of the principles and values of the subsequent labour movement in Australian social and political history. I wondered whether there's not an inclination sometimes to grasp an event, whether it be the shearers strike or the Eureka stockade, and embellish it beyond its reality. In any event, sadly, the tree was poisoned some years ago and had to be specially treated to preserve what remained. It's now surrounded by a 'unique' (to be charitable) cube-like structure that I think not only detracts from the tree, but uglifies the whole main street. Far more attractive and effective was a well designed and presented series of buildings, landscaping and exhibitions highlighting several facets of the 'working lives' of all Australians. While it inevitably has a 'labour movement' flavour, it has much wider significance to it.
Having lunched in Barcaldine, I ended up in the tiny town of Alpha for the night. In contrast to the huge and bustling caravan park in Longreach, the one there had about six of us staying there.
When I left Alpha, I had a relatively short ride to Clermont, where I booked into a grand-looking old town pub. I'd got there about 3.00pm. It was hot. I decided that an alternative to putting up the tent for one night (two nights in a row) was warranted. Next morning was the 300km ride to Mackay. This is coal territory with a vengeance. There are numerous huge mines, with rail links from central depots to the sea port of Hay Point, just south of Mackay. The ride from Clermont was accompanied, at times, by interminably long coal trains; and, sadly, constant reminders of crashes and fatalities along the road. It's a notorious road for accidents brought about by tired drivers, mostly, I was told, coal mine workers coming off long shifts.
Mackay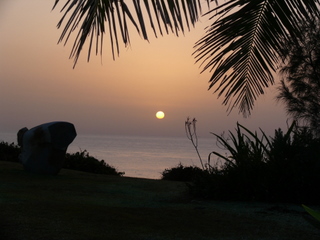 It was a treat to spend a few lazy days staying with a friend in Mackay. I first met Ros on the Rajasthan tour in 2007. She and her husband had been on the Turkey tour a couple of years before that and had been planning to do the Rajasthan tour, but sadly Dick was killed in a motorcycle incident before that happened. Ros and Dick had become friends with Jimmy, with whom I have roomed on all three tours overseas. Ros was persuaded to come on the Rajasthan tour, travelling in the minibus. She agreed, not without some misgivings, but I think got a lot from it in a few different ways. She then came on the Morocco tour two years later, so we caught up again.
Ros' house is a lovely, open, rambling, multi-layered place set on a hill overlooking the sea. It's on the inland side of the hill, with the back of the house almost at the gently rounded crest. Hence, the view from the back porch is of the last stages of the hill, with a clear view of sea and sunrises. You can also see the endless line of bulk coal carriers on the horizon waiting to get access to Hay Point.
The house and setting are perfect partners. Ros – and Dick with her – have spent a 30 year career working from home on her own fashion line of dresses, skirts and tops, designed by her and uniquely produced with her own devised colouring processes. Most of one floor has been dedicated to this venture. There's still a few items hanging in their compartments waiting to be coloured for a few remaining outlets that she services. But mostly she's happy to be retired, although new ideas for ventures are never far away. She just has to decide if they are commercial or hobby.
Mackay, with its bays and inlets, river and beaches, good eating places, gardens and forest groves, could well be one of those great 'finds' for people looking for a change of pace or that idyllic lifestyle.
A couple of Ros' friends popped in for a drink one night. I had met them earlier in the day. June has been working for Ros (and Dick) for some 30 years helping prepare the fashion items for the colouring process and then for final presentation. Lucky, her partner of a few years, is part of a team that works under contract for the mines, maintaining or repairing their drag lines, their miles of conveyor systems and just about anything else. But Lucky has another preoccupation. His passion is his Merlin streamliners – "two-wheeled rockets" (for want of a better description). His current version, Merlin II, has been manufactured from a wing tank off a sabre jet fighter. It's designated SG1000. The S for streamliner; the G for gas (as in petrol-driven); and the 1000 is its cc capacity. Merlin I had had a 5 litre engine. It's now in a museum somewhere. His ambition is to hold the world speed record in his class. To qualify for even the opportunity to compete, a vehicle has to demonstrate that it and its driver can successfully mange increasing levels of speed. He has met the 175mph mark and has to meet the 200mph mark before having open slather. Note we're talking miles per hour. He's already in the "200mph club" with Merlin I. He reckons his design of Merlin II is capable of up to 500mph. The competitions take place at "Speed Week" each March and are held on the bottom end of Lake Gairdner in South Australia – a salt lake, of course. Lucky is a boiler maker and fitter by trade. He has designed and built his streamliners as a solo effort. He comes across as a latter day Bert Munroe (of World's Fastest Indian fame); and has a like-minded view of his US competitors. (As a post script, he bought his first engine – out of a Mosquito aircraft – at a farm sale in Gollan, near Dubbo, many years ago. I mention that because Gollan, no more than a district name, is where my great grandfather, William Crick, moved to from Wentworth; and where my grandfather and father lived, although my father moved to Sydney as a young man.)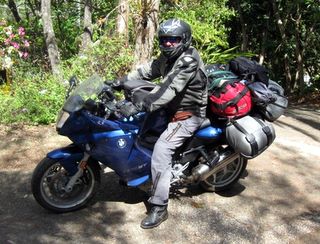 Mackay has a recently established Botanical Gardens, laid out along a natural lagoon, with its water lilies and abundance of bird life. We had a pleasant lunch in these surrounds. At one end of the gardens is a traditional Islander meeting house, with its open sides and high thatched roof. It's a tribute to the significant contribution to the development of the area made by Pacific Islanders over the decades. I was told that one of Mackay's attractions is the presence of the Islander culture in the community.
Lake Maraboon
From Mackay, I retraced 400km of road that I'd covered a few days before – back to Emerald; and then about 20km further to reach Lake Maraboon. Joe and Marg, friend from Brisbane, had hired a 'deluxe' two-bedroom cottage for a week. They invited me to come and stay. It had unhindered views of the lake and was consistently visited by a variety of birds, many of whom were cheeky enough to land on you, eat off your plate, stick their heads in your glass to see or smell the contents etc. With Joe, I made a couple of kayak trips across part of the lake to check their crayfish pots. The first time was nice and calm and no problem. A second venture was in wind and waves and I managed to get swamped. I decided a third time might be pushing my luck too far. In any event, there were never any crayfish in them. The good goss was that you needed to go 7km into the upper reaches to strike it lucky. That wasn't an attractive option in kayaks. But I did have an enjoyable swim while Joe and Marg made the third trip. The rest of the time was spent enjoying good company, good wine and a very pleasant setting.
I met Joe and Marg on the 2007 BMW Sport Touren Safari. This came about from becoming good friends with Paul and Viki on the Rajasthan tour earlier that year. Paul and Viki encouraged me to join them on the BMW Safari. They had already arranged to participate with two other couples. I would get included in all their restaurant t bookings and, of course, join them for happy hours. I didn't succumb until the 11th hour. But I was pleased I did. It was great fun. Joe and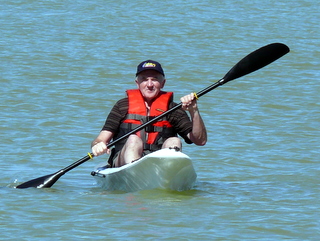 Marg were one of the other couples.

Mundubbera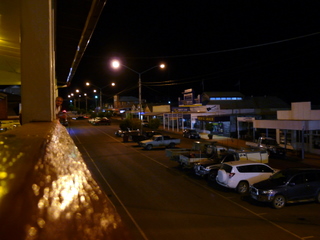 From Lake Maraboon it was a reasonably long ride of 560km to Mundubbera, but it seemed easy. It was a cooler day and I got an early start, so those factors probably helped the ride along. I struck some rain in the afternoon, just 7km from Eidsvold where I needed to stop for petrol, so I figured a 5 minute ride to the protection of a service station was a sensible option. It wasn't. It's amazing how wet you can get in 5 minutes. But I was pleased that my gloves stayed dry. I had coated them in a magic bees wax concoction I bought in Winton for an exorbitant price, fully convinced that the itinerant seller, who obviously peddles his product at festivals, was selling me snake oil. Seems it might be ok after all.
In Mundubbera, I was in the middle of some of Queensland's citrus growing area. I saw a sign coming into town pointing to the "Big Mandarin". Obviously another place, across this wide brown land of ours, that the famed architect sponsored by BigPond, Mr Big, has left his mark!
Gympie
The next leg was to head from Brisbane via Gympie. The ride to Gympie was pretty straightforward. I got an early start; and stopped for breakfast at Gayndah, just 45km from Mundubbera. The purpose of a visit to Gympie was to call in on friends there, Val and Dick, for either a morning tea or early lunch. Val is always pleased to see me; and is flexible about my timings. She has given me lunch on a previous occasion and a bed for the night on another. I was in Gympie by 10:30am so spent about an hour having a cuppa with Val and Dick and catching up on what's happening in their lives.
After leaving Val and Dick, it was onto Brisbane to stay with Paul and Viki – or, at least, Viki. Paul will be in and out with work and fishing commitments; followed by some days with my son, Kevin, daughter-in-law, Bec, and granddaughter, Brodee, who turned 5 a few days ago.
I started to feel that the trip, then in its ninth week, had taken on a different character. It's as though the adventure part phased out slowly as I emerged from the Outback towns of Winton and Longreach and passed through Barcaldine. One reason is that many of the roads I'd been on over the past few riding days have been covered on previous trips, participating in the North Queensland BMW Safari, attending the Ulysses AGM in Cairns or chasing my peripatetic sister, who travels far and wide in her motor home. However, the trip had taken on a no less enjoyable, catch-up-with-friends dimension. That had been the reason for visiting Mackay and doubling back to Emerald; and is the reason for the next several stops. It added a great complementing finale to the trip.
Brisbane
Since time was not an issue, I took the scenic drive from Gympie through Mary Valley that delivered me to Maleny for lunch before rejoining the Bruce Hwy. Getting through Brisbane was a shock to the system after nine weeks of Outback riding; but I got to Paul and Viki's without too much trouble. Paul wasn't getting home from work in NZ until the next evening, so Viki and I, having first joined some friends of theirs for Thursday drinks, then went to a local Indian restaurant for an excellent and moderately priced dinner. In the morning, Viki and I went for a ride out of town. Viki had recently secured her unrestricted licence and a new CBR400. It's only about a 12km ride from their place before you hit the Mt Nebo road, which takes you onto the Mt Glorious road. With a lunch in the middle, we enjoyed about 160km of mostly mountainous roads. It was nice to have the feel of a much lighter bike without any luggage. I got to see Paul only over dinner that evening as he set out early the following morning for a week's deep sea fishing. Hence, the three of us had a very pleasant occasion with appropriately fine wines. That was followed by a quiet day, with some errands to run and watching Passage to India. Paul and Viki are taking their adult children with partners on a trip to India at Christmas, so Viki bought a couple of DVDs that morning (Gandhi and Passage to India) to provide some background preparation for them.
Springfield Lakes
Springfield Lakes is a network of estates, lakes, landscaping and small community shops more or less centred on a large shopping complex. It's within the Ipswich Shire and is about half way between Brisbane and Ipswich. It has good motorway access to both city centres. My son, daughter-in-law and 5 year old granddaughter live there. I arrived here on the Sunday after a ride with Viki via Boonah (a very circuitous way to get from Brisbane to Springfield Lakes). I only got to see Kevin for the evening as he was off on another training camp with the RAAF on the Monday morning. Bec works only Wednesday to Friday and Brodee attends "little school" on those days, so that meant I had two days of being lead by Brodee to play this and that throughout the house. How long since you've played "Barbie Dolls House"? I could cope with that. It was just being trounced at various board and memory-card games that grated.
On the Wednesday, I took the opportunity to visit a friend in Geebung in Brisbane's northern suburbs. Marj is Val's (from Gympie) sister. I have dropped in on her a few times on previous visits for lunch. She's almost blind so a bit house-bound. I make a point of picking up some bread rolls and fillings for lunch. She prepares it all and makes the tea and coffee. She enjoys a long chat about what's happening with everyone. She seems to look forward to my visits.
Ballina
I got away from Springfield Lakes about 9.30am on the Thursday and took a back road to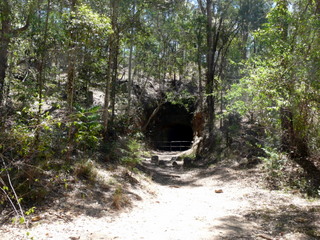 Beaudesert; then onto Canungra for some lunch at a famed pie stop. As you head up the hill from Canungra towards Tamborine, which I have done a few times before, there's a sign pointing to an 'historic tunnel'. I hadn't stopped there before, but did so this time. In the early 1900s, the Leahy Bros had a timber mill where the town of Canungra stands today. The town grew up around the mill. To bring in timber from valleys over the nearby mountains, which were too difficult to cross with bullock teams, the Leahy Bros built their own tramway, including a 100m long tunnel under a high ridge, thus providing access to neighbouring valleys. Pretty amazing for its time.
Once I reached Nerang, I stayed on the Pacific Hwy to Ballina. It was a fairly boring ride but it was dual carriageway all the way to not-far-north of Ballina. I was aiming for Ballina to visit an old friend who is in a nursing home there. Thea was a neighbour when I returned to the family home in Sydney in 1965, having spent some years pursuing a religious career. In fact, my first date on returning to the 'outside world' was with Thea's eldest daughter, Lizzie. We went to dinner and to see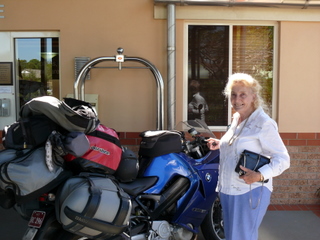 The Sound of Music at the cinema. It was her 16th birthday!
Thea is now 86 and resigned to seeing out her days in her current circumstances. It was nice to see the delight on her face after looking suspiciously at me for a few seconds before she suddenly realised who it was. She hadn't seen me for several years. We talked for a couple of hours and I returned next morning for another couple of hours before leaving Ballina. There was lots of catching up with what kids are doing and lots of reminiscing. At our first meeting, out of the blue, she asked me what was the most beautiful event in my life. The question caught me by surprise and, without thinking of any specific event, I mumbled something about there being so many it was impossible to chose. Next morning, she asked me the same question. I guess she hadn't remembered asking it the day before. I gave much the same answer, but a little more coherently; and with thoughts of several specific events. She pressed me for some examples. We were on the same wavelength by both mentioning births of children, but she was decidedly more categorical in identifying the birth of her first child, Lizzie, as the most beautiful event in her life. Then, almost in the same breath, she said,"you know, someone once told me that Lizzie lost her virginity to Robert Crick." Before I could even blink, she added insistently, "don't comment on that. I don't want to know." So, I didn't comment. For a while. Then I did. But I don't think she heard or, at least, she didn't seem to register what I had said. I had no intention of repeating it.
Central Bucca
After I left Thea, I rode west to Casino, down Summerland Way to Grafton and then along a back road towards Coffs Harbour until a hamlet called Nana Glen. Here, I turned off to Bucca, where, after a few inquiries and phone calls, I found the house where my sister, Shirley, had her motor home parked. It was on a property owned by a friend she had met on one of her trips. It was much later than I had intended when I arrived, so her friend, Lyn, invited me to stay the night in her house; and kindly made up a bed in one of her large bedrooms. The house was enormous, surrounded by beautiful gardens and set on 90 acres of rolling countryside in the hinterland from Coffs Harbour.
Shirley, who assures me she's not in the Shirley Club, has spent the seven or so years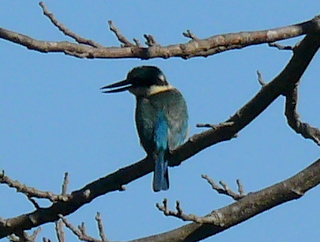 since her husband, Stan, died, travelling around in a large Winnebago motor home. It's her home. It's her life. And she loves it. I think she's pretty much been around Australia in it and has made several friendships along the way. Lyn is one of the special ones. Over the past couple of years, her stays in Sydney for rest and recuperation have been getting longer. But she remains committed to her peripatetic life style.
We spent a pleasant evening and all next morning chatting about everything. Then I headed out to go via Dorrigo to Armidale and Tamworth.
Having been told by two locals that the road from Coramba to Dorrigo was now all sealed, I took that road – only to find 20km of possibly the worst gravel road I have been on: tightly winding, narrow, loose and rough. I don't think I got out of first gear for more than a few seconds at a time. The map was right after all! However, the first 20km to Ulong were delightful. You climbed relentlessly on a smoothly curving road all the way to the top of a ridge and then descended into a beautiful valley, with wide cleared expanses, cattle and horses grazing, and the small village of Ulong. Then began the climb out of it for the next, far less delightful, 20km. I got to Tamworth about 5.30pm. With the normal 4.00pm witching time (aka kangaroo feeding time) in mind, I just kept telling myself that, if it hadn't been for an early start to Daylight Saving, it would only be 4.30pm. That was close enough to 4.00pm.
Canberra
I set out on what was to be the last day of the trip undecided as to whether I would have a one-day or two-day ride home. I didn't relish the idea of doing the 700km to home in a day, although I had done that distance several times and knew it was doable. I figured I would probably stopover in Molong. That would give me the option of diverting to visit Stuartown, near Wellington – a place with some Crick history that I keep planning to visit but haven't yet done so. However, once I got going – and by the time I stopped for breakfast – it became obvious that stopping over anywhere was going to make the day's ride too short. I was mostly on back roads, so made good time.
From Tamworth, I headed towards Werris Creek, then to Caroona (breakfast stop), Premer, onto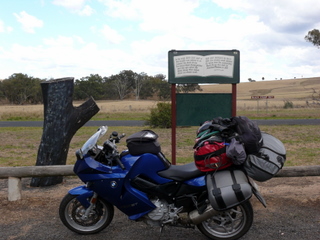 Black Stump Way, with a short stop at the Black Stump just north of Coolah. It seemed auspicious that, having spent so much time 'beyond the Black Stump', I should re-emerge through such a symbolic portal.
From Coolah, I continued to Gulgong, Wellington (Stuartown will have to wait for another time), Molong, Cowra and the well-trodden road to Canberra, arriving home, after a stop to announce my arrival to my son Tim and family, at about 6.00pm. It was nice to have enthusiastic greetings from son, daughter-in-law, grandkids, stepdaughters (Nicole was at my place trying to get Natalie organised, with limited success) and dogs.
Epilogue
The final tally was 14,000km travelled; and ten weeks on the road. Of 69 nights spent away, 15 were in hotels, 14 were with friends and 40 were camping in my trusty yellow tent. A rough estimate of fuel used was 660L. The only hitch with the bike was a blown headlight bulb, which was changed in Darwin (and a broken indicator from the drop along the track from William Creek, which I got fixed in Darwin).
The trip has been a wonderful and very enjoyable experience. There were no hassles, no dramas, no timetable, no rushing, no plans to speak of. Just a rough idea of where I intended to go, but with each day being a surprise even to me.
But It's good to be home.
Canberra has had plenty of Spring rain, so I have come home to a very over-grown garden, with a veritable jungle in the back yard, although it would seem my neighbour has kindly cut the front grass a couple of times.
I kept up an almost daily blog, of which this story is a slightly edited version (tense changing, grammar and spelling corrections, a bit or reordering, and a few additional memories and thoughts). I hope those who followed the blog at the time enjoyed doing so and living the dream. I hope others who read this story enjoy it and feel inspired to venture into the vast Outback that constitutes most of Australia.
Was I fulfilling every man's dream, as I was told by Pete at the Devil's Marbles? With due respect to Pete, it was, of course, a solo woman motorcyclist who helped bail me out on the Oodnadatta Track! Maybe it's everyone's dream. I hope you can fulfil it for yourself.

Slide Show
Here is a slide show of the whole trip.