All the Right Gear to Survive
This page consists of two sections. The first tells of my first motorcycle camping trip. The second outlines my thoughts on, preferences for and experiences with camping gear for the motorcycle tourer.
My First Foray as a Motorcyclist: The Goodradigbee
January 2009
I thought I was over camping. Well and truly. I had done it for years with children. Then repeated the whole saga with stepchildren. I vowed 'never again!'
Then I got into motorcycling. Not that camping is an obligatory dimension of motorcycling. In fact, on the first few rallies I attended, I felt absolutely no nostalgia, empathy, allurement; if anything, it was a staggering incredulity that otherwise sensible people of such mature age would choose to camp. The town pubs became havens of indulgent comfort for those of us who preferred that option.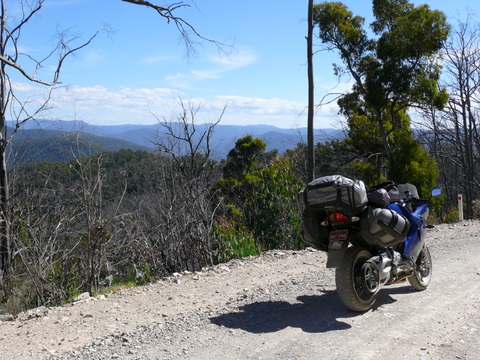 But, gradually, the lure of the outback or the 'call of the wild' started to penetrate my otherwise contended persona. Maybe it was simply the reception and accolades with which the F800GS was being welcomed, making the launch of its S and ST siblings look decidedly like an Off- Broadway event by comparison.
I have come to the realisation that the motorcycle, as well as providing an exciting adventure in the vast country terrain Australian (paved) roads offer – not to mention the fascination and satisfaction of venturing abroad –can also open roads, as it were, where no roads exist. Or, if they do, they're pretty basic ones. To see, feel and imbibe Australia, you have to go walkabout, or so we're told, hopefully without losing yourself! To do that as a motorcycle meander, you need something that is equally at home in the Gelände as well as on the Straße. I'm working on it.
It wasn't a huge leap from this revelation to acceptance of the role that camping would play.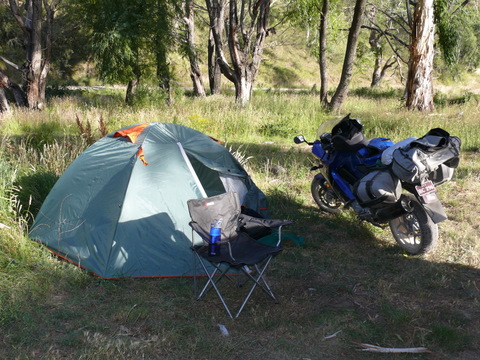 An opportunity arose with the local Capital Rally – so called in deference to Canberra's being the capital of Australia. It always takes place on the banks of the Goodradigbee River high up in the Brindabella Range that runs along the western border of the Australian Capital Territory.
While the venue is only about 80km from Canberra CBD, a good proportion of the road is commonly regarded as 4 wheel drive standard, even though others venture onto it. "Venue" may be overstating it. There certainly wasn't any option other than camping, with bush facilities of sorts. So, here was the test or dry run or proof that entertaining any call of the wild was nothing but succumbing to those devil-inspired temptations you had always been warned about as a kid.
I invested in a $AUS24.00 (about $US18.00) two person rent from Ray's Camping. With the size of that investment, I figured I couldn't go too wrong if it didn't work out. I dug out a sleeping bag that one of the girls had from school camps years ago. But I did purchase a decent Thermarest 'mattress'. I didn't bother about cooking as the rally was advertised as coming with catering. So I just took my stainless steel Avanti coffee plunger with whatever accoutrements I needed. And alcohol.
It all worked out fine. The tent was excellent. The Thermarest did its job. Even the sleeping bag worked – although it was summer! I spent two nights camped there; and did what you do on rallies – sit around and talk. And drink a little. Something of an idyllic spot: a crystal clear river running straight from the NSW Alps, lots of natural bush, and, if you're into it, a chance to appreciate what the surrounding national park has to offer. The Brindabella NP site tells you that "much of the park supports a forest of red stringybark and scribbly gum, while more sheltered slopes have forests of brown barrel with ribbon gum. Sub-alpine snow gum and mountain gum forests are found on the more elevated sites. Uncommon river oaks fringe cold air drainage areas adjacent to water courses and alpine ash on sheltered southern slopes.' What more could you want?
So now, I had no excuse. Only the need to refine the kit and kaboodle and venture out on a more rigorous trial. That was to come sooner than expected.
The Camping Kit and Kaboodle (or is that Caboodle?)
The real work on researching and compiling my camping kit and kaboodle came with preparations for my Big Trip North. You can read about plans, change of plans and the revised trip on that page.
While all stages of planning involved staying in country town pubs where possible, especially in the early, winter stages, some camping would be inevitable.
A factor for consideration was that, even heading north out of the southern winter, overnight desert temperatures could be below zero. So that suggested a reasonably good tent and appropriate sleeping bag. Once in the far northern latitudes, it'll be all different again. Darwin, for example, is typically 32°C all year round. It's just that it's 32° and sunny for six months and 32° and raining for the other six months. I'll be there in the sunny season!
What does one need, what are the options, what are the refinements, what are the parameters, how will it all work?
I don't want to go over well-trodden ground here – at least, not too much. As part of my own preparations for the trip, I looked at several motorcycle touring and hiking websites, delved into adventure rider forums, and checked through past copies of the Australian Road Rider (marvelling at the esoteric and philosophical allusions I found there).
Through a combination of intelligence gleaned from those sources and my own perceptions, preferences and needs, I came up with the following.
Tent
I quickly decided that I did not want a swag of any sort. Too bulky and too claustrophobic for my liking. But each to his or her own.
Size, weight and price were the key criteria.
I equally quickly reached the conclusion that a two person tent was the go. Some extra room for stuff, as well as some space to lie around in, if need be, perhaps because of bad weather. The idea of a vestibule was attractive for those things you didn't want inside the tent and to provide a sort of verandah for some breathing space and privacy. I liked the idea of a door and vestibule along the long side of the tent to limit the struggle to get in and out. I preferred the dome shape rather than roofs that slant down to your feet.
Once I got this far, most of the floor dimensions were similar, but with enough variation to make them a factor to consider. Typically, they varied in length from 2100mm to 2350mm. Width varied from 1200mm to 1550mm. Height was around 100mm.
Weight need not be such a sensitive factor for motorcycling, as compared to hiking. However, every gram or ounce counts. This suggested, at least, that a 4kg tent was out of contention when there were others in the 2-3kg range that passed muster on other accounts.
Prices varied quite considerably; and presumably (hopefully) tracked either performance or quality or both. Not always easy to tell. Certainly, there are some at the high end of the market (we're talking around the $AUS600.00 mark) that come with the best of other factors, such as size, weight, performance and quality. These include MSR and Salewa tents, for example. There are lots of complimentary comments about them from reviewers and users on forum sites and in magazines. I have no doubt that something like the Hubba Hubba or the Sierra Leone Ultra would be eminently suitable and more than adequate. But I reached the conclusion that "more than adequate" was the key here. If you're motorcycling, you're not that likely to be above the snow line or in other conditions that these tents are designed to cater for. You simply don't need to pay such a high price when you can get something perfectly adequate for less – probably a lot less – than half their cost.
So, within reasonable parameters, but still ending up with that perfect solution for the needs, I concluded the answer has to be somewhere between the $24 tent from Ray's (not to be dismissed too peremptorily) and something like one of Oztrail's Outer Limit tents. Kathmandu also have some attractive contenders, but you have to be sure you're getting them the regular 50% discount for them to anywhere near a reasonable market price. There are some other local brands that are in contention, but I didn't find them as attractive as the Outer Limits category.
One optional addition in this area is a ground sheet. Some of the more expensive brands have an optional (at extra cost) ground sheet tailored to fit under the tent to protect the base of the tent and add a bit more insulation. All the good advice seems to suggest a ground sheet is worthwhile. The good advice also suggests you make sure it doesn't protrude beyond the edges of the tent floor, so you don't get rain running between the ground sheet and the tent floor.
Having got that far, I zeroed in on the Oztrail Outer Limit tent called Eclipse 2. But I ran into an unfortunate problem, which, with a little effort on Oztrail's part could have been easily resolved. All the available literature on the tent gave its dimensions as including the vestibule, without telling you either the actual floor size of the tent or the vestibule size. Not very helpful. And there weren't any of the tents to be found with the Oztrail distributors in Canberra. So I couldn't measure one myself. My many emails and pleadingsto Oztrail went unacknowledged and unanswered. Even one of their very supportive distributors couldn't get any cooperation from them!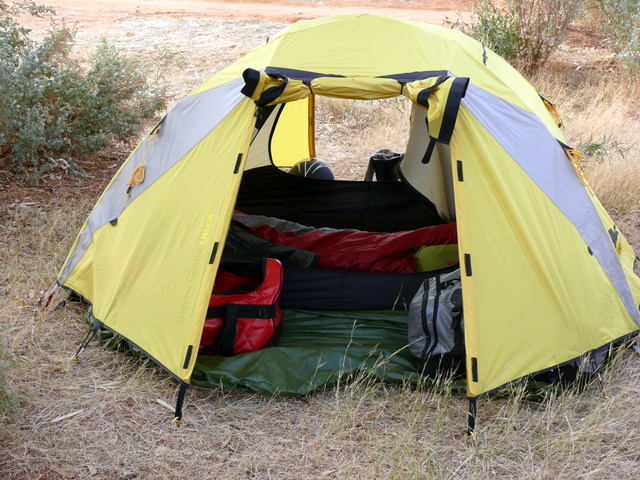 Then to make matters worse, I wandered into a camping equipment shop and found a range of Salewa tents up on display, with a 30% discount. Although an Oztrail stockist, the camping assistan alluded to the Eclipse 2 as an 'entry level' tent. Oh no! I'm suddenly reminded of another Oztrail stockist who, while mostly very complimentary about the Eclipse 2, observed that the small vestibule didn't work well, as you ended up having to climb over anything in it to get inside the tent.
And here now was the Sierra Leone Ultra available to examine 'in the flesh.' It suddenly confirmed for me all the benefits I had identified: entrance along the long side for easy access, doors with vestibules on both sides, and, noticing for the first time, a vestibule design that allows storage while retaining a corridor to the tent door – so no obstacles. Then there were all the finer points being pointed out about quality, performance, stability etc. With a much reduced gap in price between the Eclipse 2 and the Ultra, where can I hide?
I still believe my thinking was, in principle, on target. It comes down to the balance between needs, quality, performance and price. Suddenly someone had changed the pricing element and cast a doubt or two over performance of the alternative. And, by this time I had concluded that Oztrail did not deserve my business.
As of 13 Sept 2009, I have spent almost 30 nights camping in various places in outback South Australia and Northern Territory, including a few rainy days and nights. The Sierra Leone Ultra has delivered all that I expected. I'm glad I had a practice at putting it up because it had a couple of minor complications for the first attempt. Particularly convenient are the elongated shape, doors along the side, vestibules on both sides and the overhang of the roof line, which, in effect, creates the roof of the vestibules. Two things I can't imagine: trying to fit two people in it with all the motorcycle gear; and trying to fit in a one-person tent with all the gear. Maybe, I'm just overloaded or untidy or both, but I have both vestibules occupied. In one is the 65L red 'camping gear' bag and the grey BMW 51L sports bag. In the other is my helmet, riding boots and kindling for the camp fire. I found the tent very comfortable in the rain, as you could shut the vestibule flaps to keep the rain out, but leave both internal doors open, thus giving an effect of an 'open plan' tent.
Sleeping Bag
You'd think this would be easy. It probably is for the most part. I was looking for something designed for at least -5°C. And is lightish, i.e. having higher tech synthetic fill. I'm accepting that this sort of fill has advantages over down, mainly because of ability to better cope with being wet. Along with weight, the rolled up dimensions become important when working out the best strategy for packing the bike.
A beggar for punishment, I was drawn to the Oztrail sleeping bags that are also marketed as Outer Limits. At the middle of this narrow road is their Microsmart series. Seems to be a good combination of technology, weight, temperatures, rolled up dimensions and price. One snag is their recommendations for size of bag for size of person (admittedly in an outdated catalogue). They are out of kilter with every other site that addresses that aspect. Not to mention that the length of some of their bags supposedly for an average size man are longer than most 2 person tents. So, you have a 6' (183cm) person, who Oztrail says needs a 230cm long bag, when most 2 person tents are 210-220cm long!! And they couldn't or wouldn't tell me the floor size of the Eclipse 2!
Would you believe that I spoke sleeping bags to the camping shop with the discounted tents? Turned out that the issue is not all that difficult if you know what your requirements are. And a regular size of 215-220cm seems fine. I ended up with a brand called DHM and model called Passport Extreme. It's supposed to be suitable down to -10°C, but I have found I needed to sleep in track suit pants and jumper to stay warm in low but above freezing temperatures.
Mattress
There was a time, in my dimly remembered youth, when I could sleep on the ground. But not anymore. My criteria for choice of mattress most definitely included comfort.
You'll be lying on the mattress for as long as you'll be sitting on the seat of your bike each day, so don't skimp.
I don't think it's worth trying to save a few grams of weight or a few cubic centimetres of space if the price is a poorer sleep. So I would be avoiding mattresses (for want of a better term, but read any device that supports the body for the purposes of sleeping) that are short (as in so-called 'three quarter' length) or (excessively) thin. And don't confuse sports 'mattresses' with sleeping ones. You won't survive on your Pilates mattress or one of those thin blue picnic contraptions.
From this starting point, there are several options. However, in realistic and practical terms, the range comes down to the self-inflating adventure-type mattresses that you'll find in any adventure shop and, often a bit better priced, in most camping shops.
My choice was the Thermarest, but I can't recall precisely why. The model is Trail Lite. Maybe 'standard' also. It's 180cms long and, I think, officially, 51cms wide. It deflates and rolls up into a bundle of about 51cms long with a diameter of about 6cms. An optional extra stuff bag – made to measure – proved a good purchase.
I found the Thermarest Trail Lite quite adequate. It's compact and light. It needed a few extra puffs each night to get the right amount of air into it, but that's not an issue. The length and width were fine. (I'm 181cms and about 77kgs on a good day.) You'll need to make your own judgements as to which model and size you need. If, for example, you're much heavier, I'd be looking carefully at depth. You might need to look at width too.
I suspect that there are some thumb-rules that suggest the mattress characteristics that best suit your body. I recall that there lots of charts hanging near the stock.
I'm writing this almost a year after I bought it (simply forgot to include it on my camping page – must have been a late purchase before I set out on my Big Trip North), so am a bit hazy on the actual process I went through.
Cooking Gear
After much indecision, I went the MSR Pocket Rocket butane burner. It's small, folds up into a small plastic case and uses commonly found butane containers of various sizes and made by a few different companies. I've used it for making tea and coffee and cooking dinners. It's fine. Very convenient and effective.
As to utensils, I got lucky to find an anodized aluminium pot set (pot, pan and cute kettle) in Kathmandu, marked down hugely. Seems there were only a few sets in torn boxes, so presumably old stock. But they are working out perfectly.
Chair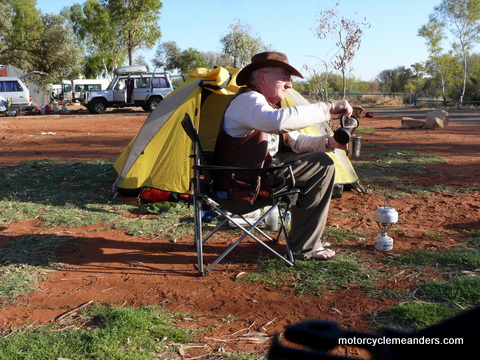 This might be a bit from out of left field. The first question is probably "why bother"?
Well, when you get to a certain age, and you rank enjoyment of a relaxing drink in the afternoon or evening or both (not to mention caring for your back) ahead of saving a couple of kilos weight on the bike, then a chair is a serious consideration.
The only comment I have on this is that I concluded, after going to the MotoGP armed with a newly purchased chair, that the low height model of chair is a waste of time and money. Don't even think about it. It's a lot less comfortable than a normal height chair, looks ridiculous, and is decidedly unsociable if you're in company. At The Island (that's Phillip Island), it was next to useless because you couldn't see very well from the lower height. (Mind you, when the main race started, everyone stood up, so even the normal height chairs up the hill at Siberia were useless – which called into question why we bothered sitting in the one spot all day. It achieved nothing in the end.)
The real points to consider are that a normal height chair is not much heavier and fits across the bike perfectly well, at least if you have panniers or other protruding luggage. On my bike, it stays within the width of the expandable BMW panniers even when neither is expanded at all.
So, a chair is a must!
Lighting
I found a neat small lamp powered by a single D size battery. It has that bright strobe-type light. Lights the tent well enough and provides ambient light around the fire. It was a Kathmandu product.
I have a small torch powered by a "cartridge" of three AAA batteries. Has both strobe light and ordinary incandescent light.
Then, the pièce de resistance, a strobe light on a head band. It has three settings: slow flash, fast flash and steady, although I have no idea why you would want a flashing light on your head. More about this under "Camping Gems" below.
Where does it all go?
On the bike!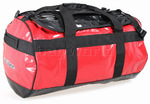 I survived the Goodradigbee experience by simply strapping the tent, Thermarest and chair across the pillion seat, using the very convenient and versatile Andy Strapz. Actually, I had the sleeping bag there too on the way out, but it managed to slip out, slippery little critter that it was. Fortunately, someone found it and picked it up. On the way back, I shoved it in the BMW 51L sports bag on the back rack of the bike.
My set up is to have all the camping gear, as set out in the picture (plus a few things that didn't make the picture) in a waterproof, easily portable bag. The strategy is to have all the camping gear together in ONE bundle, safely dry in any conditions, and readily carryable into hotels for the nights I stop in them. My choice, after looking into several options, was a Caribee product called Kokoda 65 Carry Duffle Bag. It's round, with dimensions of 60cmx35cmx35cm, which seems a complicated way of saying it's 60cm long and has a diameter of 35cm. Its capacity is 65L; hence its name. Anyway, in my anal retentive way, I spent a lot of time with graph paper, compass, protractor and mock-ups to assure myself that all the desired kit and caboodle will fit (the spelling check keeps changing the k to c – I have it set on UK English to avoid Microsoft's warped idea of Australian spelling, which it, erroneously, thinks slavishly follows the US). It worked out well. Here is a list of what it contains: