Country Town Pubs

Reviews and Recommendations


My preference for accommodation while touring is the traditional country town pub. They were the backbone of country towns in a bye-gone era, overtaken by the 'drive-in' motels that somewhere in the 1950s started to spring up on the edge of every town. But for the motorcyclist, the town pub is unbeatable. They're in town rather than on the outskirts, so you can shut down the bike and not have to contemplate getting back on it for food or drink or other shopping. They have food and grog without even having to stick your head out the door. Mostly, they have somewhere secure for the bike. Invariably, they have a hospitable, biker friendly publican. And they are cheap.
There seems to be something of a renaissance happening with country town pubs. Slowly, admittedly, but it's happening. I'd like to think it has something to do with touring motorcyclists and their pillions. I'm confident we are making a contribution, but so are a lot of itinerant workers who visit country towns to undertake road works, power and telephone line maintenance etc.
These pages are a brief report on pubs I have stayed in or heard about. Although my experiences have all been since 2005, my comments might be out-of-date by the time you read them, so it's probably best you check before you rely on them.
There aren't very many as yet, but the list will grow. You may have had some recent experiences with country town pubs that others might benefit from. If so, please email me or send some comments via the Guest Book.
These are the places I've covered so far:


Ashford NSW Bathurst NSW Bingara NSW Bright NSW Cessnock NSW
Claremont Qld Coolah NSW Dorrigo NSW Dubbo NSW Gloucester NSW
Grong Grong NSW Gulgong NSW Gunnedah NSW Junee NSW Kandos NSW
Lithgow NSW Manilla Maryborough Qld Molong NSW Mudgee NSW
Mullaley NSW Mundubbera Qld Nimbin Qld St George Qld Tenterfield NSW
Texas Qld Tintaldra Vic Uranga NSW Walcha NSW Walwa Vic
Yetman NSW


Ashford NSW
Commercial Hotel
Albury St
Ashford NSW
(02) 6725 4203
(only one in town)


Hubby and wife hotel. Room was fine except couldn't open the window, so had to run the aircon to get some air. I was told what I was having for dinner (no other option in town) – but that was ok. It was an excellent, home cooked Shepherd's Pie. $55 got me dinner, bed and breakfast (Continental). Good value and very pleasant to be part of the family.
Bathurst NSW
Commercial Hotel
135 George St
(02) 6331 2712

$35 got me a room with TV and electric blanket. Nice bathrooms, each separate. Bike locked in back under some cover. Dinner was available.
Bingara NSW
Imperial Hotel
29 Maitland St
Bingara
(02) 6724 1629
This is a pretty grand old hotel that offers a few extras. It has both hotel and motel accommodation, the latter in a separate building out the back. I was travelling with my grandson, so we were looking for a twin room. The only twin left in the hotel section came with an ensuite at $65 for the night. I was told that, without the ensuite, a single or twin would be $35. The ensuite room came with TV. The ensuite was new and spacious. The hotel has a small dining room, with slow combustion heater, and a menu that's a cut well above the average pub food. It's also open for breakfast and lunch. It would be a good lunch stop if just passing through. On checking in, I was told by the young lady behind the bar that there was no secure parking as such and not even any undercover parking. However, around the back, there's a huge covered beer garden that provided easy and covered parking for the bike. That might not apply if there were a BBQ function.
Bingara offered a tourist treat in a beautifully restored 1936 Art deco theatre, one of very few surviving country town complexes that combined the proverbial Greek restaurant and theatre cum cinema. It's worth the $3 personal tour provided by the information office at the Council building across the road. There's also quite a story of vision, investment, skulduggery and heartbreak that goes with it.

Bright Vic
Alpine Hotel Motel
7-9 Anderson St
(03) 5755 1366

Right in centre of town. Ok motel rooms at good price. Previously paid $40, but more recently $50. Good bistro with plenty of choices.
Cessnock NSW
Australia Hotel/Motel
136 Wollombi Rd
(02) 4990 1256

This is a great pub. Excellent value all round. Hotel section has rooms for $40 (might be Ulysses price). Renovated bathrooms were very good. Continental breakfast provided in hotel - juice, cereal, toast... First class meals served on the premises. Good-sized rooms (I had a double bed, with a single in the room also). Parking area is locked at night. Attached motel (part of the same establishment) is more expensive. I discovered there was a wireless network, but had to go across to motel to get the key. By that stage I was ensconced in the bar and so used my wireless modem. I must remember to ask next time! You can check them out here. (Updated 11 June 2009)
Claremont Qld
Hotel/Motel
$99 for twin share. Over-priced for what we got.
There was a nice looking old style pub, the Commercial, but it was full. I'd try that first.
Coolah NSW
Black Stump Inn
61 Binnia St
(02) 6377 1231

Got the bike locked in the old spacious laundry. $20 for a room with continental brekkie. Food on premises. Good atmosphere.
I wrote the sentence above four or so years ago. Stayed there again a few weeks back. Still $20. The room had a wardrobe and basin (but the taps had no water). The room's not a bad size. There are two large bathrooms with baths and showeres over the baths plus wash basin. Bike was under a carport this time but the laundry was still accessible. (20 March 2013).

Dorrigo NSW
Hotel Dorrigo
(also called Heritage Hotel Motel Dorrigo)
19 Cudgery St
02 6657 2016

1925 vintage. $45 for a single got me a double bed. No basin but you could see where it had been. Toilets and showers were old but clean. Rather quaint. Towels and bathmats! Shampoo and conditioner. Nice little extras. Good bistro. Excellent selection of dishes. Bike locked in shed. Manager (a Ulyssian) gave me the key to his shed to return on departure. Couldn't ask for much more. Excellent service in an historic pub for a good price.
Dubbo NSW
Garden Hotel
Gipps St (Cnr Talbragar St)
Dubbo
02 6882 3371
Quite pub (no bands at weekends) a couple of blocks from shopping centre. Ended up there after having no luck in the main street. Looked unattractive at first, being out on its own, as it were. Turned out to be very good. Large room with double and single bed ..and large fireplace (boarded up sadly), but a taste of things past. Decent bistro, so had dinner there. A large enclosed yard at the back, shared with some local small business places and guarded by a big dog that wandered loose at night, provided adequate security for the bike. In fact, I was able to get it under cover next to the pool table. Can't remember how much but was around the expected pub price.

Amaroo Hotel
82 Macquarie St
Dubbo NSW
02 6882 3533
Doesn't have the traditional look or ambience of the country town pub. It's a more recent building, possibly 1960s vintage. So lacks a certain atmosphere, but in compensation, you get ensuites, reverse cycle air con, fridge, jug, tea and coffee, TV. I stayed there with grandkids, travelling in a car. We had a family room, but I was told that a single would cost $59.00. From Mon-Fri, that comes with a hot breakfast. Not too fancy, but could cost you $10-$12 at a local coffee shop. Vehicle was in a locked yard, so reasonable security, but didn't seem to be any cover.
Grong Grong, NSW
Royal Hotel
02 6956 2117


What a quaint little pub. It's on the road from Old Junee through Coolamon to the Newell Hwy and on to Narrandera. Not a bad route to take from Canberra towards Hay, Mildura, Wentworth etc. It's a 1923 vintage , single storey place, with 4 basic rooms that are 'out the back' off a beer garden/court yard. There's a bathroom (toilet, shower, wash basin and a bath that doesn't work) also off the beer garden. The room was simple with an aircon that was 'out of order'. But it had an electric blanket that was a godsend. There was a table outside the rooms with jug, tea, coffee etc. That was nice for an early start. Don't be put off. It was quaint. Any deficiencies in the accommodation stakes (and they weren't significant) were more than compensated for by the hospitality and atmosphere of the owners, Kay and Ted, and their establishment. Ring ahead to ensure a meal on Mon or Tues. Dinner is standard from Wed-Sun. However, the owners seem sufficiently accommodating to feed you whatever day it is. The room cost $35.00.

I stayed there a second time on my Old Mail Routes trip. The tariff had gone up a bit. More to the point, the pub was on the market. Ted and Kay had had their fill and were looking for a buyer. All the more reason to ring ahead now. I had sold it short a bit by saying it was 1923 vintage. The currrent exterior facade was added in 1923. Hence the 1923 inscribed on it. But the original hotel - and there are still lots of it remaining - was built in 1878. The pub was a stage coach stop-over point in its day.


Gloucester NSW
Avon Valley Inn
82 Church St
02 6558 1016

$40 for room with Fox TV and fan. Bathroom was old and dilapidated but clean. Bike in backyard but not locked away. Bistro available.
Grafton, NSW
Grafton Hotel
97 Fitzroy St
02 6642 2000
Nice enough room for $30. Ask for room with a window. Hotel has the traditional verandah but they have built an additional room at each end - with consequent de-windowing of the adjacent rooms inside. There's a large open sitting room, with a kitchen (tea and coffee supplied), lounge, tables etc that opens onto verandah. All very nice. Secure parking for the bike was provided in the 'beer garden', which was a fully enclosed and locked area. Been back a couple of times, so like it.
Gulgong, NSW
Commercial Hotel
106 Mayne St
02 6374 1206
Right in heart of Gulgong and over the road from the town's best café (good coffee great hot breakfasts from 8.00am). Gulgong's only 2 storey hotel. Hospitality was warm and friendly. The hotel is run by a young couple, Tiffany and Daniel (with help from 8 month old Lily). Daniel locked the bike in a secure garage out the back with his vintage Harley. $55 got us a twin room (I was travelling with my 13 year old grandson) with basin and tea room with coffee/tea, cereals, toast etc. Couldn't complain about the hot showers. Good bathrooms. Dining on premises. Local wines served by the glass (this is wine territory). My first red probably had a bit of air get to it, but it was graciously replaced by a good one. The only downside was a freezing night and a totally heatless room: no heater or electric blanket (despite a sign to the contrary). Just make sure if you stay there in winter, you get a heater or electric blanket! Otherwise, a fine place to stay.
Gunnedah
Hotel Gunnedah
298 Conadilly St
Gunnedah NSW
02 6742 2355
opposite Macca's in main st.
When I first stayed there it was the Hotel Regal. I didn't take notes but I recalled it was fine. Bike was in one of several "pens" in back yard. There were gates on them but no locks. Had to make it look locked if you didn't have a padlock.
I stayed there again in February 2012. It by then called the hotel Gunnedah. They provided an ensuite room with double bed for $50.00. Room also had aircon and TV. Very good value. Hotel has a bistro as well as a more up-market restaurant for fine dining. The bike was securely locked up in one of the pens (with the publican's padlock).
Junee, NSW
Loftus on Humpfrys
6 Humphrys St
02 6924 1511

Not stayed there but it got a good wrap in Riding On Aug 07. It's one of the old railway hotels of Junee converted into a B&B.
This from a Junee tourism site: Loftus Hotel
Across the road from the station, at the corner of Main St and Humphrys St, is the enormous Loftus Hotel (1896), Junee's oldest and grandest establishment which occupies an entire block.
Kandos NSW
Kandos Hotel
2 Angus Avenue
Kandos NSW 2848
(02) 6379 4030 ý
The hotel has an attached motel, so you have a choice of standards. I've stayed only in the hotel section, which has all the hallmarks of the traditional country town pub.
A single room came with wash basin and wardrobe. It cost $40. Continental breakfast is included. You help yourself to breakfast (cereals, toast, tea/coffee) in a downstairs dining room. The hotel has a pretty good dinner menu with a daily special for under $10. We all warmed to the $7.50 bottles of clean skin shiraz! Parking is out the back in the motel parking area.
(5/3/2012)
Lithgow NSW
Lansdowne Hotel
137 Main St
02 6351 3045

A great rambling place. Must have been wonderful in its day. Good sized room for $30. Mine had two singles, wash basin, and a very effective centrally run heater (which you can turn off). Beds have electric blankets. Some basic furniture to put things on, like water bottle, phone, computer etc. Easily accessible powerpoint. Good bathrooms, though with shower in bathtub. Probably original. No problem. Dinner available. Had dinner there one visit; walked up the street to what seemed to be the only up-market restaurant in Lithgow another time (Natalie's). Some under cover parking for the bike. First time it was put in a corridor of sorts by the laundry. Second time, it was under a car port - large brick structure that looked original. Both accessible via a back lane. Overall, good place and good value. (Updated 11 June 2009)
Manilla NSW
Post Office Hotel
146 Manilla St
Manilla NSW
Nice old two-storey pub in middle of town. $25 got me a large room that had a double and four single beds in it. You'd need to be good friends to have five or six or you in the room! It was great as a single room. The double bed had an electric blanket; and there was an electric heater as well. Bathrooms were built into the back verandah – but that was ok. Towels were in the bathroom so I nearly missed them. The value for money was good. Some rooms had wash basins. There were car ports of sorts in the back yard. One was vacant so I had undercover parking for the bike. The lady of the house – the proprietress – was a good host: gracious, hospitable and cooked a good dinner. She seemed to do all the work. Her husband – the proprietor – was prevailed upon to take over the bar when she had to cook, having managed the bar and taken dinner orders (and checked me in). He'd been drinking with his mates cum clients. The evening turned sour after dinner when he saw I had the mini laptop plugged in, whereupon he crudely and gauchely proceeded to admonish me across the bar for not having asked his permission. He even demanded that I pay for the electricity I was using! No amount of trying to make amends for my oversight or suggesting that, as a paying guest, I was already provided with a room with power points and appliances was about to make any impact on his sudden and somewhat irrational obsession. The sad thing, apart from the poor chap's lack of awareness, was that he couldn't get over it and move on. He harped for the rest of the evening...to his drinking mates and then to his wife when she returned from the kitchen. I'd suggest you might give this place a wide berth. There are two other pubs in town. The Royal across the road was well spoken of by one of my fellow guests. He had mates from his work team staying there.


Maryborough Qld
Post Office Hotel
Wharf St
07 4121 3289

$35 (single price) got me a double room with Q sized bed. Basin and TV in room. Common laundry so a chance to catch up on washing. Dining on premises. Situated right on tourist precinct of waterfront. Got bike into their locked backyard.
Molong NSW
Telegraph Hotel
53 Bank St (main st)
02 6366 8095

$30 for room with TV and lamp. Clean bathrooms. Even had sachets of shampoo and conditioner. Bike was secured in garage with the pub's beer. Dining available.
Mudgee, NSW
Woolpack Hotel
67 Market St
02 6372 1908

On first visit, I got an ensuite double room for $30. I suspect not their regular price. The ensuite was obviously recently installed and very neat. Room came with a fridge and coffee and tea - but no jug. I guess they were still in the process of upgrading. I was invited to bring the bike around the back to be stored in a shed. The shed turned out to be a super secure, steel-doored, trebly bolted storage for the hotel's cartons of beer. Even the publican warned about the noise at weekends, as the rooms look down on an open beer garden. There's an adjoining restaurant - part of pub but separate!. Very good meals. I've stopped at the Woolpack a few times, but can't recall what I paid. In any event, it's a good-value stopover.
Mullaley NSW
Post Office Hotel
Cnr Oxley Hwy and Black Stump Way
(02) 6743 7320

Single storey timber building. Passed it up twice before stopping there on one trip. I was very pleasantly surprised. Good double room. Bathrooms a step away across the corridor. I think there might have been only two rooms. Only other things in town are the servo and roadhouse (but nothing doing in the roadhouse on a Sunday night) – both next door. Sunday night, the hotel has pies and pizzas. $25 for room. Just make sure you don't let the bedroom door close behind you as you go to the bathroom during the night!!
Mundubbera Old
Royal Hotel
4 Lyons St
07 4165 4204

$30. Good value. Bike in beer garden under cover and secure. Dining available. Locals were quite taken with the bikes and the riders' stories. Nice atmosphere.
Nimbin, NSW
Nimbin Hotel and Backpackers
Far from the most salubrious place you'll stay in. $25 got me a room with bunk beds and a couple of folded sheets on the mattress. No towels. Fortunately there were two sets of sheets so a spare sheet served quite adequately as a towel! About secure parking, the manager pointed out the police and hotel cameras that covered several angles in front to the hotel. "On street parking would be a lot safer than round the back." Nimbin is probably a place one needs to visit only once in a lifetime. But, it's certainly worth one visit.
Peterborough, SA
Railway Hotel/Motel
221 Main St
Peterborough
08 8651 2427
This is a lovely old rambling place with a verandah overlooking the road and railway line. I just watched a National Pacific freight train go past as I'm sitting on the verandah writing this note. There's been lots of renovation done, so the hotel offers hotel accommodation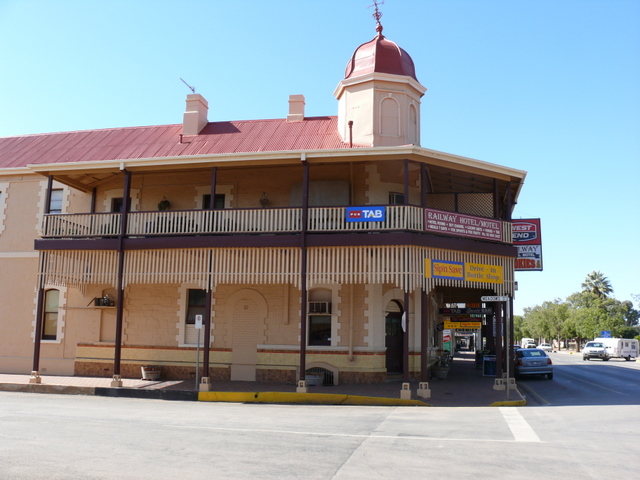 ranging from the standard pub room (mine is quite a large room with a double bed, electric blanket, arm chair and wardrobe) for $38 to 'suites' with their own bathrooms at $100 plus; and an in-between option of a room with extras (TV, heater) at $57. Then there's motel accommodation in an adjacent building. The hotel has a large dining room with pretty standard variety of menu. All good value. The proprietors, Chris and Ann, were attentive. They told me that the Railway Hotel was the only country town pub-style accommodation in Peterborough. Although the Peterborough Hotel advertises accommodation, I understand that it 's in need of some renovation.

Rylstone NSW

Globe Hotel
Louee St
Rylstone 2849
02 6379 1048
Has a reputation for being a bikers' pub. I think it gets a lot of weekend bikers from Sydney. Also reputed to be on the itinerary of motorcycle reviewers. I had the tiniest of single rooms with no funiture of any sort; and it cost $50! Very expensive for what it offerred, at least relative to the average of country town pubs. Good atmosphere in the bar with local characters. Happy hour produced nice hot finger food. Stayed there twice but still haven't got to sample dinner owing to the hospita;lity of friend in Rylstone.
St George Qld
Cobb and Co
Victoria St (cnr Henry St)
07 4625 5655

$35 for single. Nice atmosphere. TV and aircon in room. Basin in room. Dining room with great 'home-cooked' specials. Had a fabulous curry for $12. I was told I should have been there the day before. The lamb shanks were to die for!
Tenterfield, NSW
Royal Hotel-Motel
130 High St
02 6736 1833

Not stayed there. Gets an appreciative wrap in a letter to The Bear in Australian Road Rider Sept/Oct 07. Publican is a rider and helped out some stranded guests by getting them a tyre over the weekend.
Texas Qld
Stockman Hotel
3 High St
Texas. Qld
(07) 4653 1310
There's also an attached motel of five or so rooms. I opted for the motel when I stayed there, so can't comment on the hotel rooms.
The hotel rooms were quoted to me as $40 for a single or $50 for twin/double share. The motel room was $66.00. The motel room had a flat screen digital TV with good reception. Had aircon and jug with tea/coffee etc – and mugs (instead of the sill little motel cups you usually get). Good undercoving parking for the bike either in front of the motel room or under a more extensive awning, which was out of sight of the road.
(5/3/2012)
Tintaldra NSW
Tintaldra Hotel
(You can't miss it – there's not much more there)
I need to say that I have not stayed here, so can't describe or comment on it. Except for the following comments.
See entry re Walwa Hotel. I was heading for Tintaldra when I ended up stopping at Walwa, owing to the late hour. My planned route took me through Tintaldra in any event, so I dropped by next morning. I might not have if it were not for the hosts attentively looking after two guests on the front verandah with a decent looking breakfast. The hotel is a single storey building across the road from the Murray. Hence a few paces from the border with NSW, which, in effect, runs along the top of the bank on the Victorian side. The verandah was at road level. I enquired about single room accommodation and was told that they have cells. Yes,"cells." On further enquiring, however, I was assured that they were more in the nature of a monastic cell than a prison cell! The elaborate breakfast, overlooking the tree-lined Murray, with the attentive care of the hosts, might be part of a package staying in the warden's or abbot's quarters. But you might be able to add it to your plan for a price. If you're not in a hurry, best to enquire. You might appreciate the optional extra.
Urunga, NSW
Ocean View Hotel
15 Morgo St
02 6655 6221

Couldn't get in, but it looked great. Came highly recommended by friends, who said I must ask for one of the front rooms (which face the water). Worth a visit if you're up that way (about 20km south of Coffs)
Walcha NSW
Apsley Arms Hotel
Derby St
(02) 6777 2502

This is a very nice hotel. I guess it's originally old, but the rooms have been renovated and the bathrooms are very classy. There are very good tea/coffe and breakfast facilities. The price of $55 for a single, including continental breakfast and constant tea and coffee, was pretty good value, given the class of bathrooms. One deficiency was the lack of furniture in the rooms. They were otherwise well-appointed with home-like bed and pillow covers and blinds (Roman or Venetian - I didn't investigate). A chair or two and a wardrobe - or even, at the very least, a few (like five or more) hooks, would have been a very welcome alternative to having to put all your gear on the floor.
Good bistro, so you can eat very well. Good selection of wine....sort of...many of the better shirazes on the list were not available.
On my first visit, I ended up with a very small room with absolutely no furniture (except for beds). There were two beds so obviously available for twin share – but on a twin share basis there would not be even floor space for gear! You'd have to turn sideways to pass one another. Need to stay dressed! So avoid the last room at the breakfast facility end. Second visit was a nice sized room with a double bed - and a bedside table. At least I had somewhere to put my water bottle and torch and the computer while it recharged, even if the only power point was behind the head of the bed. Still, all the clothes and other gear had to go on the floor. Not classy!
There is another pub owned by the same couple: Commercial Hotel in Meridian St (02 6777 2551). It has the same price for singles. Friends stayed there recently (May/June 2009) and spoke very highly of it.
Either would be a good stay in Walcha. (Updated 11 June 2009)
Big plus for Walcha is Café Graze in Derby St. (almost next to the Apsley Arms). It's a very nice up-market café that serves great breakfasts and lunches (had both there on different visits). Also excellent coffee.
Walwa Vic
Walwa Hotel
Murray River Rd
(03) 6037 1310
This is an attractive, single storey building that, surprisingly to me, provided a deal more than I was expecting. It seemed to have only about seven rooms. Mine had two single beds. The carpet was absolutely decent. There was hanging space for gear and a wash basin. The bathroom had all the trappings of an old style pub in its decor and layout, but was thoroughly clean; and, one might say, inviting. You don't always get that in old country town pubs. It had a bistro cum dining room with an impressive menu, complete with specials. A continental breakfast was included in the $30 tariff.
The hotel had a very expansive garden with BBQ and large semi-covered patio area – obviously set up for outdoor functions in the right season. Bike parking was in the garden behind a closed gate.
I might add that, because I was running late (heading for Tintaldra) owing to a wrong turn and lots of gravel from Bethanga to Old Tallangatta and then to Talgarno, I stopped at the pub in Jingellic (just across the river in NSW) only to find that there were no meals on a Wednesday. Meals were from Thursday to Sunday only. So onto Walwa. No problems there with meals. Many months after this, a friend stayed there and wrote: "excellent ensuite cabins at the Jingellic Hotel (NSW side, on the Murray), 5 km short of Walwa."
Wentworth NSW
Royal Hotel, Central Motel, Capt. Sturt Hotel.
The pickings in Wentworth are limited. It's not as big a town as its history might suggest it should be. But there are some gems. My first pick was the Royal Hotel on Darling St. It just looked right. But it was full. Rod, the owner, sent me to the Central Motel on Adams St. I think it used to be part of a hotel/motel arrangement of the Hotel Capt Sturt next door. But that ceased years ago. The Capt Sturt Hotel has an upstairs level with rooms but hey are from a bygone era. The current owners plan to renovate and offer rooms in due course. The Central Motel was fine. I was well looked after by the owners, Simon and Julie-Ann. $60 got me a pretty standard motel room with all that you would expect. The Royal rooms were $50. Rod described them as 'basic but clean'. I drank and ate both nights at the Royal.Janine and Rod provided good cheer and good meals. I had a night cap at the Sturt. The Capt Sturt had meals and the facilities were very good. You'd be fine at any of these places for accommodation, drinking or eating.
Yetman NSW
Codfish Hotel/Motel
Warialda St
(07) 4675 3100 (it's in NSW!)

It's the only place in town; and you'd likely miss it (both the pub and the town) if you didn't know about it. About a km and a half off the main road that runs through or, more precisely, past Yetman. There really isn't a town as such. The pub has small motel units out the back with fridge, coffee/tea, TV for $35. En suites were being renovated last time I was there. Can get bike into beer garden of sorts. At least it's under cover. Meals are served. As a guest, they were happy to cook something for me even on a Sunday night when their dining services are usually closed. Great local flavour. Some quaint locals to have a drink with. I've found it a very convenient and comfortable stopping spot between Canberra and Brisbane. (That's because I usually make the trip a full day's ride in the middle of two half-day rides.)